This article first appeared in The Edge Malaysia Weekly, on July 20, 2020 - July 26, 2020.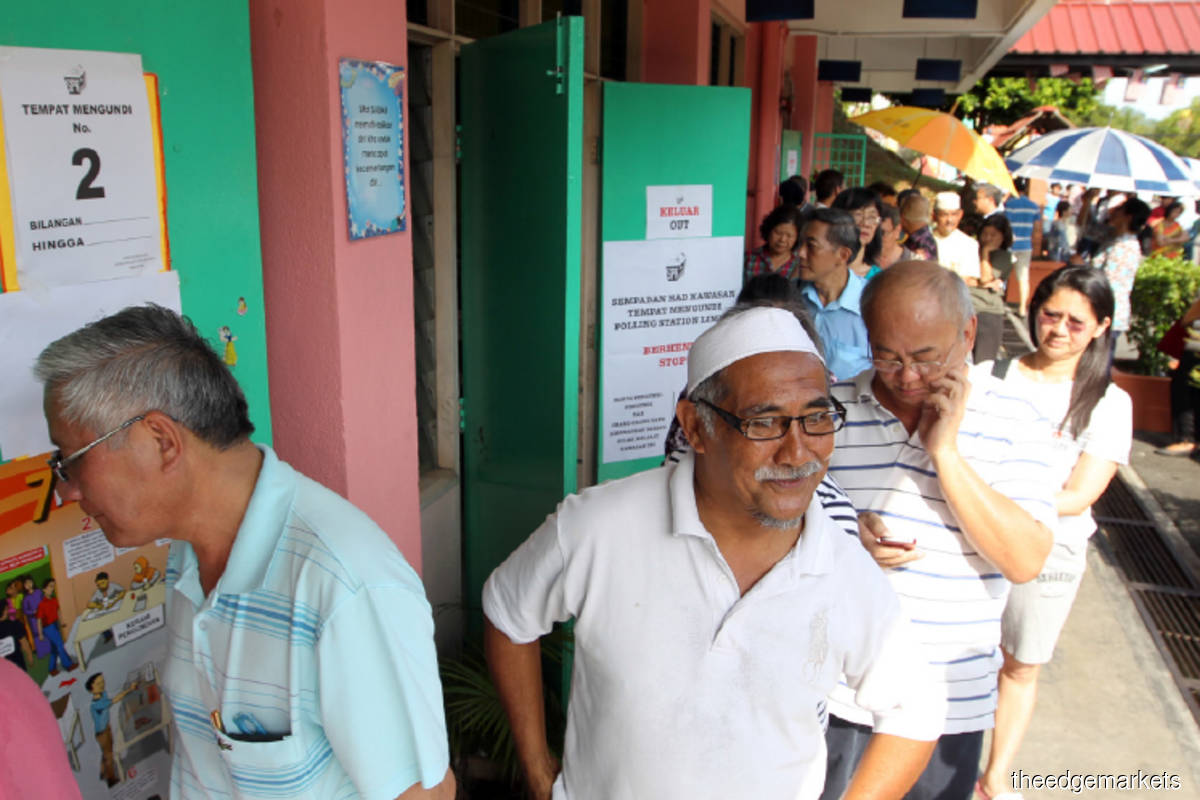 GIVEN Perikatan Nasional's (PN) razor-thin majority in parliament and arguably shaky position in government, talk of a snap election continues to swirl. What would be the risks for the local market if a snap poll were to be called?
Last week, the PN coalition gained its first victory in parliament when it successfully removed Dewan Rakyat speaker Tan Sri Mohamad Ariff Md Yusof. This is seen as a vote of confidence for Prime Minister Tan Sri Muhyiddin Yassin.
However, the motion went through by a margin of only two votes.
Some analysts think it could be an opportune time for PN to seek a fresh five-year mandate from the people as Malaysia's battle against the Covid-19 pandemic is perceived by many, including foreigners, as having been well-managed. Furthermore, the coalition's economic stimulus packages have been welcomed by most citizens.
In a recent research note, Macquarie forecasts that a general election will be held from late August to early November and is expected to provide a medium-term catalyst for the market.
Increasingly, the pendulum seems to be swinging towards a PN win, which will please the business community as the coalition is seen to be pro-business, says the research house. "With a more stable political situation likely to bode well for economic activity, we would see an early election as a positive for the market in general, with pump-priming likely to come after, rather than before, an election, given time constraints, setting the stage for a positive end to 2020."
In fact, the political parties say they are well prepared for the 15th General Election (GE15). PAS Terengganu has urged its members to prepare for polls, which it expects to take place in November.
Looking at the trend in the past, the FBM KLCI rose between 1.5% and 16.7% three months before polling in GE11, GE13 and GE14. However, the benchmark index declined 2.8% to 9% in GE10 and GE12 — in the latter, it was partly because of the global financial crisis.
It was up 1.1% to 2.9% between the dissolution of parliament and polling in GE10 and GE11, but declined 8.9% in GE12. In GE13 and GE14, the drop was 0.2%.
Three months after polling, the key index increased the most — 33.7% — in GE10, followed by 6.4% in GE12 and 1.9% in GE13. It slipped 9.2% and 2.5% in GE11 and GE14 respectively.
Eden Inc Bhd and Thriven Global Bhd have come on the radar as both are linked to Datuk Fakhri Yassin Mahiaddin, Muhyiddin's son.
Property developer Thriven's share price has risen 27% year to date while Eden, which is involved in food and beverage and tourism, has seen a 3% increase.
E-government service providers MyEG Services Bhd and Datasonic Group Bhd are also likely to hog the limelight. Recently, MyEG clinched a three-year extension worth RM208 million to provide online renewal of foreign workers' temporary employment passes. It also announced that it will continue to provide e-government services to the Road Transport Department until further notice as extension talks have yet to be finalised.
How would the market react to GE15?
An analyst who declined to be named opines that a snap election is the best way for the new government to prove it has a bigger majority to govern.
Nonetheless, he points out that the political scene will be more fractured than before and that a snap poll does not guarantee the forming of a stable government.
In fact, he expects the market to correct when a general election is called. "The valuation is stretched currently and earnings have been on a declining mode, before expectations of a rebound next year. In terms of market sentiment, foreigners have been selling quite significantly year to date."
Against the backdrop of political uncertainty, he says investors will continue to stick to defensive plays, including healthcare and utility stocks.
However, he cautions that it will be "tough" for the construction sector as projects may not be carried out effectively if there is a change in government. "So, I think the construction stocks will fall whenever there is an election. The same goes for sin stocks like gaming and brewery."
Macquarie has a different view. It notes that the construction sector will be the first port of call for exposure, with the long-awaited Mass Rapid Transit Line 3 (MRT3), Kuala Lumpur-Singapore High-Speed Rail (HSR) and Johor Rapid Transit System (RTS) Link as key projects.
"We would also expect the resumption of key telecommunications infrastructure projects, for example, the NFCP (National Fiberisation and Connectivity Plan) and 5G, to kick off after the election."
The research firm believes its small-cap top picks Econpile Holdings Bhd, Gabungan AQRS Bhd and Gamuda Bhd are best placed for infrastructure-related news flow post-election.
"Telekom Malaysia Bhd, Time dotCom Bhd and smaller-cap IT service providers stand to benefit from increased digitalisation and network initiatives.
"CIMB Group Holdings Bhd and RHB Bank Bhd would be beneficiaries of a broader pickup in corporate spending into 2021, notwithstanding near-term credit cost concerns, which we believe are largely reflected in suppressed valuations," says Macquarie.
Socio-Economic Research Centre executive director Lee Heng Guie says with global central banks cutting interest rates, the introduction of quantitative easing and bond buying, there is an expectation that the liquidity support initiatives will continue even with the recovery of the economy.
"Already, we are seeing a V-shaped recovery in the stock market. Technology and healthcare sectors have gone up a lot. Some were underpinned by corporate earnings, but the broader market was driven by liquidity.
"As the market is moving six months ahead, a V-shaped recovery in the stock market does not guarantee that we will see a V-shaped recovery in the economy. There has been a significant disconnect between the financial market and the economy."
Lee stresses that policy change is investors' top concern. "Continuity is always what investors look for. You need to have a stable government to execute the policy. If the government is not stable and subject to disturbances, then you cannot focus on your resources to do what is highly needed to reboot Malaysia. Things are getting more complex and challenging in the new normal."
For Areca Capital Sdn Bhd CEO Danny Wong, the likelihood of a snap election is low given that PN has only managed to secure a simple majority in parliament. "If you are already in the government, why would you take the risk and call for an election? I don't think there is a big impact."
For now, Wong prefers technology, utility and healthcare stocks.
Inter-Pacific Securities head of research Victor Wan is of the view that foreign funds will continue to stay on the sidelines on the back of Malaysia's political uncertainty. "You need more catalysts for the return of foreign funds. The world is flooded with liquidity … definitely there could be some [foreign funds] coming in. They will push the market up, but they may just exit without hesitation. Again, it depends on where the tide is flowing."
Year to date, foreign investors have sold RM16.9 billion net of equities on Bursa Malaysia as at July 10, according to MIDF Research.
Macquarie says with political certainty, Malaysia is poised to be an easier destination of choice for foreign direct investments.
Impact of US presidential election outcome
Over in the US, the presidential election is due to be held on Nov 3. Lee says the election outcome is one of the factors that could trigger a reversal in riskier asset prices.
Other factors are a protracted and deeper recession, lower optimism about the central banks' continued liquidity support, reassessment of investor appetite and pricing of risk, renewed trade tensions between the US and China as well as geopolitical tensions.
An analyst notes that if the Democratic Party's Joe Biden wins the election, it will be positive for Asian markets. "Based on the historical trend, the Democratic Party is not pro-business and it would be bad for businesses and the US market if it wins. They have already said that they want to pull back the tax cuts … With that, funds will flow into the regional markets. So, I see it as a catalyst for the local market."
If the Republican Party's Donald Trump wins, it would not bode well for the global economy, particularly the ongoing trade tensions between the US and China, he says.
Lee concurs, saying that Trump will continue with the "America first" policy if re-elected.
Wan adds that sentiment will dictate market direction closer to the election. "Having said that, the global market is already way up there, recovering all the losses in the past few months. Valuations are still toppish and it is all running on sentiment at this stage."
He believes the global equity market is unlikely to climb further, unless there is a fundamental change in the recovery story, which is the discovery of a vaccine in the fight against the Covid-19 pandemic.