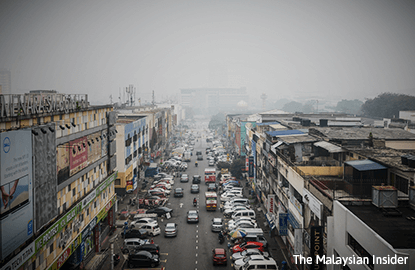 (Oct 19): The number of areas with unhealthy air quality nationwide has dropped to 16 as at 4pm, according to the Department of Environment.
Larkin Lama and Pasir Gudang in Johor, which both recorded unhealthy levels at noon, have now reached a moderate air pollutant index (API) of 92 and 95, respectively.
The smog appeared to reach its peak at noon, with 18 areas recording unhealthy air quality, and Seremban reaching an API of 200.
As at 4pm, Seremban remains the worst hit area of the day, but its API has receded slightly to 193. Batu Muda in Kuala Lumpur, the second worst hit, has increased its API by three points to 165 since noon.
Other areas with unhealthy air quality include Banting (162); Nilai (155); Bukit Rambai, Port Dickson and Tawau (152); and Bandaraya Melaka (151).
An API reading of between 101 and 200 is considered unhealthy while a reading under 50 is good, 51-100 moderate, 201-300 very unhealthy, and above 300 hazardous.
The return of the smoke has forced authorities to close schools in Malacca, Negri Sembilan, Putrajaya, Selangor, Kuala Lumpur, Tawau, Samarahan and Kuching starting today.
Schools in smoke-choked areas had been ordered to close several times last month and earlier this month, following forest fires and the burning of plantation lands in Indonesia.
Some 7,000 schools were closed on Oct 5 and Oct 6, after API showed hazardous air in Shah Alam and unhealthy air in other parts of the country. – The Malaysian Insider