This article first appeared in Capital, The Edge Malaysia Weekly, on April 19, 2021 - April 25, 2021.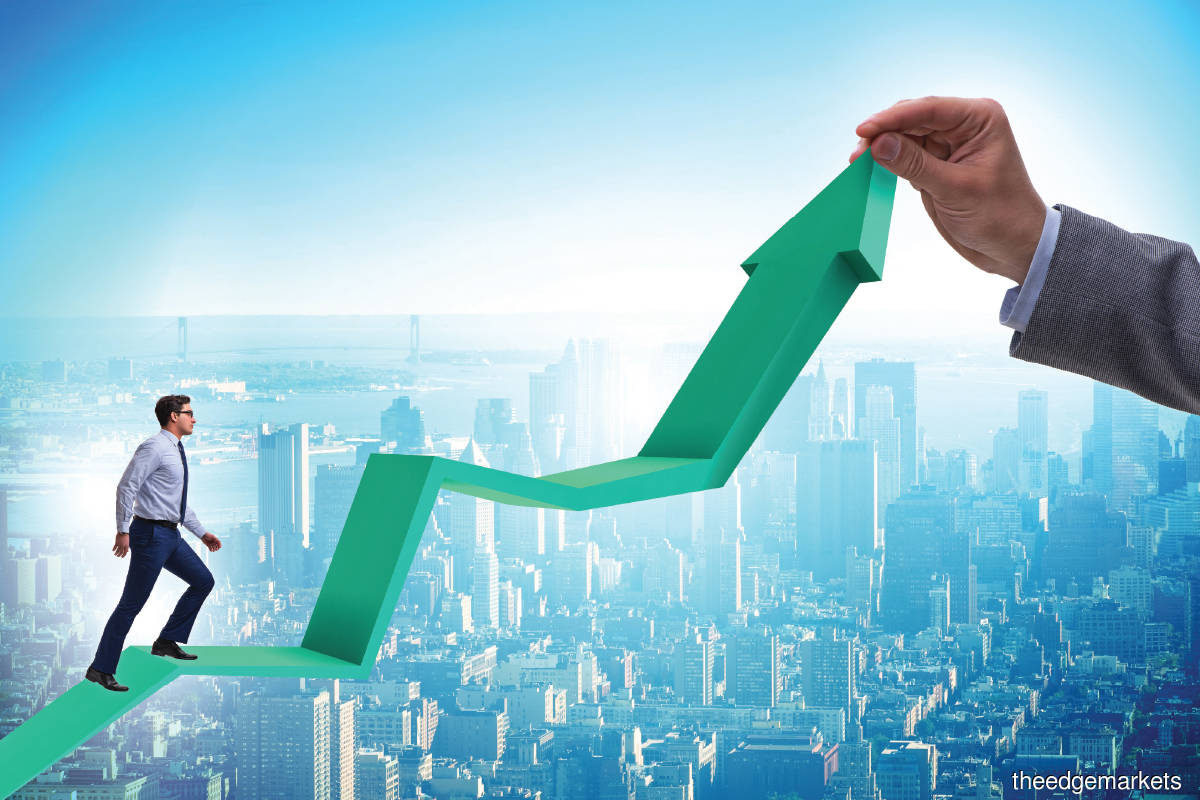 AFTER a rocky year for the property sector due to the Covid-19 pandemic, a slowly recovering economy is expected to be a boon for Malaysian real estate investment trusts (M-REITs).
Adding to that is the current low interest rate environment, which is expected to work in the favour of M-REITs in terms of interest payments for loans held in their books that they would need to service. At the same time, it would also drive the investment proposition for investors looking to place their money in assets that would garner higher returns than fixed deposits.
Year to date, the Bursa Malaysia REIT Index — which tracks the performance of 17 M-REITs listed on the stock exchange — saw a marginal increase of 0.6% to 839.21 points last Wednesday. This was in contrast to the benchmark FBM KLCI, which declined 1.8% to close at 1,598.28 points.
Of the 17 M-REITs, based on their closing prices last Wednesday, those with the highest trailing 12-month distribution yields included Sentral REIT at 7.78%, AmFIRST REIT at 7.7% and AmanahRaya REIT at 7.59%.
Positive outlook for industrial REITs
Industrial REITs — namely those invested in warehouses, logistics centres, factories, data centres and business parks — are expected to be heavily weighted in REIT funds this year, says TA Investment Management chief investment officer Choo Swee Kee.
"REITs in the industrial segment outperformed those in retail and hospitality in most of 2020 as the former was least impacted. Due to the pandemic, e-commerce flourished and this benefited the warehouse and logistics players. More data centres are required as technology becomes even more important during lockdowns amid the race to roll out 5G," he tells The Edge.
"Industrial properties in the right locations — such as those near airports or ports — are still in high demand, partly boosted by foreign companies looking to relocate due to the US-China trade war. Hence, industrial REITs are expected to be heavily weighted in REIT funds."
He points out that only two M-REITs are solely focused on the industrial sector — Axis REIT and Atrium REIT. "Axis REIT is well managed and has grown from five assets at the time of its listing in 2005 to more than 50 now. It is liquid and popular with institutional funds. Atrium REIT is still small, but it started its expansion mode in the last two years.
"The easy money to be made in heavily sold down REITs — for example, retail REITs — is over. That is because rental income needs to recover [along with] higher mall occupancies, [and] without a drop in rents for the [REITs'] unit prices to climb higher. [Hence], we believe it is best to stick to the resilient industrial REITs that will benefit the most from a rebound in economic activity."
The unit price of Axis REIT had declined 4% year to date to close at RM1.92 last Wednesday. At that price, the REIT has a distribution yield of about 4.6%.
For its financial year ended Dec 31, 2020 (FY2020), Axis REIT's net property income (NPI) stood at RM198.52 million, up 3.55% from RM191.71 million in FY2019. The REIT has 19 warehousing and logistics assets in its portfolio, including the Axis Mega Distribution Centre and Axis Northport Distribution Centre 1 in Klang, Selangor, and the Seberang Prai Logistics Warehouse 1 and 2 in Penang. Also in its portfolio are 22 manufacturing facilities, 14 office and industrial properties and two hypermarkets across Peninsular Malaysia.
Meanwhile, Atrium REIT — one of three smaller REITS listed on Bursa, with the other two being Hektar REIT and Tower REIT — had seen its unit price increase 25% year to date to RM1.40 last Wednesday  for a market capitalisation of RM286.5 million. The industrial property-focused REIT has seven assets in its portfolio, which are located in Shah Alam, Puchong and USJ in Selangor and Bayan Lepas in Penang. At its closing price of RM1.40, the REIT has a distribution yield of 6.43%.
In an April 13 note on M-REITs, Hong Leong Investment Bank (HLIB) Research says it expects office and industrial REITs to remain resilient as more employees gradually return to their offices with the rollout of vaccines and as the economy slowly recovers.
"On that note, we expect the demand for office space to remain resilient for the rest of the year. Meanwhile, for industrial REITs, the segment has been steady all along, backed by exceptional growth of the e-commerce sector that was seen during the pandemic," it adds.
"We have observed that as online shopping becomes the new norm, it has created a strong tailwind for warehousing and logistics companies. Hence, we believe [the industrial REIT segment] will continue its stability and growth trajectory in 2021."
Recovery for retail and hospitality REITs in 2022
Private investor and former investment banker Ian Yoong believes the most badly affected segments will see the most improvement — if one subscribes to the investment thesis of an economic recovery.
"The retail and hospitality segments will be the prime beneficiaries of this economic recovery when herd immunity of 80% is achieved at the end of the first quarter of 2022. This is my estimate," he tells The Edge.
AmInvestment Bank says in a March 30 note on M-REITs that property consultancy Knight Frank is anticipating the values of prime-grade retail assets to remain relatively stable despite the rental decline, supported by the more resilient tenant and lease profiles as well as the existing low interest rate environment, which will cushion the yields of the properties. Knight Frank is also expecting some good-quality prime assets to trade in 2021, with Malaysian hotels forecast to see a 10% to 30% discount from pre-Covid-19 values, it adds.
"In view of that, we do not rule out the likelihood of potential acquisitions happening in the next 12 to 18 months for the REITs under our coverage, taking a cue from their strong financial ability and debt headroom of 23% to 42% debt-to-asset ratio versus the 60% regulatory threshold (temporarily raised from 50% until Dec 31, 2022, by the Securities Commission Malaysia as a Covid-19 relief measure), which allows the REITs to gear up for further acquisitions. We view this as a good opportunity for the REITs to acquire yield-accretive assets to drive their medium- to long-term growth despite the short-term earnings pressures."
AmInvestment has an "overweight" call on the sector as it believes that the worst is over for M-REITs, with its top picks being IGB REIT and Sunway REIT. "We like IGB REIT for its more balanced footfall profile — [it has] only moderate exposure to tourists compared with Pavilion REIT — enabling it to capitalise on the recovery in domestic consumption while waiting for Malaysia's borders to reopen.
"We also favour Sunway REIT for its diversified investment portfolio, which includes retail malls, hotels, offices, a university and a hospital. There is also a large pipeline of potential assets for future injection."
IGB REIT — the second largest REIT on Bursa after KLCC REIT that has major malls Mid Valley Megamall and Gardens Mall in its portfolio — had seen its unit price increase 2% year to date to RM1.74 last Wednesday for a market capitalisation of RM6.2 billion. At its closing price, the REIT's distribution yield is about 3.9%.
Meanwhile, the unit price of Sunway REIT had appreciated 3% year to date to RM1.53 last Wednesday for a market capitalisation of RM5.2 billion, putting its distribution yield at 4.79%. Its portfolio includes prime assets such as Sunway Pyramid mall, the Sunway Resort Hotel, Sunway Medical Centre and the Sunway Tower office building.
Are there downsides to investing in M-REITs?
The biggest risks when it comes to investing in M-REITs are the slower-than-expected recovery in the post-Covid-19 economy and the bugbear of rising bond yields, says Yoong. "The marginally positive correlation between REIT prices and bond yields may revert to mean. Rising bond yields will eventually have a significant adverse impact on REIT prices.
"The other major downside is, of course, non-paying tenants and replenishing expired vacancies. The significance of remote working and online shopping accelerated in the pandemic. Both factors will adversely impact gross revenues and distribution yields."
REITs that have distribution yields of 5% or more, with good astute management, reasonable gearing and that are in resilient segments are definitely worth considering, he adds.
"Resilient segments are manufacturing and logistics. [However], my preference is REITs listed on the Singapore Exchange as the differentials in yield and bond rates are more attractive, says Yoong.
"The Singapore 10-year government bond has a yield of 1.565%. CapitaLand Integrated Commercial Trust and Mapletree Industrial Trust currently yield 5.2% and 4.4% respectively. It is likely that Singapore will achieve herd immunity of 80% of its population by end-3Q2021."
Generally, rising interest rates will impact REITs negatively if their debts are largely at variable rates, says TA Investment Management's Choo. However, most REITs would have already taken steps to manage the risk of higher interest rates by refinancing or fixing their interest rates at the current low levels. "With low interest rates over the last two years, some REITs have pounced on the opportunity to expand their portfolios," he adds.
On whether it is a good time to buy M-REITs, Choo says REIT investors are in it for the distribution yields and defensive nature of the sector. "They are not worried about short-term fluctuations."