This article first appeared in City & Country, The Edge Malaysia Weekly, on August 10, 2020 - August 16, 2020.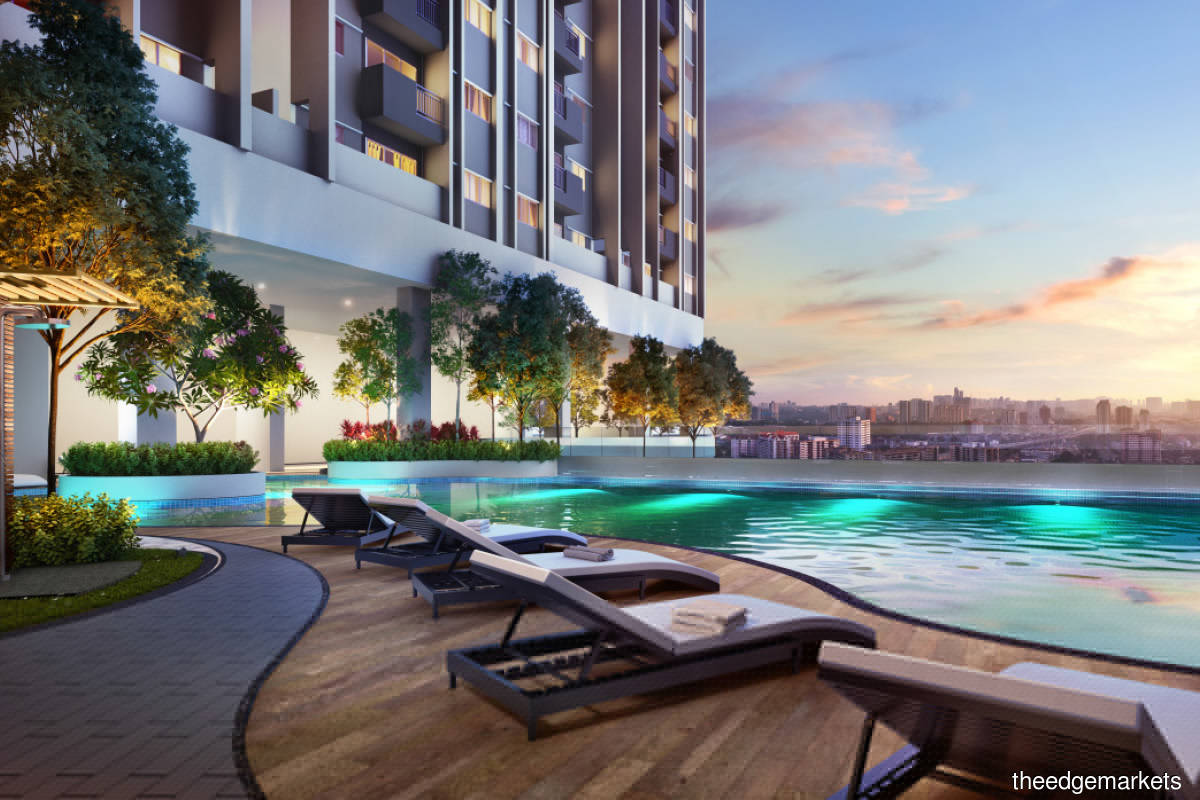 In its first property launch post-Movement Control Order (MCO), SkyWorld Development Sdn Bhd is modifying its SkyAwani V Residence @ Sentul project based on purchasers' property and design requirements in the new normal.
Executive director and chief operating officer Lee Chee Seng tells City & Country that the developer has put in various features in the latest series of its SkyAwani affordable housing initiative, which is under the state's Residensi Wilayah affordable housing programme. Only those who fulfil the authorities' requirements are eligible for the programme.
"This pandemic makes people think about what they want in a house. In another one to two years, unit designs will change … We adapt to the new normal immediately and try to think out of the box. We feel that the buyers will like the new features because these things matter to them," Lee says.
The first feature will be a co-working space in the common area of the development as most of its residents are first-time homebuyers and working adults with families who need a quiet space to work and have meetings, he adds. The co-working space will have individual work tables, some of which will have partitions for meetings.
"The layout of our units is practical … For example, now, people will first take off their clothes and shower immediately after they come home. So, we have a utility room in the foyer, which allows them to put their clothes there. And we have designed the bathroom to be near the entrance so they can go into the bathroom without walking past the living and dining rooms," Lee says.
He adds that while many purchasers previously did not like to have a balcony, they have since realised the need for one, so they can enjoy fresh air as they are working from home.
The leasehold SkyAwani V Residence @ Sentul is located at the junction of Jalan Taman Dato Senu and Jalan Dato Senu 3, near SJK (C) Sentul Pasar Peng Ming. Spanning 2.06 acres, the development will offer 615 units in a 38-storey block.
The residential block is divided into two wings, with three lifts in each wing. One wing has 11 units while the other has 12. Every unit has a built-up of 800 sq ft, comes with a parking bay and will be priced at RM300,000.
The facilities include an infinity pool, a gymnasium, jogging trail, sky lounge, wading pool, children's playground, multipurpose hall and electric vehicle charging stations. The maintenance is 25 sen psf, inclusive of the sinking fund.
Lee points out that Sentul is a mature area and has many amenities as well as good connectivity and accessibility. Connected via LRT and upcoming MRT stations, there are also hospitals, schools and shopping malls in the area. The suburb is accessible via major highways such as the Duta-Ulu Klang Expressway (DUKE), DUKE 2, Middle Ring Road 2 and Jalan Tun Razak.
"We always give more to buyers … for example, the designated ingress and egress motorcycle lane so that the riders do not have to use the boom gate for cars. We will also have more motorcycle parking than what is required because many buyers of our SkyAwani series ride motorcycles to work," he says.
"Another unique selling point is that there will be a treehouse at the development … It is a mature tree with structures for children. It will also have a sky lounge — a very rare offering in an affordable housing development. There will be a three-tier security system at the guardhouse, lobby and lift."
SkyWorld is looking to launch the first online property selection in Malaysia for SkyAwani V Residence @ Sentul. Eligible purchasers will be given a link and password for login at a designated time in early September for the selection of their units. Lee believes the process will take up to three hours and that technology will be a trend in the property development industry because of the pandemic.
SkyAwani V Residence @ Sentul is the fifth series in SkyWorld's SkyAwani offering. SkyAwani Residences, also known as Sky Awani 1 @ Sentul, was launched in 2015. The developer subsequently launched SkyAwani II and SkyAwani III Residence in Setapak. SkyAwani IV Residence in Sentul was launched last December, with most of the 1,782 units sold.
SkyAwani II was handed over to homeowners just before the MCO while SkyAwani III Residence is scheduled for completion by early 2022.
Lee notes that SkyWorld makes improvements from series to series. For SkyAwani II, it achieved a Quality Assessment System in Construction (Qlassic) score of 79%.
The SkyAwani series is a SkyWorld corporate social responsibility (CSR) initiative, and SkyWorld is also developing mid-range and high-end properties such as SkyArena @ Setapak, SkyMeridien in Sentul and The Valley Residences in Setiawangsa.
"We have committed to having one to two CSR projects and the SkyAwani series is very popular with the public … We believe everyone should have the opportunity to own a quality house. And for many people, maybe that one house is their only house," Lee says.
In the pipeline are SkyAwani 6 and SkyAwani 7, but he declines to disclose the locations of the two developments.
In total, SkyWorld has an undeveloped land bank of 60 acres in Kuala Lumpur. Lee notes that the developer has planned launches until 2024, with two to three projects a year. It is still looking to acquire more land in Kuala Lumpur.
For the rest of the year, the developer will launch two more projects — one in Taman Desa and the other in Setapak, one in the mid-high-end and the other in the mid-range.
"The SkyAwani series is the affordable range, but we are giving value for money. For example, we provide a water tap at the balcony so the residents can wash their balcony or put their washing machines there. Not all condos have this feature," Lee says.
"Meanwhile, our high-end offerings include SkyLuxe On The Park @ Bukit Jalil, which has a Qlassic score of 85% — the highest in Malaysia. The current market is not for high-end properties, however, and we need to plan products that suit market demand. With our products in different ranges, buyers will have more choices available."