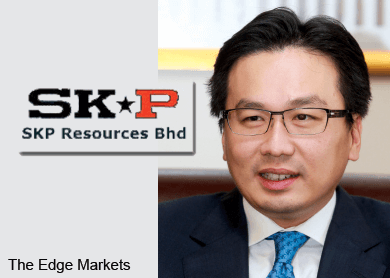 ELECTRONICS manufacturing service provider SKP Resources Bhd, which has just completed its acquisition of Tecnic Group Bhd, saw its market capitalisation hit the RM1 billion mark last week, after it clinched a significant cordless vacuum cleaner contract from Dyson Ltd.
As SKP's share price climbed to an all-time high of RM1.01 last Thursday, some shareholders may be wondering if they should take profit now. After all, the counter has almost tripled from 37.5 sen a year ago.
SKP executive director Ivan Gan Poh San would beg to differ. "If you ask me, our journey has barely begun. The acquisition of Tecnic has just been completed. This is a new beginning for us and the real growth has just started," he tells The Edge.
"When your market capitalisation is small, a lot of people don't look at you. But today, we have a market capitalisation of more than RM1 billion, which enables us to attract more investors."
Gan, who is the son of SKP and Tecnic's common controlling shareholder Datuk Gan Kim Huat, says SKP is targeting RM1.6 billion revenue for its financial year ending March 31, 2017 (FY2017).
"By the time we hit that, Tecnic is expected to contribute RM350 million [in revenue], Dyson's business to make up 50% to 55% (RM800 million to RM880 million) and the remaining revenue from SKP's other clients and businesses," he says.
Analysts covering SKP have revised their target prices for the counter upwards to between RM1.18 and RM1.25, implying an upside of 16.8% to 23.7%.
To recap, last October, SKP (fundamental: 2.1; valuation: 1.1) proposed to buy out the subsidiaries of Tecnic (fundamental: 2.8; valuation: 3) for RM200 million in cash and shares.
For every Tecnic share held, a shareholder would receive RM2.35 in cash and dividend-in-specie of 4.27 new SKP shares at 58 sen each. The acquisition was completed last month.
On May 8, SKP surprised the market when some research houses revealed that the company has secured a new contract to manufacture Dyson's handheld vacuum cleaner, which is its bestselling model. Dyson is a high-end British household appliance manufacturer.
"SKP will start producing the new vacuum cleaner for Dyson in October," Gan says, adding that the net margin of the five-year contract is estimated at 8%.
"The new contract is expected to contribute an additional revenue of RM200 million to the group for the six months ending March 31, 2016 (2HFY2016), before making a full-year contribution of RM400 million in FY2017 and the subsequent years."
He says Dyson has a few contract manufacturers in Malaysia and SKP is one of them. Therefore, there is no exclusivity in such assembling contracts.
At a net margin of 8%, the contract will generate a net profit of RM32 million on RM400 million revenue every year. This is fairly significant compared with SKP's pre-Tecnic acquisition revenue and profit of RM425 million and RM30 million respectively in FY2014.
According to UOB Kay Hian analyst Yeoh Bit Kun, the quantum of this "game-changer" contract could double SKP's existing annual sales of RM600 million to Dyson.
She says SKP, as an emerging key vendor to Dyson, will benefit from its planned 100 new product launches. Last year, the UK firm announced a four-year £1.5 billion (RM8.46 billion) capital expenditure plan. Currently, SKP assembles only four of Dyson's products, including upright vacuum cleaners and bladeless fans.
SKP did not make an announcement on Bursa Malaysia with regard to the new Dyson contract; this was only revealed in an analysts' briefing.
Commenting on that, Gan says SKP chose not to tell the stock exchange as it requires "a lot more details", which the group is not ready to reveal.
"When you announce it on Bursa, it's going to be straightforward — that the company has secured a contract, but there will be no explanation. Whereas today, I sit down, I explain to the research houses and you what this contract is about," he says.
The rally in SKP's shares has sent its historical price-to-earnings ratio (PER) to 30.2 times, based on its FY2014 earnings per share (EPS) of 3.34 sen.
Gan says the valuation is still considered "fair", but hopes that it will be "justifiable" along the way. "We are concentrating more on the long-term business profile and strategy. If a company is able to double or triple its revenue, that is a phenomenal set of numbers. That's why our forward PER is low."
SKP is trading at 25.25 times and 14.4 times UOB Kay Hian's forecast EPS of four sen and seven sen for FY2015 and FY2016.
Gan says SKP had in the past portrayed itself as a company with steady growth prospects as it does not want to be a one-hit wonder.
"How big can the market capitalisation grow? That's beyond our control. By securing business, this thing will take care of itself," he adds.
This article first appeared in The Edge Malaysia Weekly, on May 18 - 24, 2015.