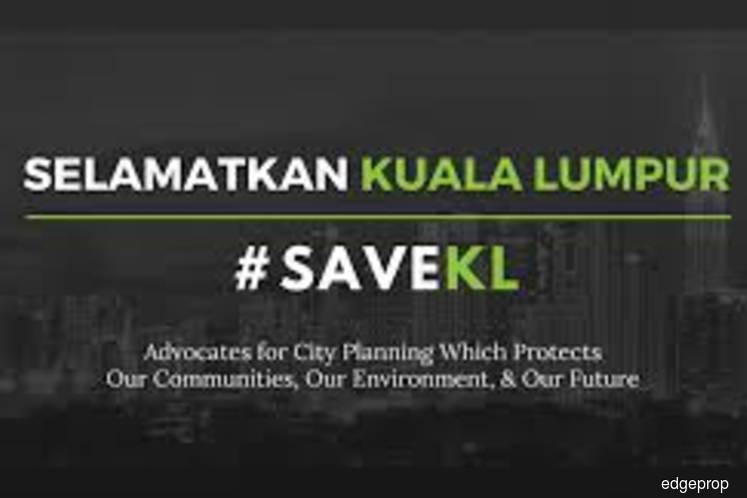 KUALA LUMPUR: In a statement released on Saturday (Nov 10), Selamatkan Kuala Lumpur (SKL) questioned the legality of the recently gazetted Kuala Lumpur City Plan 2020 (KLCP 2020), saying that it was substantially different from the 2008 Draft KLCP which had undergone public participation and consultation, and urged Malaysian Anti-Corruption Commission (MACC) to look into the violations. 
SKL said that as substantive changes were not displayed to the public, it goes against Section 14 of the Federal Territory (Planning) Act 1982. They also urged that the Addendum in the KLCP 2020 which lists violations against the plan from May 2015 — 2018 should include details of all the changes from the displayed 2008 draft plan, and requested independent verification of the completeness of the list of violations.
SKL also "strongly urges the Federal Territories minister to ensure greater transparency and accountability in the development of the Kuala Lumpur Structure Plan 2040, and the KLCP 2040". 
They cite the example that many planners and architects in previous plans may not be fully independent, having relationships with the developers.
Violations that SKL believes MACC should look into include: "Sale and transfer of land in Taman Desa designated for a public library and park/playground to a private developer for a high-rise condominium." 
The statement points out that an MACC report was lodged in Nov 2017, but no action had been taken. 
Other violations are: "Alienation of Institut Kesihatan Umum Malaysia (Lot 132) in Federal Hill and sale to a private developer, and the change of the institutional land to mixed used commercial land."
Also: "Change of land use for Lot 660 in Taman Seputeh from Sanitary Board Reserve land to mixed development." 
In the statement, SKL say that the plot of land was intended to be the future location of sewer pipes for existing link houses of Jalan Taman Seputeh 2, and point out that there exists a conflict of interest here, as there is a joint venture between developer Titial Sama Sdn Bhd and Kuala Lumpur City Hall (DBKL), and DBKL make the planning decision and chair the Objection Hearing under Rule 5 for the development. 
The last listed violation is the Aman Razak land (Lt 22626) in Bangsar, which has been sold with a multi-storey development being constructed, even though it is still marked as an Open Space under the recently gazetted KLCP 2020. — EdgeProp.my
Click here to visit EdgeProp.my for the latest news on all things property