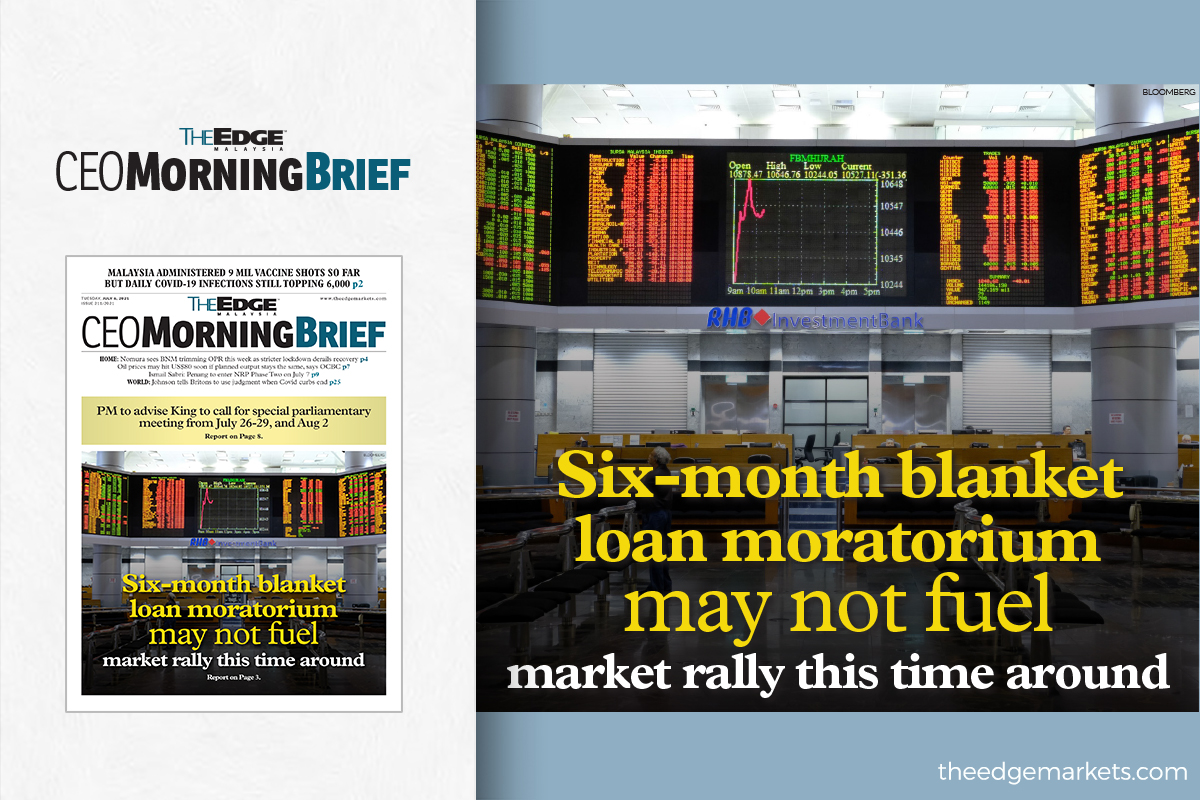 KUALA LUMPUR (July 6): Last year's stock market rally was unexpected against the backdrop of the Covid-19 pandemic. Ample liquidity as a result of low interest rates globally was the main fuel to the sharp rebound.
In Malaysia, loan moratorium granted by Bank Negara Malaysia added additional fuel. More interestingly, the long absent retail investors returned to dominate the local market.
Retail investors are given a six-month loan moratorium again, however research analysts and fund managers doubt that it would help stage another rally like last year. The reason is that more people are likely to face even tighter cash flow compared with a year ago, no thanks to coronavirus.
Rakuten Trade head of research Kenny Yee pointed out that the overall investment landscape has changed compared with a year ago and people's cash buffers are relatively thinner now given the uncertain Covid-19 situation is still unfolding.
"There is also no reason to get into the equity market right now as market performance is not that vibrant… We need to see positive development to kick-start everything, including sped-up vaccination roll-out," Yee told The Edge when contacted.
Yee does not expect retail investors to flock into the stock market in the manner they did last year, given there are not many cheap bargains on local bourse, citing that "many of the small cap stock prices have gone up higher now than their lows".
Nevertheless, Yee said the only catalyst for the KLCI is the low valuations. Coupled with the cheap local currency value, he hopes that the foreign fund could make a comeback to the local equity market to support the recovery in the KLCI towards the fourth quarter this year.
Year-to-date (YTD), the FBM KLCI fell 5.8% or 94.58 points to 1,532.63 on June 30, 2021, compared with 1,627.21 on Dec 31, 2020.
AIIMAN Asset Management (Islamic fund management arm of Affin Hwang Asset Management) portfolio manager Lee Pak Seng concurred that the loan moratorium has a rather muted impact on the equity market amidst pandemic, despite the KLCI's valuation is attractive now.
"The KLCI's forward price-to-earnings ratio is trading at a discount to its historical average. The market is attractive, but whether it will rerate back to previous levels will largely depend on the pandemic," said Lee, adding that the market needs to see strong progress on the vaccination front including reduction in daily cases and positivity rates in order for the equity market to regain confidence from the investors.
Given that the country has battled with the pandemic for more than a year now, Lee expects less money to flow into the market.
"[Despite the loan moratorium] we are unlikely to see similar liquidity driven flows into equities this round versus what we saw in 2020. In addition, given the limited fiscal position of the country, it may be difficult to introduce impactful stimulus policies," he added.
Stock picking getting tough
Some experts viewed that it may be too early to look at it now as the country is bracing for a prolonged Covid-19 lockdown.
Malacca Securities Sdn Bhd head of research Loui Low opined that recovery theme play will be the focus given the country aims to inoculate 80% population by year end.
"However, we don't have a clear picture of when the next phase of the national recovery plan is coming. Given the cases are not dropping as what we expected, and that would slow the economic recovery," Loui noted.
Given the economic uncertainties on the horizon, Low said there could be some downside bias for the FBM KLCI as the 30 constituent stocks are generally pegged with the country's economy.
Low sees that technology stock could be the only bright spot in the market now.
AIIMAN Asset Management's Lee also said the main theme will still be focusing on an eventual economic recovery.
"Malaysia is one of the worst performing markets YTD. This is largely a reflection of elevated cases in the country. This implies that unless we expect cases to return or exceed previous highs, the market has likely bottomed," Lee added.
Lee is looking at beneficiaries from export growth and trade diversion as well as technology and digitisation.
Inter-Pacific Securities head of research Victor Wan noted that stock picking is getting tough.
Wan recommends plantation stocks as they continue to benefit from high crude palm oil prices and local electronic manufacturing service companies and technology stocks to ride on demand upsurge following a global chip shortage.
Meanwhile, Areca Capital Sdn Bhd chief executive officer Danny Wong Teck Meng advocated investors to take a barbell approach to allocate some portion that is in the value or reopening sectors, and a portion in growth sectors.
For value stocks, Wong said some banking stocks' valuations are attractive in terms of their price-to-book ratio and it is worth to relook at those stocks.
While banking stocks may face some net interest margin compression due to the blanket loan moratorium, he said not all banks have high exposure of hire purchase loans in loan portfolios, hence the impact may not be significant.
For growth stocks, Wong recommends the technology sector as he views that the prospects of these companies remain intact given the rising demand for semiconductors and 5G adoption.
He also recommends exports-related companies to take advantage of the current low ringgit and high commodity prices.
To receive CEO Morning Brief please click here.