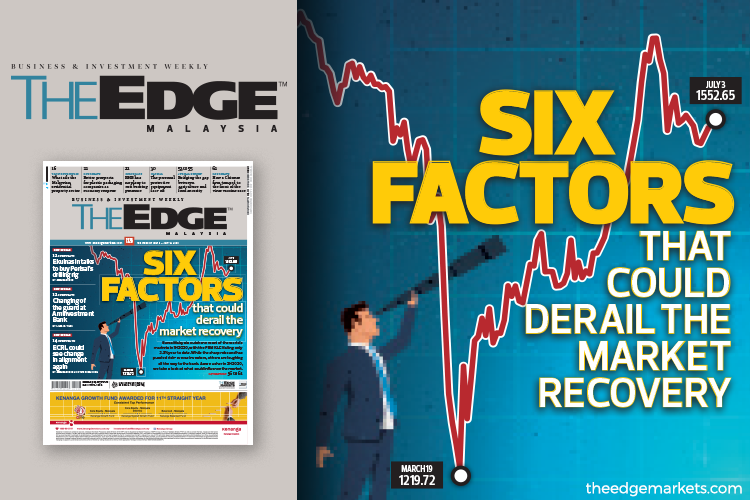 KUALA LUMPUR (July 5): 2020 has not been anyone's year thus far. Equity markets crashed in March, sending shock waves around the world amid mounting concern that the Covid-19 outbreak would drag the global economy into a recession as severe as that of the Great Depression in the 1930s.
Amid the pandemic, there is also rising geopolitical uncertainty.
As a result of these series of unfortunate events, foreign investors packed their bags and took a huge sum of money out of regional stock markets, sending equity prices tumbling.
At home, the FTSE Bursa Malaysia KLCI lost 23.2% of its value between Jan 1 and March 19 to hit a 10-year low of 1,219.72 points.
Nevertheless, the Malaysian stock market bounced back as swiftly as it had fallen. Soon after it hit the multiple-year low on March 19 during the global rout, the FTSE Bursa Malaysia KLCI regained its upward momentum, rebounding by as much as 29% to a high of 1,687.48 points on April 7.
Judging by the rally, stock markets do not seem too worried about gloomy economic prospects.
But is this momentum sustainable?
Countries around the world, Malaysia included, are still counting the cost of the pandemic. Economic data has yet to reflect the full impact since the latest numbers available are only up to May. 
The rise in unemployment numbers, bankruptcies and overall sluggish demand for goods and services will continue to be felt for some time. 
Against this backdrop, will equity bulls remain strong and continue charging to greater heights? What factors could influence the stock market? 
We take a look at six factors that will dictate the market's direction in the second half of the year.
Read our cover story in our latest issue to find out more.