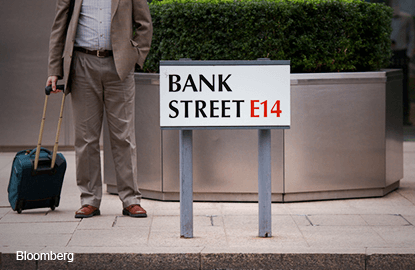 This article first appeared in The Edge Financial Daily, on November 2, 2015.
BOTH of the banks that currently vie for the title of Europe's biggest investment bank — Germany's Deutsche Bank and Barclays of the United Kingdom — are in retreat.
But sometimes the best opportunities come from going against the tide. There is an opening for some brave soul to create a European champion at a time when other financial institutions are exiting markets, laying off staff and shrinking their businesses.
Deutsche Bank is shuttering its operations in 10 countries and cutting 26,000 jobs in the next three years, scrapping its dividend for two years and seeking to cut costs by €3.8 billion (RM17.83 billion). Barclays is also trimming its workforce by a similar amount on the same timescale, as its new chief executive officer (CEO) Jes Staley implements what he called the "necessary transformation" of the firm's investment banking operations.
In terms of how the world's biggest banks compare in the key capital markets of financing companies through managing bond issues, providing loans and selling shares so far this year, JPMorgan has been involved in almost as many loans as Deutsche, Barclays and HSBC combined. Goldman's equities business is bigger than the sum of Deutsche and Barclays.
The way things are headed, there will not even be a welterweight European banking contender, never mind a heavyweight to stand toe-to-toe with the US banks in the investment banking ring.
This is not just about national or regional pride. It is about having a financial infrastructure that is fit for purpose. As things stand, European governments and companies are increasingly reliant on the kindness of (American) strangers to meet their capital markets needs.
Credit Suisse's decision last month to abandon primary dealing in Europe, for example, shrinks the pool of banks available to ensure the smooth functioning of the government debt market.
That leaves countries increasingly reliant on the ability and willingness of US firms to help them meet their borrowing needs, in a business where profit margins are razor thin.
In equity fundraising, BNP Paribas has done just US$3 billion of business this year; should the French government want to offload some of its corporate stakes (Air France springs to mind), US firms are much better placed to hunt down the investors willing to pay the best price.
That is fine until it is not; it is impossible to predict whether a renewed wave of US government regulatory intervention might prompt its banks to retrench from Europe, by which time there will be no local expertise to fill the gap.
Societe Generale CEO Frederic Oudea, who is also president of the European Banking Federation, summed up the regional consequences in an article for the Financial Times published on Oct 11: "Does Europe want its own investment banks to be capable of operating efficiently in capital markets? Or are European states happy to look outside Europe for investment banks which can finance their debt? Are they willing to force European companies to rely solely on non-European banks for their investments and hedging solutions?"
There is a solution, but it will not be easy, Barclays chairman John McFarlane told the Financial Times last month. "If you did want to create an investment banking champion for Europe, you would have to combine the investment banking arms of the main players, but you would have to swallow really hard and you would need political support."
The consequence of increased regulation and higher capital adequacy standards is a lack of investment banking appetite and expertise in Europe. The field is wide open for someone to meld the relevant parts of German, French, UK and Swiss outfits together to create a true competitor to the US behemoths. Persuading the overseers to sanction such a move would not be easy. While Europe is keen to separate ordinary retail banking from so-called casino banking, no individual European regulator wants to harbour a too-big-to-fail financial firm in its jurisdiction.
But the alternative — no European bank with the skill set to meet the region's more sophisticated financial needs — is worse. Convincing investors that a Frankenstein bank could achieve a consistent return on equity without a domestic retail base would also be a struggle.
But there is business to be won and fees to be earned when everyone else is retrenching; maybe Anshu Jain and Bob Diamond, the former chiefs of Deutsche Bank and Barclays, respectively, should team up? — Bloomberg View
This column does not necessarily reflect the opinion of the editorial board or Bloomberg LP and its owners.