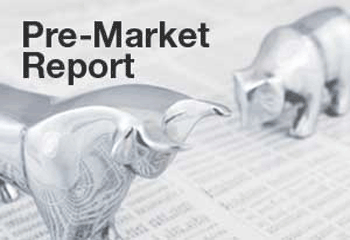 SINGAPORE (Oct 31): Singapore shares may open higher, drawing strength from gains overnight on Wall Street, where risk appetite got a boost from better-than-expected economic data.
Resilient earnings from Singapore banks may also underpin sentiment.
The US economy expanded 3.5% in 3Q2014, following a 4.6% gain in 2Q2014, according to official figures released last night.
The performance in the two quarters was the strongest for the US economy in more than a decade.
The Dow Jones Industrial Average rose 1.3% to 17,195, the S&P 500 inched up 0.6% to 1,995 and the Nasdaq Composite added 0.4% to 4,566.
In Singapore, the Straits Times Index closed 0.3% higher at 3,234.31 yesterday.
STOCKS TO WATCH:
Construction stocks may be in focus following the government's announcement that construction companies will be required to upgrade their workforce from next year as part of efforts to raise productivity in the sector.
DBS Group Holdings' 3Q2014 earnings, announced this morning, rose 17% y-o-y to $1.01 billion on the back of record net interest income and fee income.  
DBS shares closed 0.5% lower at $18.33 yesterday.
United Overseas Bank's 3Q2014 earnings, released after trading hours yesterday, increased 18.7% to $866 million.
UOB shares ended 2% higher at $22.46 yesterday.
Tuan Sing Holdings' 3Q2014 earnings jumped to $17.5 million from $5.8 million a year earlier as revenue rose 84% to almost $100 million.
Tuan Sing shares closed flat at 42.5 cents yesterday.
Starhill Global REIT reported 3Q2014 DPU of 1.27 cents, up from 1.21 cents a year earlier.
Starhill Global shares ended flat at 80.5 cents yesterday.
China Minzhong Food's September quarter earnings rose 18.7% y-o-y to RMB57.4 million ($12 million), aided by higher interest and rental income as well as a property tax refund.
China Minzhong shares ended 1.2% higher at 84.5 cents yesterday.
Boustead Singapore clinched $33 million worth of contracts to supply process heaters, waste-heat recovery units and process-control systems for oil and gas companies operating in Africa, Asia Pacific, the Middle East, North America and Latin America.
The engineering firm's order book now stands at $520 million.
Boustead shares closed 0.8% higher at $1.805 today.