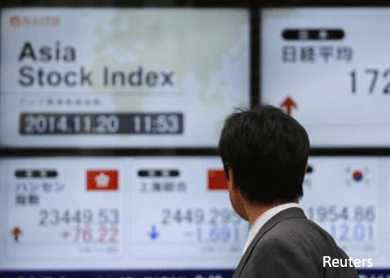 BANGKOK (July 2): Most Southeast Asian stock markets rose on thin volume on Thursday amid the Greek debt uncertainty, but Singapore shares retreated ahead of factory activity data and Thai key index closed below key 1,500 level due to sell-off in banking shares.
Singapore's key Straits Times Index erased early gain and ended a tad 0.1 percent lower. Trading volume fell to just 70 percent of a 30-day average before June Purchasing Managers' index which is due out later in the day.
Thai SET index fell 0.9 percent to 1,491.62, the lowest close since June 19. June consumer confidence which fell for a sixth month dampened investment sentiment and fuelled more selling in economic proxies, including banks.
Foreign investors offloaded shares worth a net 4.4 billion baht ($130.29 million), the biggest since February 25, stock exchange and Thomson Reuters data showed.
Kasikornbank's shares, the most actively traded by turnover, dropped 5.3 percent. Banking shares pulled deep into an overbought territory, with a 14-day Relative Strength Index of 22.4 at the close.
Stocks in Indonesia was up 0.8 percent, trimming some early gains, after a Bank Indonesia survey showed consumers were less optimistic in June than the previous month as they expect the economy to continue to slow in the next six months.
Others in Southeast Asia appeared followed Asia higher though widening cracks in Chinese stocks and Greece's standoff with its creditors capped gains.