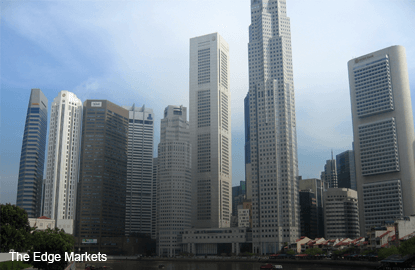 SINGAPORE (Feb 15): Singapore's fourth-quarter economic growth is expected to be revised higher due to a surge in factory output, although the outlook is clouded by concerns about a rise in trade protectionism under U.S. President Donald Trump.
The median forecast in a Reuters poll predicted that gross domestic product expanded 12.6% on an annualised basis in the October-December quarter, from the previous quarter.
The government's advance estimate of fourth-quarter GDP, released on Jan 3 and based on economic data for October and November, put economic growth at 9.1%, getting a lift from a rebound in manufacturing.
Analysts expect fourth-quarter growth to be revised higher, after December industrial production expanded at its fastest pace in five years.
Such an upward revision is likely to reinforce the prevailing view among analysts that the Monetary Authority of Singapore will stand pat at its next scheduled policy decision in April and hold off from a further easing of its exchange-rate based policy.
"In terms of monetary policy, I think the chances for exchange rate easing is much lower right now, at least for April," said Michael Wan, an economist for Credit Suisse.
The outlook for growth this year, however, is clouded by factors including uncertainty over the Trump administration's economic and trade policies, risks from elections in Europe, and the outlook for China's economy, analysts said.
"That's the biggest unknown, what the Trump administration will do in 2017," Wan said.
Even after the pick-up in growth late last year, economists say the MAS is unlikely to be in a hurry to tighten policy, especially given weakness in the labour market, which suggests that demand-driven inflationary pressures are subdued.
"Inflation is going to pick up in Singapore, but this pick up in inflation is largely on administrative prices changes like car park fees...rather than a genuine demand-pull pressure," said Weiwen Ng, an economist for ANZ.
Year-on-year growth in the fourth quarter is seen likely to be revised up to 2.5%, from the government's advance estimate of 1.8%, according to the Reuters poll of 12 economists.