This article first appeared in The Edge Financial Daily, on March 2, 2020.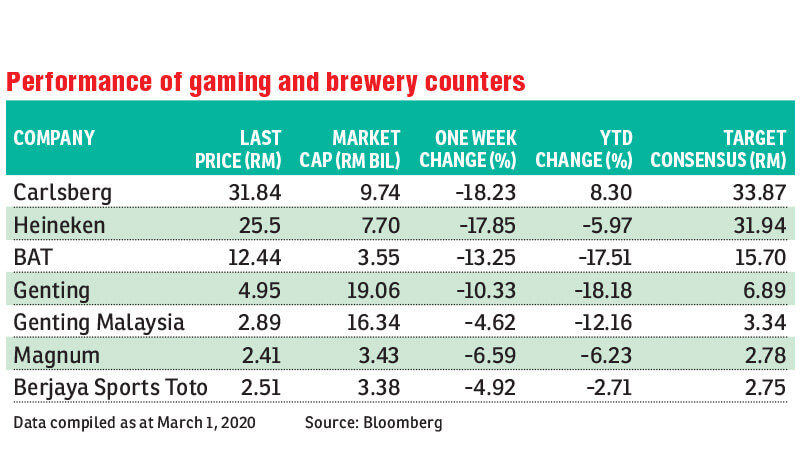 KUALA LUMPUR: Sin stocks, already beaten down over the past one week as the political drama unfolded, are expected to remain under selling pressure amid fears of changes in governing policy under the new government, on top of mounting concerns over a weakening consumer spending.
UOB Kay Hian research head Vincent Khoo told The Edge Financial Daily that he expects some selldown in sin stocks, primarily brewery, numbers forecast operators (NFOs) and the Genting Group.
"Nevertheless, we expect the new coalition to take a pragmatic and not a drastic approach to its governing policy, given the sin sector collectively provides a meaningful contribution to the tourism sector and local employment," Khoo added.
Another analyst commented that the political uncertainty looks like "running for the foreseeable future without the likelihood of a fast resolution". "FDIs (foreign direct investments) [are] at risk; Malaysia's track record of relative political stability is well and truly down the toilet," the analyst said.
The analyst noted it is an "obvious expectation" for all sin stocks to get "bashed down".
Asked if there could be policy changes affecting sin stocks negatively, the analyst said: "Anything is possible. We are in an uncharted territory."
TA Investment Management Bhd chief investment officer Choo Swee Kee concurred, saying the market would likely still be weak.
"Although a new government has been installed, I believe uncertainties remain due to the slim majority and changes in the Cabinet," Choo said.
Affin Hwang Investment Bank Bhd deputy group managing director Yip Kit Weng noted the rakyat generally want stability, pro-business and pro-development policies, saying as long as there is a smooth transition, investors will generally be happy and assess areas they would like to invest in or review sectors they are currently invested in.
"In the short term, there will be uncertainties in the capital markets until the new ruling coalition articulates their economic game plan. Investors will need some time to digest and see this transition," said Yip, adding that this change of government is coming when there are several adverse events.
"I believe the government of the day will not resort to sudden measures or changes which would affect our sovereign ratings or international perception of Malaysia," said Yip.
He noted the Malaysian economy in the past two decades has shown resilience despite various issues such as volatile commodity prices, political changes and a weakening ringgit.
Over the past week, sin stocks — especially breweries — have been beaten down as much as some 18%. Altogether, the seven sin stocks saw a total of RM7.79 billion in market capitalisation eroded in just a week.
Over the last week, RM3.84 billion was wiped out of the combined market capitalisation of Carlsberg Brewery Malaysia Bhd and Heineken Malaysia Bhd.
Carlsberg's share price, peaking at RM38.94 on Feb 21, 2020, fell 18.23% to close at a one-month low of RM31.84 last Friday. This brought  its market capitalisation to RM9.74 billion.
Likewise, Heineken shares declined 17.85% to close at a three-month low of RM25.50 last Friday, from an all-time high of RM31.04 on Feb 21, 2020. This valued the brewery at RM7.7 billion.
British American Tobacco (Malaysia) Bhd (BAT) shares were also not spared, down13.25% in a week to close at RM12.44 last Friday, valuing the tobacco company at RM3.55 billion.
Hilltop casino operator Genting Malaysia Bhd fell 4.62% over the past week, to close at RM2.89 last Friday — its lowest since January last year. Its parent company Genting Bhd was hit harder, down 10.33% in a week to close at RM4.95 last Friday.
Notably, Genting shares were not below the RM5-level since July 2009.
NFOs Magnum Bhd and Berjaya Sports Toto Bhd (BToto) headed lower over the past week. Magnum declined 6.59% to close at an eight-month low of RM2.41 last Friday. BToto slid 4.92% to RM2.51 — a one-month low.
A random check on Bloomberg showed with their current consensus target prices, three stocks — Heineken, BAT and Genting — have over 20% headroom from their current prices.