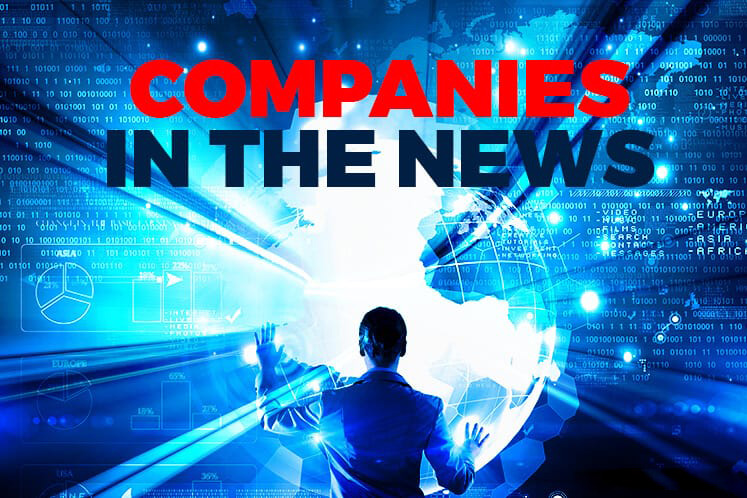 KUALA LUMPUR (March 20): Based on corporate announcements and news flow today, companies that may be in focus on Thursday (March 21) may include the following: Sime Darby Plantation Bhd, Lotte Chemical Titan Holding Bhd, Nylex (Malaysia) Bhd, Utusan Melayu (Malaysia) Bhd, Econpile Holdings Bhd, Sunway Construction Group Bhd, KKB Engineering Bhd, Top Glove Corp Bhd, KLCCP Stapled Group Bhd, UEM Sunrise Bhd and Bermaz Auto Bhd
Sime Darby Plantation Bhd said it has received takeover interest from a few parties in its loss-making operations in Liberia in West Africa.
Its deputy managing director Mohamad Helmy Othman Basha said the planter has signed non-disclosure agreements with a few interested parties, adding that the Liberian operations' annual loss was between RM40 million and RM50 million.
Lotte Chemical Titan Holding Bhd (LCT) said its plants in Pasir Gudang and Tanjung Langsat were operating under normal conditions.
LCT denied any involvement in the Sungai Kim Kim pollution incident and refuted a rumour that its plants were shut for two weeks due to the incident.
Industrial chemicals distributor Nylex (Malaysia) Bhd and Utusan Melayu (Malaysia) Bhd will work together to explore the possibility of settling their legal dispute amicably.
Lawyer Nurfazreen Hazrina Rahim, who acted for Utusan, told reporters that both parties will seek the possibility of settling the case out of court.
Utusan said it was served last Sept 4 with a writ of summons from Nylex which is claiming that Utusan failed to refund the RM10 million deposit which had been remitted pursuant to letters of 'Advertising, Branding & Communication Exercise by Nylex Group of Companies through Utusan Malaysia & Mingguan Malaysia' dated Jan 29 and Feb 2 last year.
Econpile Holdings Bhd has secured an RM44.7 million contract from MMC Gamuda KVMRT (UGW) joint venture to design and build the reinforced concrete box tunnel works for the Hospital Kuala Lumpur Station under the Mass Rapid Transit Sungai Buloh-Serdang-Putrajaya (SSP) Line (MRT 2).
Sunway Construction Group Bhd (SunCon) said its units bagged two piling works contracts worth a combined value of RM86.43 million, bringing its year-to-date (YTD) job wins to RM867.7 million compared to its target of RM1.5 billion.
The first contract was related to the Light Rail Transit 3 (LRT3) and was secured by Sunway Geotechnics (M) Sdn Bhd (SunGeo) from S.N. Akmida Holdings Sdn Bhd for a contract sum of RM47.65 million.
The second contract was secured by Sunway Construction Sdn Bhd from Putrajaya Development Sdn Bhd for a piling job related to a proposed transit-oriented development at Plot 7MD7 at Precint 7, Putrajaya, for RM38.79 million.
KKB Engineering Bhd said the group and its associate have both secured contracts from Petronas Dagangan Bhd (PetDag), while the group also received a purchase order from Laras Jaya Engineering Sdn Bhd (LJE).
The combined value of the contracts and purchase order is RM30.8 million, the group said in a filing with Bursa Malaysia.
Top Glove Corp Bhd is confident of maintaining an average profit margin of 10%, backed by global growth in the gloves market and an increase in the group's capacity.
It also expects to maintain its compounded annual growth rate of some 20% for revenue annually, especially on the back of an expected 33% growth in capacity for its gloves over the next two years, said its founder and executive chairman Tan Sri Lim Wee Chai.
Separately, Lim said the group intends to secure the certification for its condom factory and production by next month, which will enable the group to begin commercial sales immediately after.
KLCCP Stapled Group Bhd is anticipating rental reversion in the financial year ending Dec 31, 2019 (FY19) to stay at about 1% to 2% as in FY18, given the now challenging environment.
Moving forward, KLCC Group of companies group CEO Datuk Hashim Wahir sees the net property income (NPI) for FY19 to be affected with the exit of one of its former anchor tenants — Parkson, whose lease in Suria KLCC expired last month.
UEM Sunrise Bhd plans to launch RM1.6 billion worth of properties in this financial year ending Dec 31, 2019 (FY19). The property developer is also targeting RM1.2 billion worth of property sales during the year.
On a separate note, its managing director and chief executive officer Anwar Syahrin Abdul Ajib said the group's plan to dispose of pockets of land is ongoing and is expected to be completed by the second half of this year.
Bermaz Auto Bhd, the distributor of Mazda cars in Malaysia, expects flat growth in sales volume for the financial year ending April 30, 2020 (FY20) at about 16,000 units versus a year earlier, due to the absence of a tax holiday.
"We still get bookings since the SST (Sales and Services Tax) implementation (on Sept 1, 2018). We are not going for big volumes, we are going for decent volumes to generate enough profitability for our stakeholders,"  said its CEO Datuk Francis Lee.
For the cumulative first nine months of FY19, BAuto's net profit grew 147.6% to RM205.21 million, or 17.68 sen per share, compared with RM82.88 million, or 7.19 sen per share, in the previous year, while revenue rose 37.37% to RM1.95 billion from RM1.42 billion.