This article first appeared in The Edge Financial Daily, on February 22, 2019.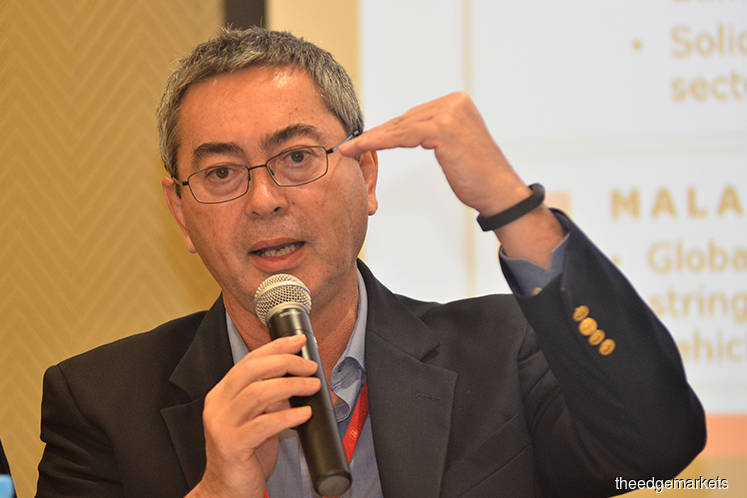 KUALA LUMPUR: Sime Darby Bhd's net profit for the second quarter ended Dec 31, 2018 (2QFY19) grew 3.9% year-on-year to RM317 million, driven by better performances by its industrial and motors divisions.
Quarterly earnings per share grew to 4.7 sen, from 4.5 sen in 2QFY18, Sime Darby's bourse filing showed. Revenue was up 6.9% to RM9.42 billion from RM8.82 billion previously. The group has declared a first interim dividend of two sen per share, payable on May 8.
But for a like-for-like comparison, only the group's continuing operations, namely the industrial, motors, logistics and healthcare businesses, are relevant, the group said in a statement yesterday. This follows the deconsolidation and classification of the results of its plantation and property units as discontinued operations after a demerger exercise in end-2017.
As such, based on continuing operations alone, the group's profit after tax jumped nearly fourfold to RM337 million from RM85 million, which more than made up for the absence of profit from its discontinued operations, which amounted to RM259 million last year.
During the quarter, its industrial segment saw a 28% rise in profit due to higher equipment sales to the mining and construction sector in Australia, and an RM18 million gain on property disposal in Malaysia.
The motors division's profit surged 487% to RM135 million on the refund of import duties and taxes from its Vietnam operations. Excluding Vietnam, the segment's profit was down 11% due to lower margins in China and Singapore.
Its logistics division, meanwhile, saw a 40% decline in profit due to lower port throughput in Jining and the cessation of contribution from Weifang Water after its disposal, though its healthcare division benefited from a higher share of profit from the Ramsay Sime Darby Healthcare joint venture.
For the first half ended Dec 31, 2018 (1HFY19), Sime Darby posted a net profit fall of 66.6% to RM542 million from RM1.62 billion in 1HFY18. But excluding the effects of the discontinued operations, its net profit actually jumped 69.4% from RM320 million previously.
Group chief executive officer Datuk Jeffri Salim Davidson said the growth seen over the first half of the year was largely due to its industrial division in Australia and the upturn in the mining and construction sector.
"Demand for our products and services from the mining and construction sector there [has] been strong. However, we are seeing a slight softening in the group's motors business, particularly in China and Singapore," he added.
Moving forward, Sime Darby expects its industrial division to continue to be supported by growth in Australia, which could compensate for the possible slowdown in demand in light of the US-China trade war.
Meanwhile, the motors division is expected to face strong competition and possibly pressure in demand amid the expected slowdown in economic growth.
The group has allocated total capital expenditure of RM1 billion for the financial year ending June 30, 2019 (FY19), which will be mainly spent on the motors division, Bernama reported.
"As at Dec 31, 2018, we have spent RM200 million to upgrade and refurbish our motor showroom," Jeffri was quoted as saying by the newswire during the group's results briefing.
Besides that, the group is also looking to grow its healthcare division, its third core business segment after the industrial and motors segments, aiming to double the number of beds to 3,000 within the next five years.
Ramsay Sime Darby Healthcare, a 50:50 joint venture between Sime Daby and Ramsay Healthcare Ltd, currently has three hospitals in Malaysia and another three in Indonesia.
Sime Darby closed unchanged at RM2.29 yesterday, which gave it a market capitalisation of RM15.57 billion.