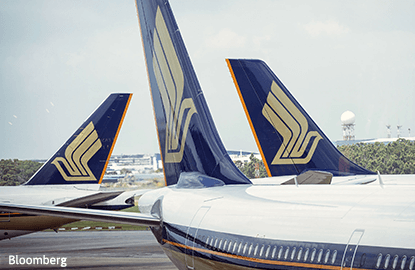 SINGAPORE (Dec 21): Singapore Airlines Group is not about to feel the year-end holiday cheer as its passenger load factor deteriorated further in November, in what is typically the peak season for travel.
Instead, passenger load factor fell 1.9 percentage points on the group level, due to lower passenger traffic and the lowest passenger load in 8 months of 76.9%. In fact, with the exception of Tigerair, all other subsidiaries had lower passenger loads.
"The continued weakness in loads in the peak travel period does not bode well for peak 3Q earnings expectations," said UOB Kay Hian's analysts K Ajith and Sophie Leung.
SIA Cargo's performance was equally poor, with cargo traffic growth decreasing from 10% in October to 3.4% in November. Cargo loads also fell for all regions except East Asia.
The most concerning, was the 8 percentage point decrease in passenger loads to the Southwest Pacific region, which the group attributed to "material increases in industry capacity".
Ajith and Leung point out that the Big 3 Chinese carriers had increased seat capacities to Australia by 12% in December, and could increase them further with the Dec 4 agreement between China and Australia which removed all capacity restrictions between the two countries.
"About 19% of SIA's capacity in km-terms is directed towards Australia and we believe SIA's loads on this sector will likely continue to fall," said the pair.
To that end, UOB Kay Hian has maintained its "hold" recommendation on SIA and its target price of S$10.10.
Shares in SIA are trading higher at S$9.82 on Wednesday.