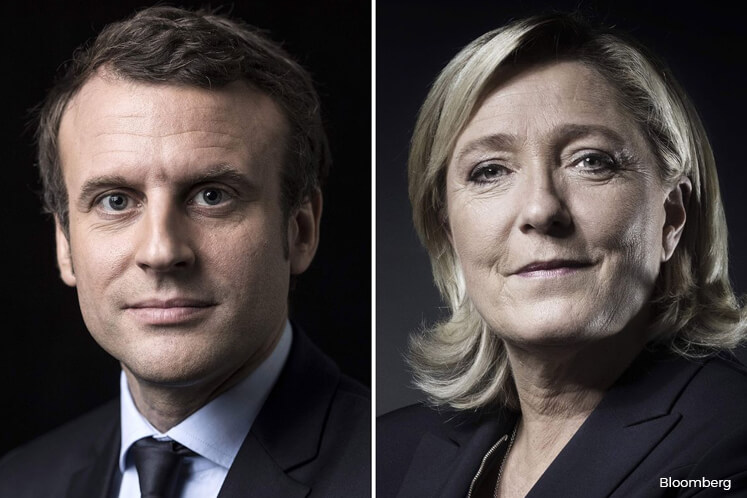 SINGAPORE (April 25): Now that it's down to centre-left former socialist candidate Emmanuel Macron and far-right leader Marine Le Pen in the race for French presidency, Deutsche Bank Wealth Management is projecting a rise in core government bond yields — as well as maintaining expectations of the USD strengthening against the euro over the next 12 months.  
In an insights note issued on Tuesday, Deutsch global CIO Christian Nolting describes the second and final round of the presidential election on May 7 a "proxy vote for or against the European Union and the euro" — rather than it being a contest between left and right political views.
"Macron is France's most fervent pro-euro and pro-European Union politician, advocating ever closer integration and taking a negative view on Brexit. Le Pen, on the other hand, has campaigned on a strong anti-Europe ticket, calling for a rejection of the Schengen agreement on open borders, for a reintroduction of the French franc and for a referendum on EU membership. In other words, she sees Brexit as an example to follow," Nolting explains.
"It is this aspect of the presidential election that is going to move markets until May 7 and possibly beyond, and indeed has already started doing so."  
Citing historical French presidential election patterns where voter turnout has stayed the same or even increased in the second round, Nolting believes the final result is likely to be a Macron victory, such that risk premia and spreads between French and government bonds could fall and equities should rise, led by the financial sector.
He also expects this effect to spread to the European periphery.
"However, given the uncertainties of the parliamentary election in June, in the longer term, much would depend on whether Macron is going to be able to implement his economic reforms. Attention would also shift to economic fundamentals and the European Central Bank (ECB)," cautions Nolting.
An ECB meeting is scheduled this coming Thursday. Yet, Deutsche's CIO does not expect any specific decision on its quantitative easing (QE) program or deposit rate, due to uncertainties which remain regarding the French election.
In the case of a Macron win, Deutsche is projecting that the EUR/USD rate could reach 1.10-1.12, while USD strengthening will be driven in the long term by rising US interest rates and strongther growth in the US than in Europe.
"Our 12-month targets remain for 10-year bunds to reach 0.8%, and 10-year US Treasuries to reach 3%. The part of the European credit market that has proved most sensitive to the French election has been financial credit default spreads (CDS) of banks and insurers. Macron's first round victory has already caused a reversal of the recent widening," observes Nolting.
"Abating political risks should support credit spreads, particularly French ones, but since spreads have been very insensitive to election news, the recovery should be modest considering current low levels," he concludes.