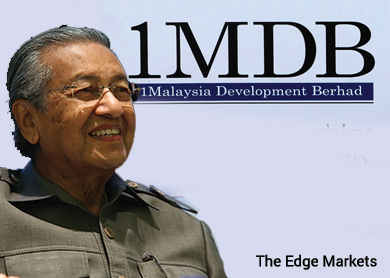 KUALA LUMPUR (June 18): Tun Dr Mahathir Mohamad has hit back at 1Malaysia Development Bhd (1MDB) again, demanding that the debt-laden state investor furnish proof for its answers instead of using the excuse that its dealings are secret as they are government matters.
The former prime minister responded to 1MDB's latest press statement two days ago in which the firm detailed several claims which it said Dr Mahathir had gotten wrong, and also questioned the retired statesman's "motivation" in making "ever-changing claims".
"To all my criticism 1MDB can only say that they are all wrong. But there are no proofs given. The answer is always about secrecy of government matters," Dr Mahathir wrote in a new blogpost today.
He touched on several matters including the "absurd" proposal for 1MDB's predecessor, the Terengganu Investment Authority (TIA), to use its oil resources be used as collateral and insisted that no cabinet paper on a government loan was presented, despite 1MDB's reply that there was.
"I know about the TIA refusal to allow the future products of Terengganu oil wells to be used as collateral by talking to the people who were actually involved with the TIA. The Federal Government as guarantor for the RM5 billion loan was because Terengganu rejected the absurd.
"No cabinet paper on the RM5 billion loan was presented. Produce the paper for the public to see. Of course you will say Cabinet papers are secret.
"If the loan is not off-budget then show in the Government yearly budget provision for raising the loans. There is none," Dr Mahathir said.
He also challenged 1MDB to show written evidence about terms for the issuance of sukuk bonds arranged by Goldman Sachs or AmBank, and whether high interest rates were imposed or not.
The former prime minister also criticised the returns of 1MDB's 30-year bond issue, saying the firm would only get "88 sen to RM1. What is so good about that".
He also questioned why 1MDB overpaid "at least by RM3 billion" for the power plants it purchased, and why they could not be listed if they were indeed good assets.
"Why is it that when Tenaga and Malakoff were rumoured to buy 1MDB power plants, their shares all plunged," Dr Mahathir wrote.
And he took a jab at whether 1MDB was really a strategic development company, saying it had developed "nothing. Even TRX is all fence and nothing else", he said, referring to the Tun Razak Exchange project.
Dr Mahathir has been relentlessly criticising 1MDB and Datuk Seri Najib Razak, who is prime minister, finance minister and chairman of the firm's advisory board. – The Malaysian Insider