This article first appeared in The Edge Malaysia Weekly, on November 5, 2018 - November 11, 2018.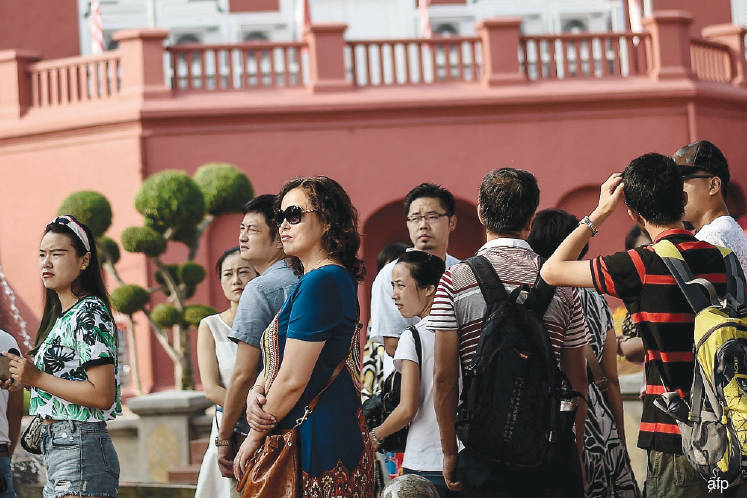 Arrivals from China from January to August were 2.06 million, a 35.4% surge from 1.52 million last year
EVEN though the full-year tourist arrival and receipt targets for this year have been revised to a more realistic level, industry observers are concerned that certain inbound tourist trends may derail them. They say a contraction in arrivals in the first eight months of the year from a year ago, a sharp decline in arrivals from Singapore and a sudden dip in China arrivals last month are worrying.
The new arrival target for 2018 is 26.4 million visitors with receipts of RM84.9 billion. The original target was 33.1 million tourists and RM134 billion in receipts.
According to Tourism Malaysia, in the first half of this year, tourism receipts were RM38.9 billion, which is 2.2% growth over the same period last year and represents 46% of the full-year goal.
The latest arrival data from Tourism Malaysia reveals that between January and August, total arrivals amounted to 17.29 million, a 0.3% decline from 17.34 million in the corresponding period last year.
A traveller is counted as a tourist if they stay for at least one night. Day trippers and transit passengers are not counted as tourists.
In the first eight months of this year, arrivals from the country's biggest tourist source, Singapore, declined 16.3% to 6.92 million. In 2016, Singaporeans made up 51.6% of total arrivals and last year the number had declined to 47.8%. Based on data for January to August this year, arrivals from Singapore now account for just 40% of the total.
While it is a good thing that Malaysia is not overly dependent on the Singapore market, it is not a good sign if arrivals from other countries do not compensate for the shortfall. For example, the drop in arrivals from Singapore in 2017 from 2016, saw a decline in receipts of 2.9% to RM36.95 billion. Based on 1H2018 per capita spend by Singaporeans of RM2,584.90, in the first eight months alone Malaysia has already lost RM3.47 billion in receipts.
"Unusual congestion during the weekends and public holidays at both checkpoints at the Causeway and the Second Link deterred Singaporeans from travelling to Malaysia," Tourism Malaysia director of corporate communication Iskandar Mirza Mohd Yusof tells The Edge.
He adds that it is likely Singaporeans are travelling to hassle-free destinations like Batam and Bintan in Indonesia, or even further afield due to attractive offers from the airlines.
"Cruise tourism is also on the rise with Singapore the region's cruise hub, thus giving more choice to Singaporeans for getaways," he says.
Johor Corp Bhd chief economist Azrul Azwar Ahmad Tajudin says the 16.3% year-on-year plunge in tourist arrivals from Singapore, after a 6.3% decline throughout 2017, could reflect a significant moderation in the republic's economic momentum. He reckons that Singapore's gross domestic product growth of 2.6% y-o-y in 3Q2018 — based on advanced estimates, compared with 4.1% y-o-y in 2Q2018 — could presage worsening prospects in the coming months.
Malaysia's second biggest tourist source, China, which has been growing strongly, recently saw a blip. Total arrivals between January and August were 2.06 million, a 35.4% jump from 1.52 million last year. Based on the first-half per capita spend of RM3,948, China tourists are likely to have already spent RM8.15 billion between January and August.
However, arrivals from China last month reportedly plunged 30% during the Golden Week (Oct 1 to 7) compared with a year ago.
Iskandar acknowledges that industry players, including airlines, saw a decline in bookings and groups. "Some airlines have indicated a slight drop of 3% to 5% in bookings to Oct 7 this year. However, there are mixed views with some parties saying that the one-week performance may not reflect the whole month's results.
"Overall, the decrease may also be attributed to the increase in domestic travel by the Chinese due to the opening of the Hong Kong section of the Guangzhou-Shenzhen-Hong Kong high-speed rail [a 22-minute journey]," he says, adding that many of Hong Kong's attractions saw an increase in arrivals from China.
"Though we do not have the official figures yet, we are hopeful that arrivals from China will continue to show growth as we have been seeing double-digit growth from the market," he says, referring to the latest arrival data.
And it appears that Malaysia was not the only casualty of the reported slump in arrivals from China during the week-long National Day holiday. "Major popular overseas destinations such as the US and Singapore were not spared. Is this an indication that the protracted Sino-US trade war has begun to take its toll?" Azrul asks.
President of the Malaysian Inbound Tourism Association Uzaidi Udanis agrees that the reported decline in China arrivals can be attributed to the US-China trade issues.
However, he does not expect a prolonged impact. "When we speak to the authorities, we are informed that visa applications and approvals are high. Airlines are telling us the flights are full. So, it is curious, where are they going?"
He is referring to comments by hotel operators about a huge slump in China numbers. he reckons that tourists may be opting for alternative accommodation such as Airbnb.
Uzaidi says there should be a shift in focus to capture tourists from other locations in southern China. "We need to make the right noises," he says, "as we only capture a small percentage of China's outbound market."
China tourists are also known to be sensitive to adverse news. For example, in August, Thailand saw arrivals from China, its biggest revenue market, slip 12% after a string of misfortunes.
Azrul reckons that Malaysia may have a problem achieving the new full-year target of 26.4 million tourists in 2018. He says the tally of 17.29 million during the first eight months is equivalent to a monthly average of 2.16 million, which can be extrapolated to only 25.93 million arrivals in 2018.
It also means that in the September to December period, there must be 9.06 million arrivals in total, or 2.27 million a month. It is worth noting that arrivals tend to peak in December during the holiday season.
On a positive note, arrivals from several markets rose in the period from January to August, including Cambodia (112.2%), Vietnam (55%) and South Korea (35.8%). Iskandar says, "Tourism Malaysia has been actively collaborating with travel agents in these markets to develop attractive packages and promote tourist flow to the country. Another contributing factor is the increased connectivity between Malaysia and the three destinations. A comparison between August 2017 and August this year reveals increased seat capacities in all three markets — Cambodia (12.2%), South Korea (30.8%) and Vietnam (7.8%)."
Last week, Tourism Malaysia  deputy director-general (promotion) Datuk Seri Abdul Khani Daud said he hopes it will receive an allocation under Budget 2019 as it was deprived of any funds to promote Malaysia abroad this year.
Save by subscribing to us for your print and/or digital copy.
P/S: The Edge is also available on Apple's AppStore and Androids' Google Play.