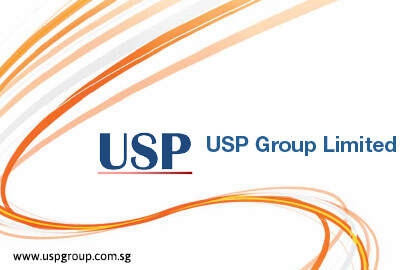 SINGAPORE (Feb 13): Two shareholders holding 11.1% of USP Group have triggered an attempt to oust executive chairman Li Hua and executive director Raphael Tham Wai Mun.
In a letter dated Feb 10, Joshua Huang Thien En and Teng Choon Fong, owners of some 9.15 million shares, have asked the company to hold an EGM.
They want to remove Li and Tham, who own direct stakes of 3.56% and 0.72% respectively, and to also appoint one Lim Min Hai as director. Weng Huixin, a non-executive director, owns the largest stake of 18.27%
USP has diversified interests in the biofuel, property and marine sectors. It was listed back in 2007 as Unionmet (Singapore) Limited and changed its name to USP Group in Feb 2015.
"The Board is currently verifying the shareholding of the requisitioning members, as well as seeking legal advice on the validity of their request for convening of the EGM to pass the proposed resolutions," states Li in an announcement this morning.
If the request to hold the EGM is valid, it will take place within two months following Feb 10.
Li was in the news recently for winning a lawsuit against former IPCO International CEO Quah Su Ling and seven other parties, who were ordered to pay Li S$17.488 million in damages. They had borrowed money from Li, who is also managing director of Sunmax Capital, and had pledged shares in companies such as LionGold, InnoPac, ITE Electric and Asiasons Capital (which has since been renamed Attilan Group) as collaterals.
Quah, together with John Soh Chee Wen, are now facing charges for their alleged role as masterminds behind the October 2013 penny stock saga.
Huan Hsin
On Nov 4, USP announced that for the three months ended Sept 30, 2016, it managed earnings of S$94,000, reversing losses of S$863,000 in the quarter a year ago. Revenue in the same period surged more than four-fold from S$2.12 million to S$9 million.
The higher revenue was attributed to contributions from two newly acquired subsidiaries, Koon Cheng Development Pte Ltd and Supratechnic Pte Ltd Group. The companies contributed S$0.9 million and S$7.2 million, respectively, during the period.
In addition, USP is also the second largest shareholder of contract manufacturer Huan Hsin Holdings, a former market darling that is now struggling to restructure itself. 
For the year ended Dec 31, 2015, Huan Hsin posted losses of S$57 million, improving from a loss of S$79 million in the preceding year. Revenue in the same period was down to S$151.1 million, from S$355.8 million a year ago, as it shuttered plants. 
According to Huan Hsin's 2015 annual report, USP owns 64,809,400 shares, or 16.20% of Huan Hsin.
Year-to-date, thinly-traded USP has gained some 28% to last trade at 12.5 Singaporean cents on Feb 10, giving the company a market value of S$10.3 million.