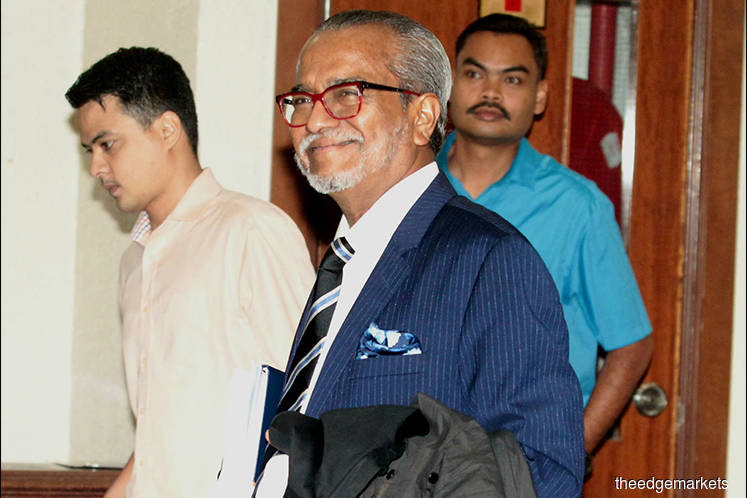 KUALA LUMPUR (May 14): Lawyer Tan Sri Muhammad Shafee Abdullah today failed to get his passport returned temporarily in order for him to be present in an Australia court to assist in a drug case involving a Malaysian.
The prominent lawyer had handed over his passport in September last year after he claimed trial to four counts of money laundering in connection with a RM9.5 million payment from former premier Datuk Seri Najib Razak.
Justice Collin Lawrence Sequerah agreed with the prosecution that there is no compelling reason for Shafee to be in the Australia court as the latter is merely to assist there.
He said Shafee being present at Australia's detention facility is only for the purpose of assisting in translation from the Malay language.
"To that extent, the applicant (Shafee) could send a member of his firm to assist.
"It is evident therefore that the applicant present there is merely to assist as there are Australian solicitors on record. Therefore, (there is) no compelling reason for the applicant's presence there," Justice Sequerah added.
He stressed that the whole rationale for requiring Shafee to surrender his passport in the first place was due to the serious nature of the charges faced.
"The possibility of a risk of flight could not be discounted. There is, therefore, an inherent flight risk because of the nature and seriousness of the charges faced," he said this when dismissing Shafee's application for the temporary release of his passport.
Earlier, the High Court had also fixed July 8 to 11, July 15 to 18 this year and March 16 to 19, March 30 to 31 and April 1 to 2 next year as new hearing dates for this case.
The case will be called for case management again on June 13.
On Sept 13 last year, Shafee pleaded not guilty to receiving from Najib RM9.5 million, which came from illegal proceeds.
This is Shafee's third application to have his passport returned temporarily for him to go abroad. However, the prosecution did not object to the previous two applications.
Deputy public prosecutor Afzainizam Abdul Aziz told the court that the prosecution had been instructed to oppose today's application.
He stressed that the drug case in Australia was only fixed for mention and there is no cogent reason for Shafee to be present there as the latter merely appeared to assist.
He added that Shafee should be treated as a normal accused person and should not be given special treatment just because he is one of the Bar's member.
Shafee was represented by lawyer Harvinderjit Singh today.