This article first appeared in The Edge Financial Daily, on October 15, 2019.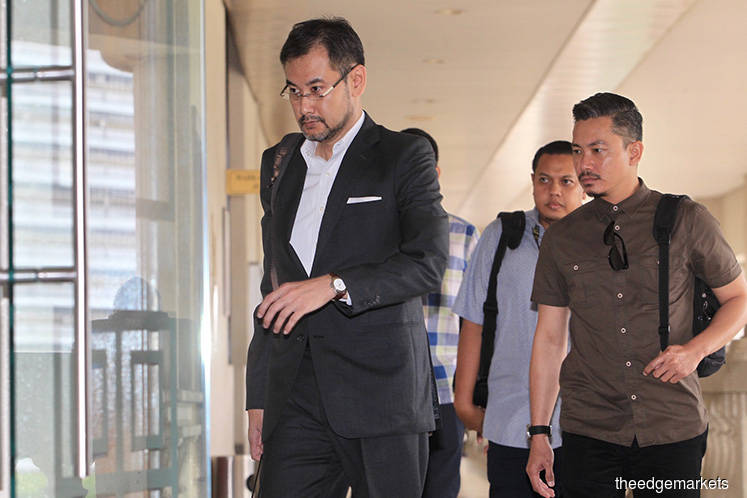 KUALA LUMPUR: Lead defence counsel Tan Sri Muhammad Shafee Abdullah has alleged that former 1Malaysia Development Bhd (1MDB) chief executive officer (CEO) Datuk Shahrol Azral Ibrahim Halmi (pic) had conspired with alleged "puppetmaster" Low Taek Jho (Jho Low) to obstruct an audit by the National Audit Department (NAD) of the state-owned fund in 2010.
Throughout cross-examination of the prosecution's ninth witness yesterday, Shahrol claimed that he was acting on the instructions of Jho Low to restrict certain documents from being accessed by the NAD for the purposes of the audit.
Shahrol admitted, after being grilled by Muhammad Shafee, that had the NAD proceeded with the audit of 1MDB — then known as Terengganu Investment Authority (TIA) — the authority would have unearthed Jho Low's misappropriation of funds from the issuance of RM5 billion Islamic Medium Term Notes (IMTN).
1MDB had transferred US$700 million into Good Star Ltd, a company that was initially represented as belonging to 1MDB's partner PetroSaudi International Ltd but was eventually revealed to belong to Jho Low.
After producing a series of documents, Muhammad Shafee implied that Shahrol could not have been so naive to solely follow Jho Low, to the point that he disregarded the NAD's requests for documents.
However, Shahrol defended his stand at the time, as he believed that Jho Low was only relaying instructions to him from former prime minister (PM) Datuk Seri Najib Razak, who was the chairman of the board of advisors of 1MDB at the time.
Muhammad Shafee retorted that it should have been Shahrol's responsibility, as the CEO of 1MDB, to check with the shareholders, board of directors  and the board of advisors whether the orders indeed came from Najib.
Shahrol disagreed.
The witness said Jho Low had told him that the NAD's audit of 1MDB would pose a political risk to Najib, as the opposition was already playing up the RM5 billion IMTN issue at the time.
After TIA was acquired by Minister of Finance Inc in 2009, Shahrol said he wrote a letter to the NAD stating that Najib did not consider the audit necessary and that Ernst and Young would be appointed as external auditors.
Shahrol signed the letter but contended that the contents were prepared by Jho Low.
"The letter stated that the takeover of Terengganu Investment Authority to become 1MDB was done on an 'as is where is' basis, and because of that, it would not have to be audited or [have] a due diligence conducted by the National Audit Department," said Shahrol in his witness statement.
Muhammad Shafee: I have shown by contemporaneous documents that the [former] PM (Najib) was never the person who obstructed the due diligence and audit of 1MDB.
Shahrol: I have no comment on that.
Muhammad Shafee: I am putting it to you that the [former] PM has no interest to obstruct the due diligence and the auditing of 1MDB.
Shahrol: I have no comment on that.
Muhammad Shafee: I am further putting it to you that the only interest that is visible is that of Jho Low — acting in tandem with some personnel in 1MDB — were the only people with the interest of never wanting to do the auditing of 1MDB beyond July 1.
Shahrol: I have no comment.
Muhammad Shafee: The reason why they were so bent on not allowing the Auditor-General (AG) to come in was because it will unravel the cheating and misappropriating in the IMTN issuance.
Shahrol: No comment.
Muhammad Shafee: It would also unravel, among other things, the US$700 million payment to Good Star which was Jho Low's company.
Shahrol: No comment.
Muhammad Shafee: In view of the crystal-clear evidence, it will show that you could not be that naive in believing Jho Low all the time. There has to be a time that you felt that this was going into treacherous waters.
Shahrol: No comment.
Muhammad Shafee: In this episode, as early as that, you were very much in cahoots with Jho Low. You were not blind, but your eyes were fully open.
Shahrol: I disagree.
The NAD eventually conducted an audit of 1MDB, but only later in 2015 after much pressure from the opposition and civil society following reports that RM2.6 billion had been deposited into Najib's personal bank accounts.
However, the report was classified under the Official Secrets Act. It was only declassified last year.
Following that, Tan Sri Dr Madinah Mohamad, who was the AG then, issued a statement confirming that the original audit report on 1MDB issued in 2016 has been altered, and that orders to tamper with the report first came from Najib.
Among the alterations done, prior to the audit report being presented to the Public Accounts Committee on March 4, 2016, was the removal of the mention of Jho Low's attendance in a 1MDB board meeting.
According to Madinah, others involved in the tampering were Najib's former chief private secretary Tan Sri Shukry Mohd Salleh, former 1MDB president and CEO Arul Kanda Kandasamy, former chief secretary to the government Tan Sri Dr Ali Hamsa and former AG Tan Sri Ambrin Buang.