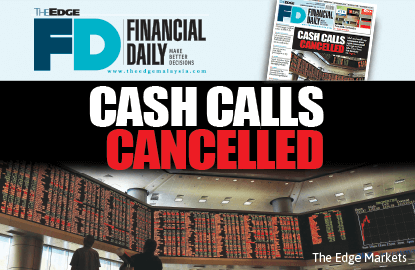 This article first appeared in The Edge Financial Daily, on November 11, 2015.
KUALA LUMPUR: Amid political and economic uncertainties, several mid- and small-cap companies have scrapped their proposed cash calls after taking into consideration the prevailing poor investor sentiment and market volatility.
The weaker investment sentiment was evidenced by a heavy foreign fund outflow. Net foreign outflow amounted to RM17.5 billion as at Oct 30, surpassing the RM6.9 billion outflow for the entire 2014.
According to Bursa Malaysia data, the average daily trading volume of the FBM KLCI for the cumulative nine months up to September fell 11.7% to 1.97 billion shares from 2.23 billion shares a year ago.
Average trading value also fell 7.2% to RM2.06 billion from RM2.22 billion in the same period.
Fingers have been pointed at worries over China's slowing economy and political uncertainties on the local front. The slump in commodities has also dampened investor confidence.
These did not bode well for mid- and small-cap companies that had opted to raise funds from the capital market.
One of the casualties includes Wong Engineering Corp Bhd (fundamental: 1.15; valuation: 0.9), which initially aimed at raising up to RM52.25 million in fresh capital via a rights issue to undertake an earnings-accretive facility management contract.
It decided to call off the deal after taking into consideration the current market sentiment and volatility.
Others include Lay Hong Bhd (fundamental: 0.75; valuation: 0.8), ConnectCounty Holdings Bhd (fundamental: 1.15; valuation: 0), PNE PCB Bhd (fundamental: 1.95; valuation: 0.6), Scan Associates Bhd (fundamental: 0; valuation: 0), Ingenuity Consolidated Bhd (fundamental: 0.95; valuation: 0.9) and Scomi Energy Services Bhd (fundamental: 1; valuation: 1.5), just to name a few.
Last year, Utusan Melayu (M) Bhd (fundamental: 0.2; valuation: 0.9) cancelled its proposed renounceable two- call rights issue, while Protasco Bhd (fundamental: 0.75; valuation: 1.2) aborted its plan for private placement and a bonus issue of warrants, without giving any reason for the move.
Nevertheless, fund managers are of the view that the cancellation of the cash calls is due to various factors, including the sectors the companies are in and whether the board members are embroiled in any tussle, which will erode investor confidence to subscribe to the new shares.
"In any capital fundraising exercise, we need momentum and this much depends on the outlook of the economy and encouraging volume in the market," Areca Capital Sdn Bhd chief executive officer Danny Wong told The Edge Financial Daily over the telephone.
He said the market sentiment was bad for Malaysia in the past quarter due to the sharp fall in crude oil prices to US$50 (RM219) per barrel compared with a high of US$100 per barrel last year.
He added that US interest rate normalisation, China's slower economic growth rate coupled with other domestic factors, also weighed on market sentiment.
In view of the situation, Wong said, a listed company's investment banks and advisers would normally advise the client against pursuing the rights issue or private placement.
"I would not say the economy is dim, but the sentiment is quite bearish. If the [market] sentiment is good, it would be easy [for corporates] to raise money," he added.
In general, most of the corporates prefer to raise fund through the capital market than borrow from the bank due to conditions attached to bank borrowings.
By selling new equities to existing or new shareholders, the money raised will go directly to the company, similar to initial public offerings. Whereas, if a corporate chooses to take on a bank debt, it usually has to pay back within a certain period of time and this would increase the company's gearing ratio.
"I think they [companies] are aborting the cash call mainly because they are worried about the take-up rate or the response is not good given the current market conditions," JF Apex Securities Bhd head of research Lee Chung Cheng said.
However, he pointed out that the cancellation of proposed cash calls is not a trend and such an exercise is largely dependent on each company's fundamentals and future plans.
Lee said he does not see the cancellation of the corporate exercise of the small- and mid-cap companies having an adverse impact on the broader capital market.
"But if a large-cap company aborts its cash call, then it may signal that the market sentiment is really bad," he added.
Echoing the same sentiment, Mercury Securities head of research Edmund Tham said although there were companies that terminated their cash calls, some were still raising working capital through other means, for example, by issuing bonds, depending on their needs.
"There is no harm to raise funds from the capital market. It is dependent on which is the most suitable measure for them," he added.
Given the current economic situation, Wong pointed out that many are expecting weaker corporate earnings ahead following the imposition of the goods and services tax.
"The government and banks are also tightening their credit, possibly resulting in higher lending cost. So this will weigh on the companies that want to expand, resulting in weaker corporate earnings.
"With the earnings outlook weaker, a lot of projects could be deferred," Wong said.
---
The Edge Research's fundamental score reflects a company's profitability and balance sheet strength, calculated based on historical numbers. The valuation score determines if a stock is attractively valued or not, also based on historical numbers. A score of 3 suggests strong fundamentals and attractive valuations. Go to www.theedgemarkets.com for more details on a company's financial dashboard.