This article first appeared in The Edge Malaysia Weekly, on December 24, 2018 - December 30, 2018.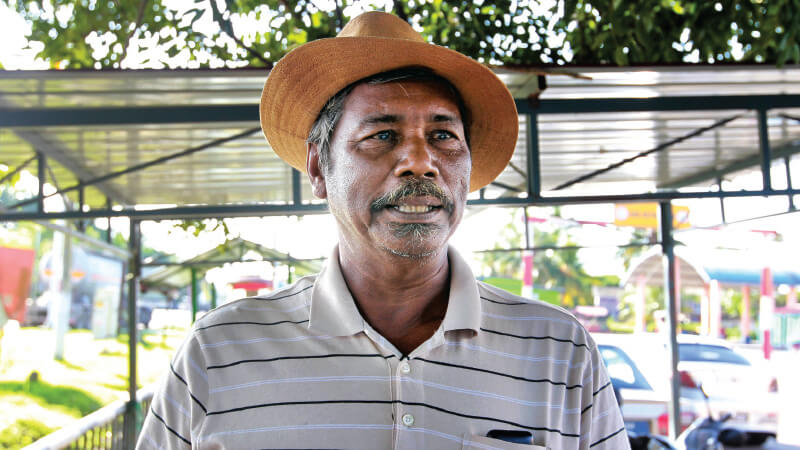 Yusof: The payments have been delayed for almost two months
FEDERAL Land Development Authority (FELDA) settlers are bearing the brunt of the financial mismanagement at the agency, which has been reporting huge net losses and high debt levels. Many settlers have not received their cost of living allowances for a while.
While the management and financial issues at FELDA and its 23% subsidiary FGV Holdings Bhd had previously seemed remote from the lives of the rural folk, the cash flow problem has trickled down to them.
When a settler's land is replanted by FELDA, the costs involved are covered by a loan from the agency, which will be repaid from Year Nine onwards by the settlers.
As oil palms take three years to bear fruit and rubber trees require seven years before they can be tapped, settlers will receive a Sara Hidup allowance as a loan to cover their living expenses in the earlier years.
For oil palm, which matures in eight years, the settlers will get a different allowance, known as Pendahuluan Hasil, to cover their living expenses.
The settlers in Pasir Besar, Gemas, Negeri Sembilan, have not received their allowances under the agency's oil palm and rubber tree replanting and cost of living advancement scheme for almost two months, according to settler Yusof Jalaluddin.
FELDA has also delayed payments for the fresh fruit bunches that have been harvested and passed on to the agency, which usually come in towards the end of the month, he says.
"The payments have been delayed for almost two months. For us settlers, we rely on the allowances for our day-to-day expenses. When we asked the FELDA officer here, the response was 'FELDA has no money, you will have to wait'," he tells The Edge.
He adds that there is no point in getting into a dispute with the officer as the settlers have bank cards, which they use to withdraw their allowances from the bank.
The delay in payment has proved to be a big hindrance for the settlers as they would have to travel all the way to Gemas to get access to the nearest bank, which makes it even more difficult for settlers, most of whom are ageing.
"We have to travel to Gemas to withdraw the allowance from the bank. Some walk all the way to Gemas from wherever they are located to check whether the amount can be withdrawn," says Yusof.
"It is worse for the older folk who cannot make the journey by foot as they would have to rent a car to visit the bank day after day, only to find out that the money has not been deposited into their accounts yet."
The tight cash flow of the settlers has had a significant impact on the economy of Pasir Besar, he says, pointing to the empty pasar and quiet shops.
The outlets are open as usual but no one is buying, he says. "Look at the pasar — there are no customers. Usually in the mornings, it is filled with people buying fresh goods and vegetables. Now we are relying on outsiders and passers-by to buy our goods because the locals have no money to spend."
Another settler says the problem is not just limited to Pasir Besar as many other settlements, including Serting, Jelai, Sungai Kelamah, Bukit Jalor and Bukit Rokan, are facing the same predicament.
FELDA Pasir Besar chairman Abdullah Muhamaduni says the issue is being addressed.
Asked if he is aware of the reasons for the non-payment of allowances, he says he is not sure, adding that it is better to directly ask the head office in Kuala Lumpur. "To be honest, we are not sure what is going on. Our job is just to facilitate the payments to the settlers. If the money is in the bank, we'll pay it out. If the money is not there, we can't do anything. That's all I can say.
"But I'm sure you are aware of FELDA's cash flow issue, based on the statements that have been published."
In response to questions from The Edge, FELDA admits that it has slipped in making the payments to the settlers due to cash flow constraints and says that this has affected about 38,000 settlers, with RM33 million due.
It says RM500 million is needed to pay the allowances due to the large number of settlers involved in the replanting programme.
"The funding of these mainly comes from internal sources through operations and investments, supplemented by income received from FGV Holdings Bhd, through land lease agreement arrangements, repayment of loans by settlers, subsidiaries and associate companies as well as from other sources such as asset sales," it says.
"A combination of factors, in part caused by the turbulent business environment and market sentiment, has caused some of the funds that were supposed to be received by FELDA to be delayed."
Low crude palm oil prices have been cited as one of the factors behind the issue as this has translated into a delay in loan payments by the settlers as they are earning less from the sales of their produce.
Based on FELDA's standard operating procedure, no loan deductions can be made if a settler's income is less than RM1,000 per month, the agency explains.
Besides that, FELDA says, it has deferred some sales amid the prevailing poor market conditions to avoid incurring losses.
"We are doing our best to find ways and means to eliminate unnecessary costs to free up cash as well as seek other sources of funds so that we do not have to delay payments to the settlers much longer," it says.
"We have been engaging with the most badly affected settlers under various FELDA schemes to inform them of the situation."
Last Thursday, the Ministry of Finance announced that it is aware of the issues faced by FELDA and has provided a special allocation of RM77 million to assist the settlers in view of the overdue payments in the current year.
According to a statement by the ministry, the allocation includes mortality payments totalling RM1.2 million to beneficiaries of 120 deceased settlers, RM43 million to settle outstanding payments to Felda Technoplant Sdn Bhd as well as replanting advances amounting to RM32.8 million.
Early this month, the second series of the 2017 Auditor-General's Report issued an emphasis of matter on FELDA regarding its massive net loss of RM5.73 billion (2016: RM251.24 million) and RM4.85 billion (2016: RM729.60 million) at the company and group levels respectively.
Meanwhile, net current liabilities stood at RM643.93 million and RM27.03 million for FELDA and the group respectively. This compared with net current assets of RM343.17 million and RM1.234 billion in 2016.
"FELDA's and the group's operational cash flow also saw deficits amounting to RM1.2 billion (2016: RM1.16 billion) and RM503.49 million (2016: RM578.54 million)," says the report.
The report also says FELDA and the group had institutional borrowings of RM7.8 billion and RM12.14 billion respectively, compared with RM6.82 billion and RM9.08 billion for the previous year.
It is worth noting that losses at FGV — in which FELDA has a 33.67% stake — have also been ballooning with the company reporting a net loss of RM871.153 million for its nine months ended Sept 30. For the third quarter ended Sept 30, FGV incurred total impairments of RM788 million, mainly on its acquisition of Asian Plantations Ltd at a huge premium over its net asset value.
It has been reported that FGV will be undertaking a strategic business transformation next year.
Meanwhile, FELDA's future plans may be clearer after a White Paper — initially to be presented this month — is tabled in parliament next year. 
Save by subscribing to us for your print and/or digital copy.
P/S: The Edge is also available on Apple's AppStore and Androids' Google Play.