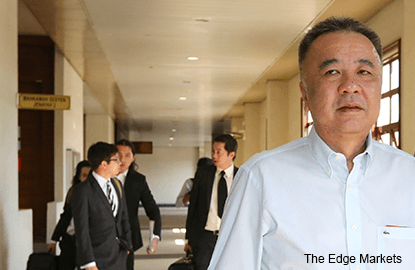 KUALA LUMPUR (Feb 29): Low Thiam Hock, former executive chairman of Repco Holdings Bhd, was sentenced RM5 million fine in default of five years, and a jail term of 5 years in a landmark case brought by the Securities Commission.
However, Sessions Court Judge Mat Ghani Abdullah allowed the application to stay the execution of both fine and jail term, pending the defence's appeal, as these were heavy sentences.
He also imposed an additional RM1 million bail on Low, pending his appeal. Low was previously on an RM300,000 bail.
Low, better known as Repco Low, was convicted on Jan 11 for market manipulation, involving the shares of Repco. He is liable to a minimum fine of RM1 million and imprisonment of not more than 10 years.
Low's lawyer Edmund Bon said the defence will appeal to the High Court this week, over the sentence.
"We are dissatisfied with the decision; we will file an appeal to the High Court this week," Bon said.
He had earlier filed an appeal over the conviction of Low in January.
Low's sentencing was postponed three times earlier, following an original sentencing date of Jan 19. Sentencing dates on Jan 19 and Jan 22 had all been adjourned at the request of the defence.
Low, 54, arrived at the court, clad in a white shirt, and appeared calm when the sentence was read out to him.
He was convicted of creating a misleading appearance to the price of Repco shares on the Kuala Lumpur Stock Exchange on Dec 3, 1997 by acquiring 227,000 units of Repco shares. On that day, the share price went up to RM108.50 to close at RM113, while the market was crashing in 1997, according to the prosecution's case.
Low was found guilty under the section 84(1) of Securities Industry Act 1983 (SIA) and punishable under Section 91 of the same Act.