This article first appeared in The Edge Malaysia Weekly, on November 25, 2019 - December 01, 2019.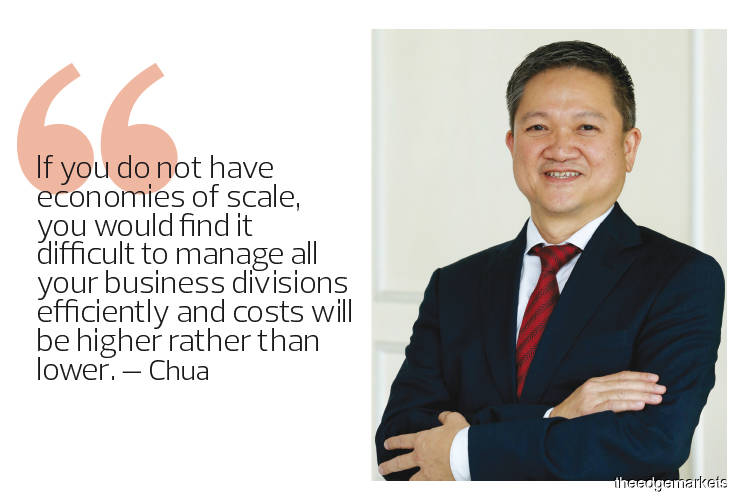 Photo by Sam Fong/The Edge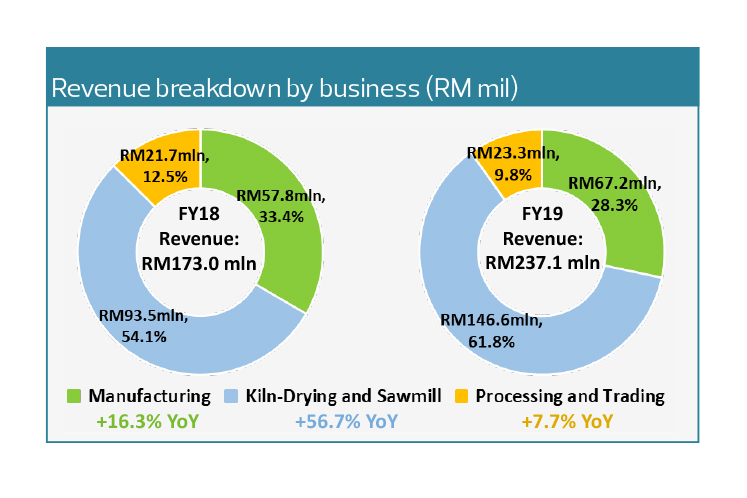 IT is not always a good idea to be a vertically integrated company, and Sern Kou Resources Bhd managing director Chua Peng Sian is well aware of this.
Sern Kou, which is listed on the Main Market of Bursa Malaysia, is a timber group with exposure in upstream, midstream and downstream activities.
Since its listing in 2004, the company's three major operations — the processing and trading of wood; kiln-drying and sawmills; and furniture manufacturing — have been under one roof in Muar, Johor. All three business segments were dependent on each other and dragging each other down, until Chua took over the helm of the company in 2015.
"We have learnt the hard way that the vertically integrated model only makes sense if we have economies of scale," he tells The Edge in an interview.
Chua acknowledges that the traditional business mindset is to do everything in-house in order to save costs. "But it does not always work that way. If you do not have economies of scale, you would find it difficult to manage all your business divisions efficiently and costs will be higher rather than lower.
"For instance, when we produce a piece of furniture, if we want to be involved in every single furniture part, it will take us a longer time, not to mention incur higher cost. But if we were to outsource certain parts that we are not specialised in, although we have to pay for them, it is actually more cost-effective and time-efficient."
Chua is the single largest shareholder of Sern Kou with a 32.9% stake, followed by private investor Koh Poh Seng with 12.1%. Sern Kou co-founder and senior executive director Koh Kun Chuan (no relation to Poh Seng) still owns 5.1% equity interest in the company.
With over three decades of experience in the timber industry, Chua joined Sern Kou as chief operating officer and executive director in 2009 and he assumed his current role about four years ago.
Since then, Sern Kou's upstream and midstream operations have been moved to Kelantan while Muar remains its main base for furniture operations.
Chua recalls that during the early days, the sawmills prioritised Sern Kou's furniture operations, with clients being turned away unless the furniture operations had sufficient wood supply. "That is not easy to navi­gate. When one division is not doing well, it might blame it on another division. But, now, we have decoupled the three business operations and they all have to find their own clients and suppliers independently."
In essence, each division is a profit centre and, as a result, Sern Kou has seen significant growth in recent years.
Adopting sharing concept
Chua then took the bold step to re-strategise and implement a "sharing" concept in 2015, when he realised the limits of scaling up with a vertically integrated model. "Most business owners keep their suppliers, customers and employees at arm's length with little sharing of knowledge, data and profit. But I like to do things differently and take the road less travelled — adopting the concept of sharing with our stakeholders."
For example, instead of Sern Kou designing furniture on its own and then hoping the customers will like it, both parties can now share resources and market data.
"Our customers provide us insights into who their end-users [buyers] are and, in turn, we design furniture suited to the targeted demographic group. This results in a reduction in lead time to market and more sellable products, with enhanced profits to be shared by both parties. I believe the whole is more than the sum of its parts. If we share, we get more in return," says Chua.
The strategy to share resources, market and profit has paid off and continues to do so. Sern Kou's net profit has jumped from RM1.5 million for the financial year ended June 30, 2017 (FY2017), to RM9.1 million in FY2018, before hitting an all-time high of RM11.6 million in FY2019.
Turnaround for furniture business
Although the group's downstream furniture operations — specialising in rubberwood furniture, especially dining sets — has been making losses, Chua expects it to turn around in FY2020.
Chua points out that Sern Kou has been overly reliant on furniture exhibitions and trying too hard to impress with award-winning designs, which did not work for the company. "An award-winning design does not necessarily mean it will sell well because the customer base of our buyers [furniture retailers] may not be receptive to our products."
So, Sern Kou formed a strategic alliance with online furniture retailers in China, leveraging the expertise of both parties to increase market share. Today, the group is dealing directly with Linsy Home (or Linshimuye), one of the largest online furniture retailers in China and employs more than 3,000 workers.
"I believe Linsy's annual revenue is RMB7 billion (RM4 billion) to RMB8 billion. On 11.11, we were told that sales hit RMB980 million in a single day. Although there is no official agreement, we are working together very closely and Linsy's orders are coming in strongly," says Chua.
In fact, Linsy Home contributes about 30% of Sern Kou's revenue from the furniture division. Another 40% is from the US market and the remaining 30% from other markets, including Japan, South Korea and India.
Meanwhile, Sern Kou is also venturing into a new category of furniture — kitchen cabinets. It says it is the first to export kitchen cabinets to the US from Malaysia.
"We are setting up a kitchen cabinet line exclusively for the US market. Given the ongoing US-China trade war, it is an opportune time for us as there is ready production space. We have secured an American customer, and we are targeting to start production in 4QFY2020," says Chua.
Expanding sawmill operations
Since the midstream kiln-drying and sawmill businesses continue to drive growth, Sern Kou is expanding its sawmill capacity in Kuala Krai, Kelantan.
The group had acquired sawmills in Kuala Krai and Gua Musang, Kelantan, in 2016 and 2017 respectively. The Kuala Krai sawmill has two production lines with a capacity of 24,000 tonnes per annum and the Gua Musang sawmill's sole production line can produce 12,000.
Sern Kou is adding two lines in Kuala Krai by end-FY2020 (Phase 2) and it will add another two lines by end-FY2021 (Phase 3).
The Phase 2 expansion will boost the group's total capacity to 60,000 tonnes per annum, up from 36,000 currently. The Phase 3 expansion will bring total capacity to 80,000 tonnes per annum.
"The existing three sawmill lines in Kelantan have been fuelling our top- and bottom-line growth. All three lines hit optimal capacity at end-FY2019. The further capacity expansion in Kuala Krai will be our growth catalyst going forward," says Chua.
Year to date, shares of Sern Kou have risen 64% to close at 87 sen last Thursday, giving it a market capitalisation of RM219.2 million. The counter is currently trading at a historical price-earnings ratio of 18 times.