This article first appeared in City & Country, The Edge Malaysia Weekly, on August 19, 2019 - August 25, 2019.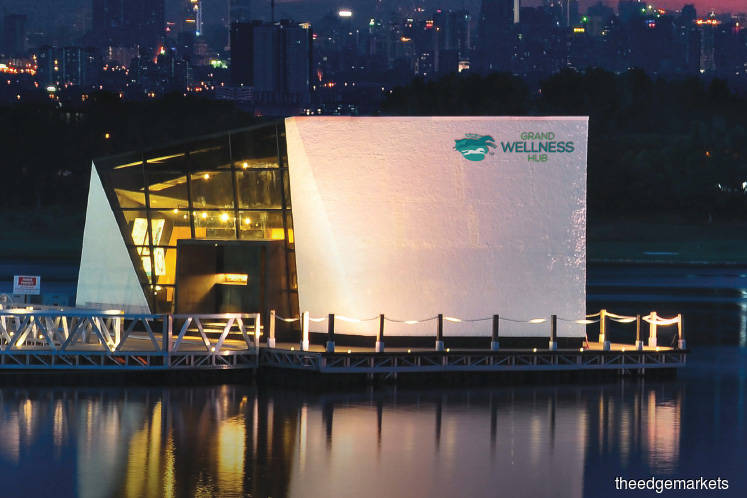 The floating pavilion at Mines Wellness City, which is a component of Mines Resort City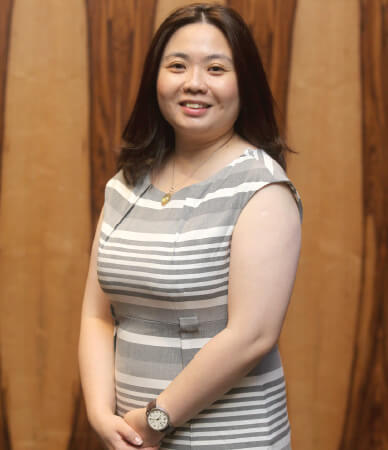 Seri Kembangan is located about 20km from the KL city centre and mature townships such as Seri Petaling, Bukit Jalil and Bandar Kinrara. It is not highly populated." — Wong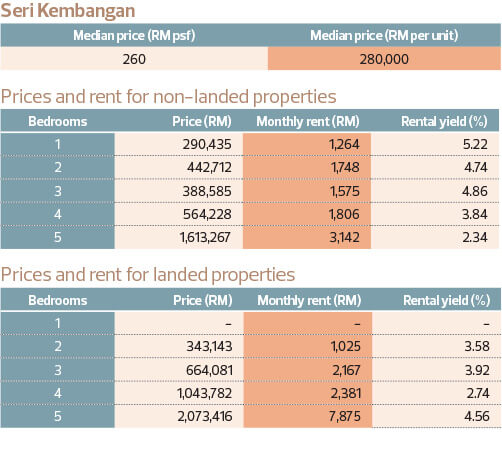 Its history is visible in the older parts of Seri Kembangan. You can still find prewar shophouses with the lower level made of bricks and cement and the upper level of wood. But the colonial theme is mixed with modernity, with conveniences such as banks, shopping centres and highways — the KL-Seremban Expressway, Maju Expressway, Sungai Besi Expressway and Kajang Dispersal Link Expressway — that connect the area to the wider Klang Valley.
Also serving the population are the Serdang KTM and Sungai Besi light rail transit, and soon there will be several MRT (mass rapid transit) stations on the Sungai Buloh-Serdang-Putrajaya (SSP) line when it opens.
"Seri Kembangan is located about 20km from the KL city centre and mature townships such as Seri Petaling, Bukit Jalil and Bandar Kinrara. It is not highly populated," says Savills Malaysia director of research Amy Wong.
Wong says residential values in Seri Kembangan have been increasing over the years due to its strategic location and great infrastructure, which offers easy accessibility to other parts of the Klang Valley.
Savills Malaysia data shows that prices of Skyvillas Condo, Prinsiptek (M) Sdn Bhd, have increased 27% with a compound annual growth rate (CAGR) of 6.1% over five years to RM306 psf last year from RM241 psf in 2014. Vista Pinggiran LBS Bina Group Bhd saw capital growth of 23% and a CAGR of 5.3% to RM342 psf last year from RM278 psf in 2014.
According to EdgeProp.my, a 1,346 sq ft townhouse in Taman Bukit Serdang Bukit Ciri Sdn Bhd was sold for RM473,000 or RM352 psf in February and a 1,302 sq ft terraced house in Blu Constellation Clearwater Group fetched RM350,000 or RM269 psf in December last year.
Houses with built-ups of 900 to 3,000 sq ft have asking rents of RM850 to RM7,000 per month while high-rises of the same size are asking for RM800 to RM6,000 per month, based on listings on EdgeProp.my.
The area average price per sq ft in Seri Kembangan for non-landed and landed properties is RM223 and RM2,360 respectively, compared with the state's average of RM237 and RM2,085.
With the SSP MRT Line expected to start operations in July 2022, the future is promising for Seri Kembangan.
"People who work in Putrajaya and Cyberjaya will be more inclined to live in Seri Kembangan due to its attractive prices and amenities," says Wong.
A former new village
Seri Kembangan came into being in 1952, called Serdang New Village the British. The village was created under the Briggs Plan during the Malayan Emergency, against the communist threat, and some 15,000 Chinese villagers living in the Sungai Besi area were relocated there. They had to build their homes from scratch as the British only provided empty plots of land.
In the late 1980s and throughout the 1990s, there was rapid development and numerous housing, industrial and commercial schemes were built. One of the earliest housing developments in the area is Taman Universiti Indah, which was developed SHL Consolidated Bhd in 1989. Today, housing developments include Taman Equine, Taman Putra Permai and Taman Puncak Jalil.
Other landmarks in the area are the Selangor Turf Club, South City Plaza and Universiti Putra Malaysia.
For most people, Seri Kembangan's main landmark is Mines Resort City, an integrated township development Country Heights Holdings Bhd. The land the township sits on was the 1,300-acre Hong Fatt Mines, the world's largest opencast tin mine, which was alienated the government to the developer in 1988.
Since then the township has seen the development of several components, including The Mines Resort & Golf Club, Palace of the Golden Horses Hotel, The Mines Wellness Hotel and The Mines shopping mall. Also within the township is the Malaysia International Exhibition and Convention Centre, which houses the annual Big Bad Wolf book sale and other exhibitions.
A variety of delectable treats
There is a variety of food options in Seri Kembangan. The main cuisine offered is Chinese but you can find any type of food there. One popular option is the Yee Kee Porridge Restaurant. Opened in 1975 as a small stall in Seri Kembangan's wet market, it moved to its current shoplot in 2010. Also popular is Leong Ya Restaurant, where you can get paper-wrapped chicken, a signature dish. It also sells yong tau foo.
Kedai Makanan Wing Heong serves a delectable plate of no-frills chicken rice. The small stall belies the dish's huge punch of flavour. It also offers char siew or roast pork and the coconut chicken soup, served in a coconut shell, will certainly delight the taste buds.
If you want to cool down on a hot day, a visit to 939 ABC Ice House might be in order. It offers several shaved ice choices that will definitely cool you down. While the venue might not look fancy, do not judge a book its cover and let the sweet taste be your guide.
For those looking for variety, One Best Friend Dim Sum might be a place to consider. It has plenty of seating and all the comfort food you like. You cannot go wrong with dim sum.
Coffee lovers might be wondering if there is anything for them and the answer is, yes, there is. Tucked away in an industrial estate, Take a Shot Studio Café is at one of the Klang Valley's largest film studios. The café used to serve the people using the studio, be it for a film, television show or a photo shoot, but now opens its doors to outside customers as well.
Another hip location is Iron House Kopitiam. Started a young couple, it serves local delights like pan mee, nasi lemak and steamed rice with a selection of dishes, in a cool looking environment that will keep Instagram savvy individuals happy.
Remembering the past and embracing the future
For the more health-conscious folk who love the outdoors, the Bukit Serdang Hiking Trail is worth a visit. Similar to the Bukit Gasing hiking trail in Petaling Jaya, it covers hilly terrain and is a good way to increase the number of steps on your Fitbit. Just be aware of the stray dogs, which did not bother us when we visited the area.
One place that would be ideal for a family or large group outing is Farm in the City. This petting zoo is interactive and educational. It allows visitors to get up close and personal with animals that most children may not have ever seen except in pictures. There are daily activities, which include porcupine, otter, pelican, meerkat and fennec fox feeding. Families can also interact with the parrots.
An interesting spot is the Rainbow Bridge over the Kuyoh River, which is ideal for social media photography with its colourful design. There are some old wooden houses near the bridge that transport you back to a much simpler time. The only downside would be the river, which smells a bit and could do with some rehabilitation.
Not everything in Seri Kembangan caters for the older demographic or visitors. At Olive Hill Business Park, there are shops targeting the youth. There are restaurants and bakeries, including the popular TK Bakery, which is famous for its egg tarts.
Being so vast and varied, Seri Kembangan cannot be fully appreciated in a day, but it is certainly worth a visit to check out the progress it has made over the years. While certain areas may have the languid pace of a small town, others are moving quickly with the times. The mix of old and new reminds us how important it is to remember the past but to embrace the future as well.