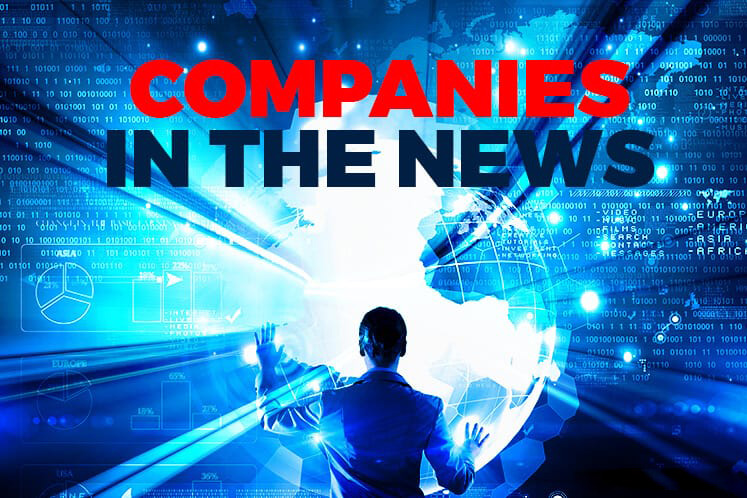 KUALA LUMPUR (Oct 16): Based on corporate announcements and news flow today, stocks in focus on Wednesday (Oct 17) may include: Serba Dinamik Holdings Bhd, Globaltec Formation Bhd, Barakah Offshore Petroleum Bhd, Nextgreen Global Bhd, Sapura Energy Bhd, Wegmans Holdings Bhd and Bumi Armada Bhd.
Serba Dinamik Holdings Bhd plans to acquire a 49% stake in OHP Ventures Incorporated (OHP Ventures) for US$800,000 or approximately RM3.33 million to expand its EPCC (engineering, procurement, construction and commissioning) business segment and capabilities.
OHP Ventures has a joint development agreement with Thavone Athsamouth, to develop, finance, construct, commission and operate and maintain two mini hydro installations with an aggregate capacity of 30MW in Houaphan, Laos. The project started in July and will be completed by January 2022.
OHP Ventures also owns 70% of the issued and paid-up shares in Nam Taep 1,2,3 Hydropower Company Ltd (NT), which holds the two concessions for the Laos project. On completion of the acquisition, OHP Ventures will become a 49%-owned associated company of Serba Dinamik's subsidiary Serba Dinamik International Ltd, which will give Serba Dinamik an effective 34% stake in NT.
Globaltec Formation Bhd has aborted its plan to collaborate with Hong Kong's EPI Energy Holdings Ltd to participate in the exploration and production activities of Globaltec's Indonesian unit.
It cited failure to reach a mutual agreement on the commercial terms as reason for the termination of the Memorandum of Understanding (MoU).
Loss-making Barakah Offshore Petroleum Bhd and its unit PBJV Group Sdn Bhd have been granted a court order to restrain all proceedings and actions brought against them, except with leave of the court, for up to 90 days from Oct 12 till Jan 9, 2019.
"The order was applied for as part of a proactive measure by Barakah to manage the debt levels of Barakah and its subsidiaries and the order allows the Barakah Group to negotiate terms with its lenders and creditors without having the threat of any proceedings and actions being brought against the company," it said.
Nextgreen Global Bhd had today accepted a RM400 million investment from Asia Capital Investment Fund (ACIF) to finance Nextgreen's Green Technology Park (GTP) projects in Malaysia.
Nextgreen said ACIF's RM400 million investment comprises a subscription of 280 million new cumulative redeemable preference shares (CRPS) in Nextgreen at RM1 each, and a RM120 milllion loan.
Bank Negara Malaysia has granted a conditional approval on Sapura Energy Bhd's issuance of new Islamic redeemable convertible preference shares (RCPS-i) to non-resident shareholders. The rights issue of RCPS-i is part of Sapura Energy's massive cash call, which includes rights issue of new ordinary shares, to raise up to RM4 billion.
The central bank's approval is subject to the condition that the group converts the proceeds raised from the rights issue of RCPS-i in stages for part repayment of foreign currency borrowings.
Wegmans Holdings Bhd plans to undertake a bonus issue of 125 million free warrants on the basis of one warrant for every four existing shares.
The exercise price of the warrants has been fixed at 30 sen per warrant. This represents a discount of 9.91% to the five-day volume weighted average market price of its shares of 33.3 sen apiece as at Oct 15. The entitlement date will be determined later.
Bumi Armada Bhd has denied a report that it has acquired the very large crude carrier (VLCC) Front Ariake, for US$20.7 million. The Bahamas-flagged vessel is owned by Bermuda-based Ship Finance International Limited (SFL).