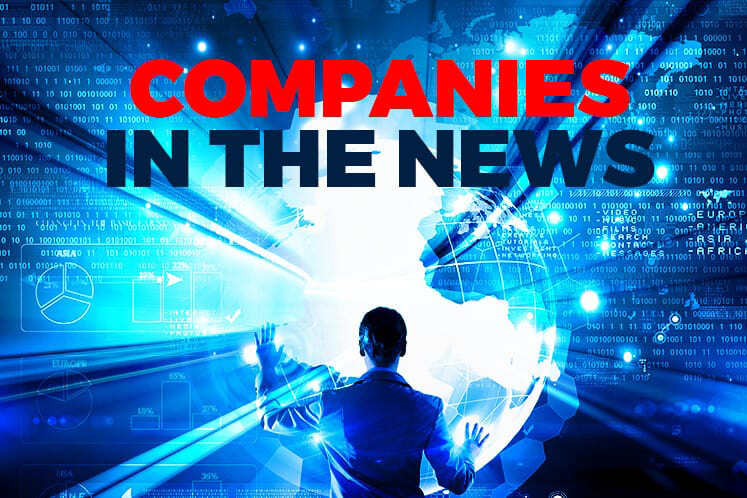 KUALA LUMPUR: Based on corporate announcements and newsflow today, stocks that will be in focus on Tuesday (April 10) may include: Serba Dinamik Holdings Bhd, Felda Global Ventures Holdings Bhd, Ikhmas Jaya Group Bhd, Ireka Corp Bhd, Symphony Life Bhd, UCrest Bhd, Cypark Resources Bhd, Kumpulan Perangsang Selangor Bhd and Gamuda Bhd.
Serba Dinamik Holdings Bhd said it is "nearing the end" of a discussion for a potential acquisition of a US firm and expects to conclude the deal this year, which will help achieve comprehensive geographic coverage for the company, according to its CEO Datuk Dr Mohd Abdul Karim Abdullah.
With RM6.2 billion in hand, the energy solutions provider said it is targeting a higher order book of RM7.5 billion this year. Its tender book now stands at RM12.5 billion.
Felda Global Ventures Holdings Bhd's two subsidiaries have received a writ of summons and statement of claim on April 5 for RM23.39 million, filed by Fulle Technik Sdn Bhd – a mechanical components manufacturer and sheet metals fabricator – over a breach of contract to develop a prototype machine.
The subsidiaries are Felda Global Ventures Research & Development Sdn Bhd (FGV R&D) and Felda Agricultural Services Sdn Bhd. FGV said FGV R&D had appointed Fulle Technik via a service agreement dated Sept 30, 2014, to develop a prototype machine known as Subsoil Fertilizer Machine.
Fulle Technik now alleges that FGV R&D has, in breach of contractual obligations, appointed a third party via an open tender to build and supply the machine.
FGV said the legal suit may have a material financial impact on the company, at a total amount including but not limited to the claimed amount plus legal fees and costs.
Ikhmas Jaya Group Bhd's wholly-owned Ikhmas Jaya Sdn Bhd has secured two construction projects with a combined value of RM257.72 million.
Under the first contract awarded by Naluri Rezeki Sdn Bhd, Ikhmas Jaya, as the appointed turnkey contractor, will design, construct, test, commission, maintain and complete upgrading works of the hospital within 36 months, on a design-and-build basis.
The second contract — awarded by Putrajaya Ventures Sdn Bhd — includes demolition works of the existing three-storey office building with two basement levels, and a two-storey bungalow on Lot 155, Jalan Ampang, Kuala Lumpur.
Ikhmas Jaya will then construct and complete the substructure works comprising two basement car park levels, as well as, partially, the first floor and associated works there, all within 18 months.
Both projects are expected to contribute positively to the group's earnings and net assets for the financial year ending Dec 31, 2018.
Ireka Corp Bhd is set to jointly develop the Rimbun Kasia project in Nilai with Hankyu Hanshin Properties Corp. Hankyu Hanshin will take a 45% share in Meadowfield Sdn Bhd, a wholly-owned subsidiary of Ireka, while Ireka will hold the remaining 55%.
As a start, the joint venture between Ireka and Hankyu Hanshin will focus on the development of [email protected] Kasia project, consisting of 382 residential units in a nine-storey block, and another parcel of land which will have 465 residential units in two blocks of 29- and 19-storeys developed on it.
These projects will have a combined Gross Development Value (GDV) of over RM400 million.
Symphony Life Bhd has planned to undertake a renounceable rights issue of up to 417.41 million new shares to raise funds, to help repay bank borrowings and finance its ongoing property development project.
The proposed rights issue will be undertaken on the basis of one rights share for every existing share, at an issue price of 35 sen apiece, raising gross proceeds of up to RM146.09 million.
The issue price represents a discount of 39.13% to the theoretical ex-rights price of 58 sen, based on the five-day volume weighted average market price of 80 sen as at March 30.
UCrest Bhd's wholly-owned subsidiary Palette System Sdn Bhd has bagged two contracts worth RM6.1 million in total, for the development of digital platforms for Key Asic Pte Ltd.
The first contract is for the development of a virtual storage platform for iMedic with a total of 10,000 user licences for 12 months, valued at US$993,658 (RM3.84 million).
The second is for the development of the iMedic software and hardware platform for 15,000 user licences per year, worth US$564,616 (RM2.18 million).
Cypark Resources Bhd will allocate up to RM200 million for capital expenditure (capex) for the financial year ending Oct 31, 2018, on projects related to the concession business that it had secured recently.
Group chief executive officer Datuk Daud Ahmad, said the projects included an RM260.51 million contract for works related to a large-scale solar photovoltaic (PV) plant, as well as its Ladang Tanah Merah waste-to-energy (LTM WTE) 25-megawatt power plant, both in Negeri Sembilan. The capex will be spent on building the plants.
Kumpulan Perangsang Selangor Bhd (KPS), via its subsidiary Century Bond Bhd, is partnering China-based Honda Printing Holdings Ltd to produce offset carton boxes for the manufacturing sector.
Honda Printing will hold a 40% stake in the joint venture firm — Imej Harmoni Sdn Bhd, which will have a combined investment of RM2.87 million — while Century Bond via its unit Pro Pulp Packages Sdn Bhd, will take up the controlling stake of 60%.
The JV firm will operate from a factory in Johor Bahru that has a built-up area of 18,000 sq ft, with a total production capacity of 16 million pieces per year. Operations are expected to commence in the second quarter of the financial year ending Dec 31, 2018, and contribute to earnings henceforth.
Gamuda Bhd's 40%-owned unit Syarikat Pengeluar Air Sungai Selangor Sdn Bhd (Splash), is suing Syarikat Bekalan Air Selangor Sdn Bhd (Syabas) for outstanding receivables amounting to RM4.22 billion, which it says is owed by Syabas to Splash.
It is also seeking interest on the outstanding sum of each invoice, costs and any other reliefs deemed fit and just by the Kuala Lumpur High court.