This article first appeared in The Edge Financial Daily, on June 14, 2019.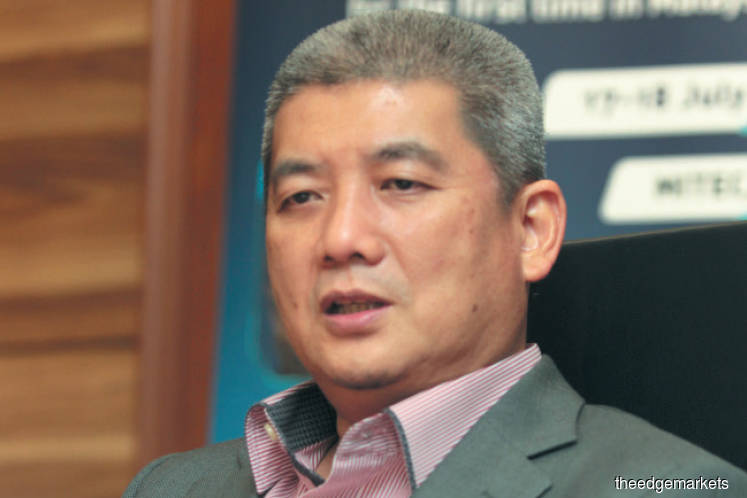 Mohd Abdul Karim expects the bulk of the revenue will come from the company's first-ever summit. Photo by Suhaimi Yusuf
SHAH ALAM: From a contribution of RM8 million last year, Serba Dinamik Holdings Bhd aims to generate between RM150 million and RM200 million in revenue from its information technology (IT)-related services for the financial year ending Dec 31, 2019 (FY19).
As the segment contributed RM25 million in sales from January to April, group chief executive officer Datuk Dr Mohd Abdul Karim Abdullah believes the ambitious target is achievable.
He expects the bulk of the revenue to come at its first-ever summit, dubbed Beyond Paradigm Summit 2019, as it would serve as a platform for the company to showcase all of its IT products and to secure new client orders.
At a press briefing yesterday, Mohd Abdul Karim said group-wide, the company aims to grow its revenue by 15%-20% to RM4 billion for FY19.
As such, its IT-related business is projected to contribute about 5% of the company's targeted total revenue.
"While the core businesses of Serba Dinamik are operations and maintenance, and EPCC (engineering, procurement, construction and commissioning), we believe that IT is the capability that the company needs to have to strengthen our competitiveness.
"We have set up the entire network infrastructure to position our IT capabilities globally. We have also set up an innovation laboratory in the Indian Institute of Technology in Chennai and we have managed to attract a pool of professionals from the industry and from other related parties in India," he said.
Last December, Serba Dinamik bought a 30% stake in IT solutions provider eNoah iSolution India Pvt Ltd for RM15 million as part of its expansion into the technology sector.
But for the past two years, Mohd Abdul Karim said, the company has worked to develop the IT business, including setting up a wholly-owned unit in Silicon Valley, as well as tying up with Stanford University's artificial intelligence research team.
"Our IT business is going to be a very important business unit to help grow Serba Dinamik. This is just the start. And this is based on our two-year effort in nurturing, building, and maturing the products, system and the software that we have been working on. So we are rolling it out [now]," he said, adding that the company will take advantage of its presence in the Middle East, Southeast Asia and Central Asia.
The Beyond Paradigm Summit 2019, which will be held on July 17 to 18 at the Malaysia International Trade & Exhibition Centre, will showcase advanced technologies encapsulating the core ideas of digitalisation and data exchange surrounding Industrial Revolution 4.0.
Prime Minister Tun Dr Mahathir Mohamad will officiate at the summit.