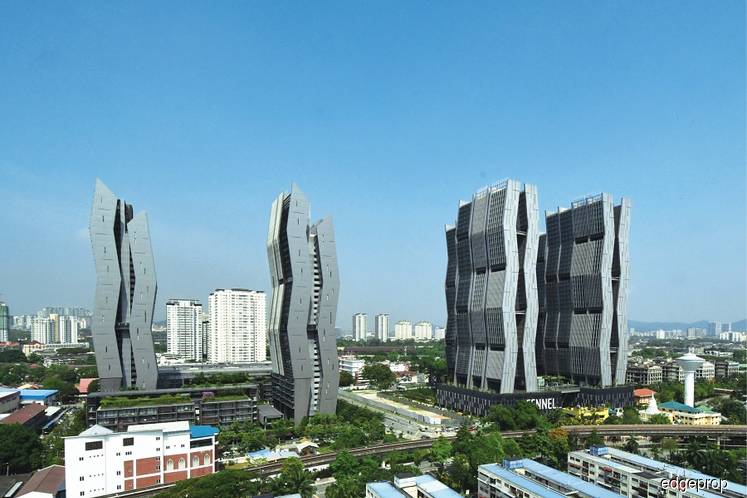 SITTING north of Kuala Lumpur city centre, Sentul has seen its non-landed residential properties perform well over the years, showing steady growth in values. Data collated by EdgeProp.my showed Sentul's best-performing non-landed residential property in the first nine months of 2017 (9M17) by average transacted price psf was The Capers. It registered an average price of RM633 psf based on 11 transactions recorded during the period. This was followed by The Saffron at RM620 psf and The Tamarind at RM545 psf, with nine and 11 transactions respectively. All three projects are by YTL Land & Development Bhd, which has been redeveloping parts of Sentul since 2002.
Overall, the average transacted price of non-landed homes in Sentul was RM459 psf over 9M17, with 66 transactions recorded. The highest average transacted price achieved since 2012 had been RM565 psf in 3Q17. This was an increase of 22.03% y-o-y from RM463 psf in 3Q16 and 58.71% over five years from RM356 psf in 3Q12.
The transacted prices of units in the other projects — including 1 Sentul, Pelangi Condominium, Pangsapuri Mawar, Menara Orkid, Pangsapuri Villa Angkasa, Sentul Utama Condominium, Sri Suajaya Condominium, Anjung Villa, Villa Mutiara Serviced Apartment and Bayu Sentul — ranged from RM218 psf to RM522 psf over 9M17.
There is no denying that one of the main drivers of growth in Sentul is the urban renewal initiative undertaken by YTL Land. Introduced in 2002, YTL Land's urban renewal plan is made up of Sentul East and Sentul West. The two are divided by the existing Sentul KTM Komuter Station and tracks. The redevelopment aims to embody the spirit of urban renewal while preserving the heritage and charm of the area, which was once an early settlement for low- to mid-income rail transport workers and their families that can be traced back to the late 1800s or early 1900s. The redevelopment master plan involves the development of non-landed homes, commercial offices and retail outlets over phases, as well as the establishment of the Kuala Lumpur Performing Arts Centre and Sentul Park, which is now an established landmark in Sentul.
As Hartamas Real Estate (OUG) Sdn Bhd senior real estate negotiator Joycelin Yap points out, YTL Land's projects such as The Fennel at Sentul East have changed the perception of many homebuyers and investors towards Sentul, leading to greater demand by buyers and tenants, thus elevating property values and the image of Sentul in general.
Completed only last year, The Fennel is a freehold luxury condominium development along Jalan Sentul. It consists of 916 units in four 38-storey towers that sport a unique asymmetric design with full glass facades.
Incoming supply
Sentul can generally be divided into two sections. On the north side of the Duta-Ulu Kelang Expressway (DUKE) is Sentul Pasar, which comprises old landed dwellings, while on the south side of the highway is Sentul Raya, made up of newer and more modern high-rise residential and commercial buildings.
The regeneration in the southern parts of Sentul has taken most of the limelight in recent times but the spillover effect on the Sentul Pasar area is becoming more apparent, says PA International Property Consultants Sdn Bhd managing director Jerome Hong.
Indeed, in the last two years, new high-rise developments have mushroomed around Sentul Pasar. According to PA International's estimate, as at end-2017, the incoming supply of non-landed residential properties in Sentul Pasar is at 5,411 units while new planned supply is about 300 units. The incoming supply will come mainly from four projects — namely Sky Awani Residensi, One Maxim, Sentul Point and M Centura — which are expected to be completed in the next three to four years.
Meanwhile, the 300 condominium units in the pipeline will be from RUMAWIP, or the Federal Territories Affordable Housing Scheme, to be located at Sentul Point, a mixed development by UOA Development Bhd.
"With the upcoming projects made up mainly of high-rises, the skyline of Sentul continues to be transformed with modern and attractive building facades," says Hong. They will add to the existing non-landed housing supply, which totals about 5,848 units as at end-2017.
An affordable place
Besides the redevelopment by YTL Land, another reason for the strong price appreciation of non-landed homes in Sentul could be the relatively lower price points of the non-landed residences here compared with similar properties in nearby localities such as Segambut, Titiwangsa, Wangsa Maju and Gombak.
According to Hong, non-landed homes in Sentul are generally considered affordable by Kuala Lumpur standards as most projects are priced below RM500 psf on the average, with the exception of selected projects by YTL Land, which have breached the RM650 psf mark.
"Such medium-end category of housing products continue to be well received despite the high supply pipeline," notes Hong.
Nevertheless, he raises some concerns over the influx of new developments, particularly large-scale integrated projects like Sentul Point, One Maxim and M Centura.
"If these developments are occupied in the future, better public transportation will be required to cope with the heavier traffic volume in Sentul, particularly along the main roads which are already facing congestion especially during peak hours.
"The area is congested because there are limited new or alternative routes leading up to Jalan Sentul and Jalan Sentul Pasar. Safety and security are also a concern," he says.
Nevertheless, he believes that overall, properties in Sentul offer potential for future capital appreciation as the area continues to undergo regeneration, supported by improved road and rail infrastructure, as well as a wider range of amenities such as malls. "Sentul will not be short of new launches in the future especially in Sentul Pasar. The locality is poised to be an emerging hot spot," he adds.
Hartamas Real Estate's Yap also foresees greater vibrancy in Sentul, which will have a positive impact on property prices and rental growth. "Perhaps it won't be conspicuous within a short period, but Sentul will certainly become another gem in the Kuala Lumpur area," she says.
Furthermore, Sentul's location, which is just 5km away from the city centre, and its accessibility via public transportation — such as the Sentul Timur LRT (Light Rail Transit) Station, Sentul KTM Station and the upcoming Sentul West MRT (Mass Rapid Transit) Station and via roads such as the DUKE, Jalan Kuching, Jalan Tun Razak and the Middle Ring Road 2 — will continue to stand it in good stead. The Sentul West MRT Station of the upcoming MRT Sungai Buloh-Serdang-Putrajaya Line will be located at Jalan Sultan Azlan Shah. It is expected to be completed in July 2022.
"The slowdown in the overall property market in 2017 has significantly affected demand for properties in Kuala Lumpur city. However, the decline for apartments and condominiums in Sentul was insignificant as there were still many purchasers in this area buying properties for their own stay. The main draw was because Sentul is so near Kuala Lumpur city centre with easy access to KLCC, Petaling Jaya and KL Sentral," says Yap, who is familiar with the area.
Demand focus
Although YTL Land's projects in Sentul have raised the benchmark for luxury living in the area, the overall population profile in the locality continues to be dominated by the low-middle- to middle-income groups, notes Hong.
"Sentul is a ready secondary market where demand for affordable homes continues to exceed supply, particularly those located near the existing LRT and the upcoming MRT stations," he says.
The area has long attracted budget-conscious working executives or young couples who work in Kuala Lumpur city centre and first-time homebuyers. However, a number of new homeowners in Sentul are the younger generation of current residents who prefer to stay in the same area as their parents or families.
"It is not uncommon for parents to help their children get on the property ladder by buying houses close to them or in nearby localities so that they are within easy reach of their families," Hong says, adding that the majority of such buyers focus on the vicinity of Sentul Pasar, particularly off or along Jalan Sentul Pasar.
On the contrary, property investors would focus on developments close to public transportation, especially those within walking distances to LRT, MRT or KTM stations, which are largely within Sentul Raya.
Hartamas' Yap suggests that those looking to settle down in Sentul should keep an eye out for new projects that offer very low or even zero entry costs, attractive incentives and rebates.
"For investors, they should consider old condominiums or apartments located in strategic locations or close to the LRT and MRT stations. They could purchase these affordably-priced properties and lease them out to earn a stable rental income after refurbishing the houses. These old units can offer decent rental returns, enough to offset instalment and maintenance costs," she shares.
This story first appeared in EdgeProp.my pullout on March 16, 2018. Download EdgeProp.my pullout here for free.