This article first appeared in The Edge Financial Daily, on November 1, 2018.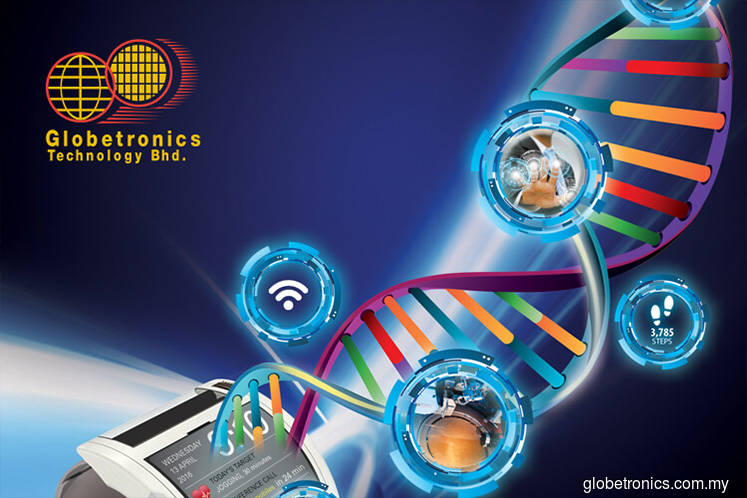 Globetronics Technology Bhd
(Oct 31, RM2.21)
Maintain hold with an unchanged target price (TP) of RM2.40: Nine months of financial year 2018 (9MFY18) earnings were within our expectation at 71% of our FY18 forecast but below Bloomberg consensus at 62%. We expect third quarter of FY18 (3QFY18) strength to sustain into 4QFY18 as Globetronics Technology Bhd's key client ramps up for sensor products. No change to our earnings forecasts but we advocate caution for headwinds, as indicated by Globetronics' sole client for its sensor products, ams AG. We maintain our "hold" call with an unchanged TP of RM2.40, pegged at 18 times calendar year 2019 (CY19) earnings per share (EPS) (average price-earnings ratio [PER] target for tech stocks within our coverage).
3QFY18 net profit jumped 153% quarter-on-quarter (q-o-q) to RM24 million (+64% year-on-year [y-o-y]), outpacing q-o-q revenue growth of 23% as Globetronics gained operating efficiency, especially in its sensor division, which saw high volume loading in preparation for a major premium smartphone launch in September 2018; group operating margins jumped 13.4 percentage points (ppts) q-o-q in 3QFY18. On a y-o-y basis, 3QFY18 earnings were also impressive, surging 64% y-o-y despite flat revenue growth. This was likely due to the sales mix whereby the sensor division contributed much more in 3QFY18 versus 3QFY17. We also understand that for 3QFY18, material turnkey purchasing for some sensors has been discontinued, improving margins of the sensor division y-o-y.
We expect 4QFY18 earnings to remain solid as high volume loading in its sensor division sustains throughout the entire quarter. Beyond that, we caution that Globetronics would again experience seasonal weakness come the first half of FY19 (1HFY19). That said, the adoption of Globetronics' light sensor in its end client's notebook and tablet devices launched Tuesday night may slightly cushion the seasonality impact in 1HFY19. Our concern lies with Globetronics' immediate sensor client, ams AG (AMS SW, not rated), which has recently guided for margin contraction in the upcoming quarter (4QFY18).
Concerns about the sensor division's average selling prices aside, we see opportunities for Globetronics to capture more sensor products from ams AG's internal capacity. With expertise in high volume manufacturing, we believe that Globetronics could deliver better results for ams AG. Nonetheless, risk-to-reward for Globetronics at this juncture remains balanced at 17 times CY19 PER; yield is decent at 4-plus%.
There are several risk factors for our earnings estimates, TP, and rating for Globetronics. A sharp turn in the global markets for electronics, especially smartphones, will affect the demand for sensors and other components that Globetronics is currently producing for its key clients. Additionally, foreign exchange volatility, especially the US dollar against the ringgit, will also affect Globetronics' earnings, for almost approximately 60%/70% group revenue/cost of goods sold is denominated in the US dollar. — Maybank IB Research, Oct 31