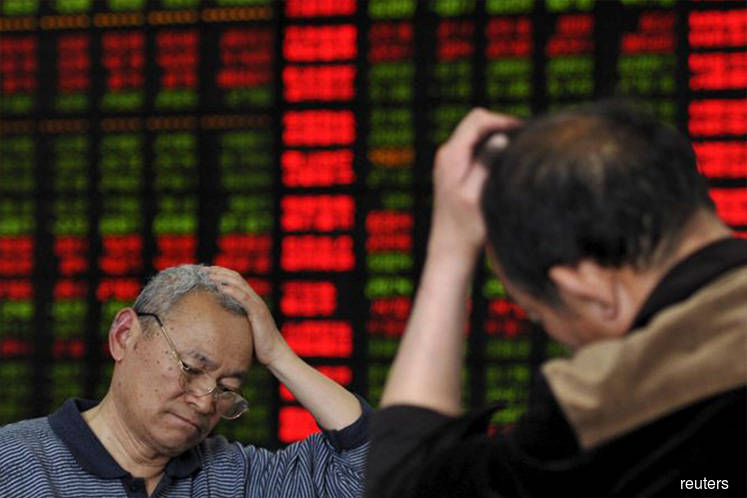 KUALA LUMPUR (Feb 6): The bears swarm Asian markets after the overnight 4.6% plunge on Wall Street.
The FBM KLCI sank below 1,800-level an hour after the opening bell, dipping to a low of 1,795.85.
The benchmark index regained some lost ground, bounced back to 1,802.21 points, down 50.86 points or 2.74%. Some 1,254 counters skidded into the red zone.
Most markets in the region are down sharply with Nikkei 225 leading the fall. As at 11.30am, Nikkei 225 slid 5.25% to 21,487.87, Hang Seng Index slipped 4.31% to 30,856.59 points, while Singapore's Straits Times Index shed 3.51% to 3360.68 points.
"On the local front, we think equities are likely to extend the selling activities over the near term with the heightened volatility in the global markets. Also, we may anticipate the heavyweights to take another round of selloffs, contributing towards a softer FBM KLCI around 1,830 levels. Nevertheless, traders could look into solid fundamental stocks and GLC-related (stocks) for bargain hunting activities and (Malaysia) GE14 thematic idea," Hong Leong Investment Bank Bhd wrote in a note today.
Overnight in the US, Reuters reported that US stocks plunged in highly volatile trading on Monday, with the Dow industrials falling nearly 1,600 points during the session, its biggest intraday decline in history, as investors grappled with rising bond yields and potentially firming inflation. The benchmark S&P 500 and the Dow suffered their biggest percentage drops since August 2011 as a long-awaited pullback from record highs deepened.
The Dow Jones Industrial Average fell 1,175.21 points or 4.6% to 24,345.75, the S&P 500 lost 113.19 points or 4.1% to 2,648.94 and the Nasdaq Composite dropped 273.42 points or 3.78% to 6,967.53.