This article first appeared in The Edge Malaysia Weekly, on August 17, 2020 - August 23, 2020.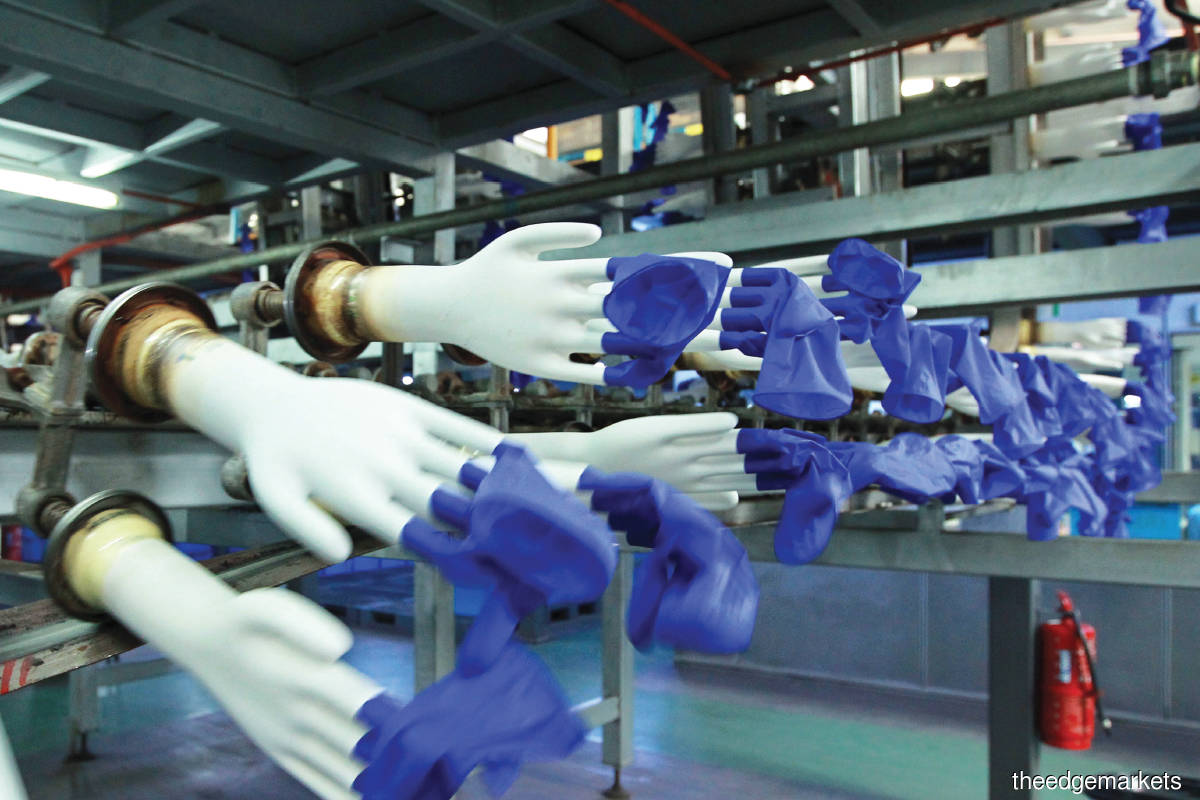 PRICES of face masks in China have come under pressure on the back of falling domestic demand and stricter quality control. Meanwhile in Malaysia, the ceiling price of face masks has been cut to RM1 each, reducing margins.
Will the same thing happen in the glove sector? Can glove prices stay at their current high levels? Demand for gloves will plunge if a vaccine against Covid-19 is successfully developed.
For some glove makers, the increase in average selling prices (ASPs) of gloves has been getting smaller recently after a jump in 2Q, observes a glove analyst with a non-bank-backed research house.
"So, we expect other glove makers to start seeing a slowdown in the quantum of increase as daily global coronavirus cases are coming down," he tells The Edge.
However, he believes ASPs will remain elevated until 1Q next year.
"Earnings for 3Q and 4Q2020 will still go up, especially for big players such as Hartalega Holdings Bhd and Kossan Rubber Industries Bhd because of their timing in raising ASPs.
"Supermax Corp Bhd raised its ASPs first, then Top Glove Corp Bhd, followed by Hartalega and Kossan. If ASPs come down, Supermax will be hit the most as its ASPs are the highest; this is also why Supermax's share price has gone up the most," he explains.
Year to date, shares in Supermax have shot up 1,301%, while Top Glove, Kossan and Hartalega added 406.8%, 246.2% and 192.3% respectively.
On average, the current ASPs of nitrile and rubber gloves are US$50, and US$30 to US$40 per 1,000 gloves — more than double the pre-Covid-19 levels of US$21 and US$17 respectively.
Supermax, in announcing its latest quarterly results, stressed that the highest ASPs have not been reflected in its 4Q earnings ended June 30, 2020. The company is optimistic that its own brand manufacturing (OBM) cum distribution business model will exhibit an even healthier performance in the coming quarters.
For the April to June period, its net profit jumped 27 times to RM399.62 million from RM15.06 million a year ago. Annual net earnings came in at an all-time high of RM525.58 million, a 327% surge from RM123.11 million a year ago.
It is worth noting that compared with its peers, Supermax reported the highest quarterly net profit margin of 43%, thanks to its OBM model. The net profit margin of Hartalega was 24% and that of Top Glove, 20.6%. Kossan has yet to release its latest financial results.
Despite market players continuing to ramp up production capacity, the analyst believes demand for gloves will continue to outweigh supply in the next 1½ years.
Inter-Pacific Securities Sdn Bhd analyst David Lai sees earnings for glove makers increasing even with the development of vaccines as the global population is immense.
"Manufacturing and distribution prices have been expanding in July and August, but the increase in end-product prices has slowed down," he says.
The Malaysian Rubber Glove Manufacturers Association (Margma) is expecting global rubber glove demand to hit 330 billion pieces this year, with 67% of the demand set to be fulfilled by local glove makers.
According to a note by HLIB Research, the total production capacity for the big four glove players will increase 14.6% from 185.08 billion pieces in 2020 to 212.15 billion pieces in 2021, and another 6.3% to 225.48 billion pieces in 2022.
Premium valuations
With the share prices of local glove makers skyrocketing, their valuations are trading at a premium compared with their regional peers. The non-bank-backed research house analyst believes Malaysia's high market share in the global glove industry has been a contributing factor.
"We are the market leader [in the glove industry] and our product quality is definitely better than the regional glove makers. Also, bear in mind that valuations are different for listings on different markets."
However, he cautions that the ongoing clinical trials for vaccines may dampen market sentiment.
"It is quite tricky in the short term, as more vaccines are coming in, particularly from China and the US. You can't expect super high profits in the next two to three years — all those big funds are very particular about this — so it is more of retailers buying the glove stocks," he says when asked whether this is a good time to accumulate glove stocks after the recent share price correction.
Meanwhile, Lai attributes the higher valuations among local glove stocks to the transparency in ASPs, timing of capacity being rolled out as well as market liquidity.
The local players are trading at an ­average forward 12-month PER of 40.4 times, significantly higher than the regional players' 23.3 times.
Following the surge in its latest quarterly profit and upward adjustments by analysts to their forecasts, Supermax is now the cheapest glove stock, with a forward 12-month price-earnings ratio (PER) of 15 times, while Rubberex Corp (M) Bhd is the most expensive at 91 times.
There are 10 "buy" calls and a "hold" call for Supermax, with Affin Hwang Investment Bank giving the highest target price of RM33, according to Bloomberg data.
Judging from the earnings growth momentum, Lai is of the view that the big four's share prices could test new highs, although liquidity is shrinking.
Adding to the optimism is Citi Research's report last week on Top Glove's share price possibly reaching RM77.60 in a bull scenario. It is seen as "a clear winner" by virtue of its having the largest capacity, which means it could lead the pack in raising glove prices. This is despite its higher valuation of 44.9 times in terms of forward 12-month PER.
Currently, the research house has a target price of RM48.10 for Top Glove.
For the small glove players, Lai notes that it is hard to predict their upside as these stocks are more news-driven. Careplus Group Bhd has been the star performer with a gain of 1,993.8% since early this year.
The hefty premium among glove stocks has also sparked non-listed glove maker Harps Holdings Sdn Bhd's interest to go for an initial public offering (IPO) to raise about US$500 million (RM2.1 billion), according to news reports.
Over the past week, the share prices of glove makers have taken a hit following news of the latest vaccine development in Russia and profit-taking activity across the board.
On a weekly basis, Comfort Gloves saw the steepest fall of 31.3%, followed by Rubberex (29.8%) and Careplus (22.1%).  
On Aug 11, Russia announced that it had granted regulatory approval for a Covid-19 vaccine after less than two months of human testing, but the move has drawn flak as clinical trials have yet to be completed, thus endangering lives.
As the race for a vaccine heats up, a successful outcome remains the biggest risk for glove stocks.