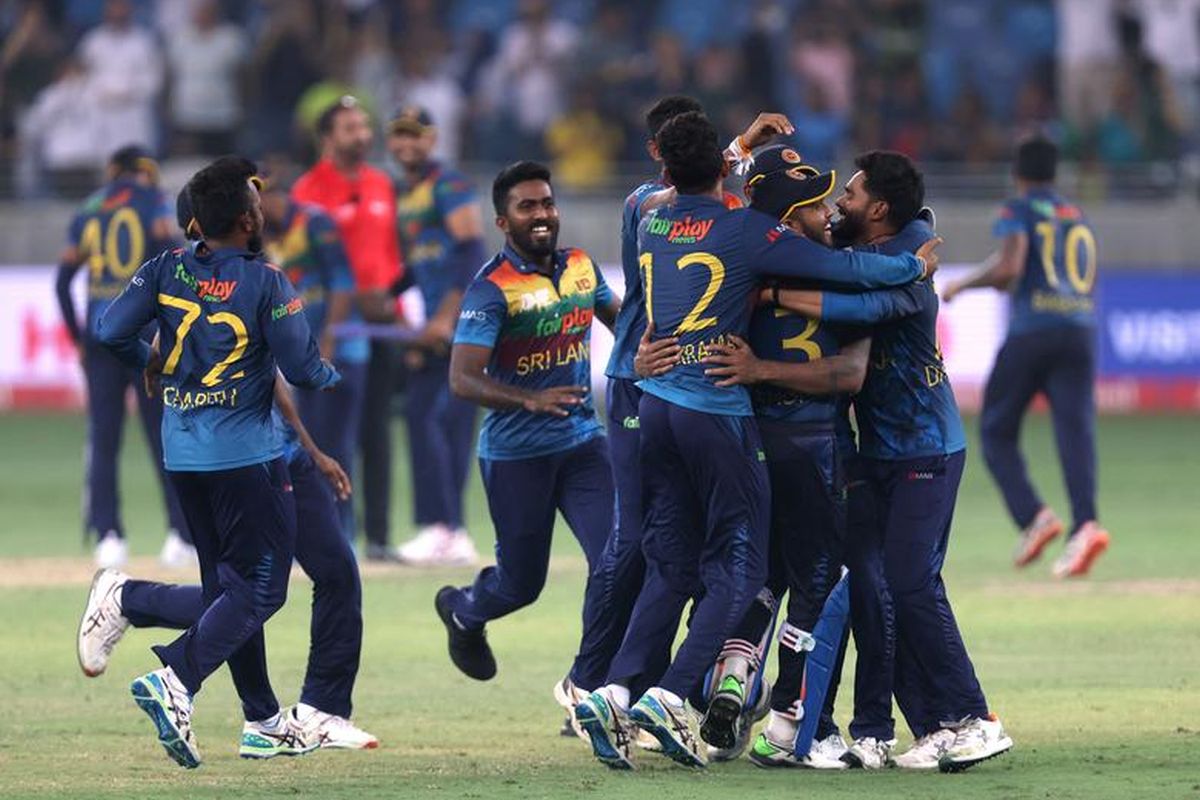 (Sept 13): World champions they are not. In times gone by, Sri Lankan teams secured silverware on the world's premier cricketing podiums. But not since 2014 when they won the Asia Cup. Since then, not even close. The glory days of the 1990s and the first decade of the new millennium were stuff for those so bereft of reasons to cheer that they had to make do with grainy archival footage in the almost sepia colours of years past. Sometimes even of matches played before they were even born.
One swallow does not a summer make, and a scintillating performance in the Asia Cup T20 final on Sunday does not make Sri Lanka world champs. Nevertheless, considering that they bested two teams highly regarded as contenders for the world title in Australia, i.e. India and Pakistan, the tag 'world beaters' is not altogether inappropriate.
Cricket is a game of glorious uncertainty and sometimes what marks the superior outfit is the resolve, tenacity, recalibration and execution to take the team across the line after being tripped or having stumbled. All things considered, one might even say that Sri Lanka from the get-go to literally the final delivery of the tournament had set out to prove just that. And that they did.
This team, led by Dasun Shanaka, hardly warranted mention in previews of the tournament a few weeks ago. Although in Wanindu Hasaranga they had a world class bowler who could also wield the willow to good effect when needed, even he was forgotten in the rush to compare and contrast the two favourites, India and Pakistan. A first night drubbing at the hands of Afghanistan only went to justify such dismissal. Sri Lanka was there to make up the numbers. That's it.
And yet Sri Lanka beat the odds. They rubbished the form book. They embarrassed respected and acclaimed commentators. If anyone bet on Sri Lanka winning the Asia Cup, especially after the woeful performance against Afghanistan, he or she would have made a lot of bucks, but it is safe to say that such wagers were inspired by absolutely blind loyalty rather than a sober assessment of relative potential.
The reason for eminent analysts of the game and countless cricketers, current stars and legends included, showering praise on the Sri Lankan team is that they are now aware it was not a flash-in-the-pan affair. Dasun Shanaka's men had self-belief. In fact only they believed in themselves. With each game they in effect injected self-doubt on the unbelievers. When Bangladesh fell, it was a come-from-behind win, and not enough to change the odds on the Asia Cup going to the island nation. Then it was Afghanistan's turn at the Super Four stage. A compact win, but it was Afghanistan, not India or Pakistan. Nothing to write home about. When Sri Lanka sent India packing from the tournament, it was time to re-assess assessments. The unbelievers sat up and took notice. Pakistan was beaten on Friday in what was essentially a dress-rehearsal, both teams having earned a place in Sunday's final. The unbelievers were forced to indulge in self-doubt: Dasun Shanaka's team had come of age. Would they win it all? That was still quite iffy.
On Sunday when Sri Lanka lost a crucial toss (many believed that winning the toss was the passport to the cup) few neutrals would have bet against Pakistan. And they would have been grinning when Sri Lanka lost half the batsman for a paltry 58 with less than half the overs completed.
What happened next is history. It is historic. Bhanuka Rajapaksa, Wanindu Hasaranga and Chamika Karunaratne took their team to a challenging 170. Babar Adam and Fakhar Zaman, world beaters in their own right, were sent back with the score on 22, but then Iftikhar Ahmed and Mohammad Rizwan (the latter in a purple patch of form) steadied the Pakistani ship, although at a relatively slow pace, more than a few would have entertained the notion that upstarts would be put in their place and order restored. Hasaranga worked his magic: he snapped three wickets in the 17th over. Done. Chamika Karunaratne did the dusting in the last delivery of the tournament, castling Haris Rauf.   
This was the 6th time Sri Lanka had lifted the T20 Asia Cup. Interestingly, a few hours earlier, the Sri Lankan netball team had defeated Singapore to secure their 6th Asian title too; they've won six out of 12 championships, Singapore being a distant second with just three). It was not a maiden championship victory in either sport, and yet, it felt like that.
Simply, these teams not just rose to a challenge, put to rest doubts and emerged victorious, they did so in circumstances where they had to contend with unprecedented pressure due to factors that had nothing to do with their respective sports. The fact that Sri Lanka and Sri Lankans are in the throes of a political and economic crisis of desperate proportions was not lost on most who commended the teams after their title runs.
It has been often said 'they gave Sri Lana something to cheer about' but it was much more than that. These teams embody the resolve of a nation that has seen adversity, suffered untold horrors and yet overcame all challenges, smiling through it all. Sure, they'll take heart from these victories, but there's something in the performances that has to be seen as an unmistakable Sri Lankan signature. Indomitable. That's the word.
No, they are not world champions. Yet. They could get there though. Self-belief alone is not enough to win World Cups in any sport, for other teams also believe. Self-belief, however, is absolutely necessary to recover from political and economic shocks of the kind that Sri Lanka has suffered in recent times. Dasun Shanaka's men believed in themselves. That self-belief has a trace of something in their DNA and which they share with all Sri Lankans. Indomitable. That's a word worth remembering.
Krishantha Prasad Cooray is a Sri Lankan journalist based in Kuala Lumpur.