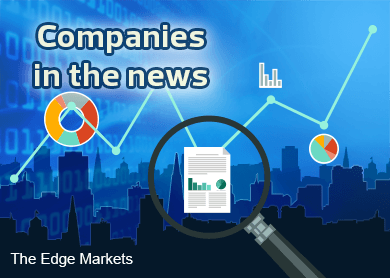 KUALA LUMPUR (Apr 8): Based on corporate announcements and newsflow today, stocks in focus on Monday (April 13) could include Selangor Properties Bhd, Asia Media Group Bhd, Malayan United Industries Bhd, Pan Malaysia Holdings Bhd, Malaysia Airports Holdings Bhd, RGB International Bhd, Censof Holdings Bhd, and Puncak Niaga Holdings Bhd.   
Selangor Properties Bhd (fundamental: 1.25; valuation: 2) is in the midst of replenishing its landbank of 264 acres, as well as launching a residential development project in Bukit Permata with a gross development value (GDV) of RM125 million.
"This is will be our catalyst this year. I am hoping that the residential projects, which include semi-detached houses and bungalows, will contribute positive to our earnings beginning financial year ending Oct 31, 2015 (FY15) onwards," Selangor Properties chief operating officer Chong Koon San told reporters after the group's annual general meeting here today.
Chong said the semi-detached house is expected to be priced from RM1.8 million, while the bungalows will be priced from RM2 million onwards.
Digital out-of-home transit TV company Asia Media Group Bhd has tied up with a Sarawak-based company to develop a piece land measuring approximately 4,361ha at Loba Bunut Hulu, Bintangor, Sarawak, into an oil palm plantation.
In its filing to Bursa Malaysia today, Asia Media (fundamental: 1.2; valuation: 0.9) said its wholly-owned subsidiary DPO Plantations Sdn Bhd entered into a memorandum of agreement (MoA) with Batu Emas Resources Sdn Bhd to effect the joint-venture (JV) today, through a JV-company that will be formed.
Under the agreement, DPO will pay Batu Emas RM1.25 million through two tranches, for the land. The land consists of 2,661ha of native customary rights land (NCR), 1,000ha of adjacent NCR land, and 700ha of adjacent state land.
Batu Emas meanwhile, will hold the land in trust for the JV company.
Malayan United Industries Bhd (MUI) and Pan Malaysia Holdings Bhd (fundamental: 0.4; valuation: 0.3) announced today an extension to finalise conditions precedent of a disposal of assets to investor Datuk Dr Yu Kuan Chon to May 11, 2015.
This is the second extension for MUI, Pan Malaysia and Yu, following the expiry of the first extension tomorrow, on April 11.
To recap, MUI (fundamental: 0.95; valuation: 1.2) had on Dec 12 last year, announced that its subsidiaries - Acquiline Sdn Bhd, Loyal Design Sdn Bhd, Malayan United Management Sdn Bhd, MUI Media Ltd, MUI Property Services Sdn Bhd, Megawise Sdn Bhd - were disposing a 69.192% stake in Pan Malaysia to Yu for RM77.12 million, as part of its business strategy to reduce bank borrowings by divesting non-core assets.
Upon completion of the acquisition, Yu's stake in Pan Malaysia will increase to 74.522%, from 5.33% currently.
Malaysia Airports Holdings Bhd (MAHB) recorded passenger traffic of 9.2 million passengers in March, a 4.4% increase from 8.82 million a year ago.
"The contribution to March 2015 passenger traffic largely came from domestic movements at Malaysia Airports and domestic and international movements at Istanbul Sabiha Gocken's Airport. This is the second consecutive month of positive growth recorded by the airport system," the group said in a filing with Bursa Malaysia this evening.
MAHB (fundamental: 1.15; valuation: 1.4) noted domestic traffic in March amounted to 5.1 million passengers - an increase of 8.7% from 4.73 million in the same month last year; while international traffic slipped 0.6% to 4.07 million, from 4.17 million a year ago.
"In general, the overall passenger traffic was supported by school holidays travel and also the Formula 1 event. The China sector continued to experience a double-digit decline.
"The current turmoil in the Middle East has caused a dent in the Middle East traffic, which registered a mid-single-digit percentage decline. Europe, South Asia and South East Asia continued to register positive growth," the group added.
Electronics gaming machines manufacturer RGB International Bhd has proposed a private placement of up to 123.23 million shares - equivalent to 10% of its issued and paid-up capital - to selected investors.
In a filing with Bursa Malaysia this evening, RGB (fundamental: 1.7; valuation: 1.2) said proceeds from the private placement exercise will be used to repay borrowings, as well as to purchase gaming machines for its existing on-going concessions in the Philippines and Indo-China.
"At this juncture, RGB has not determined the number of gaming machines to be purchased, as the company is still assessing the placement and types of gaming machines that will best entice its target market," the group said in the filing.
RGB added the purchase of gaming machines will increase its revenue and profitability, as well as strengthen its shareholders' funds and liquidity of its shares.
Assuming an indicative issue price of 15 sen per share, RGB said it expects to raise up to RM18.48 million in gross proceeds, of which some RM10.3 million will be used to pay its borrowings and RM7.68 million to purchase gaming machines.
Censof Holdings Bhd announced that its wholly-owned subsidiary Century Software (M) Sdn Bhd has bagged two contracts for "financial accounting system" for the Royal Malaysian Customs Department (Customs) from Brilliance Information Sdn Bhd for a total of RM2.31 million.
In an announcement to Bursa Malaysia this evening, Censof (fundamental: 1.95; valuation: 1.4) said the contract will run for 33 months, of which nine months will be for the implementation, followed by two years of maintenance service.
"The maintenance service will be renewable on a yearly basis, which have yet to be determined. The commencement of the contract will be in April 2015," Censof said, adding that the contract will contribute positively to its current and future earnings.
Puncak Niaga Holdings Bhd (fundamental: 1.5; valuation: 1.2) announced that it has received the third renewal from Kumpulan Darul Ehsan Bhd (KDEB) to "abstract water" at the New Bernam River Headworks Water Treatment Plant (New Bernam) in Selangor for another three months, beginning from May 1 to July 31.
This is the third renewal that the group has received to abstract water at New Bernam, since it was first awarded with the contract on July 31 last year.
The renewal is for a period of three months.
(Note: The Edge Research's fundamental score reflects a company's profitability and balance sheet strength, calculated based on historical numbers. The valuation score determines if a stock is attractively valued or not, also based on historical numbers. A score of 3 suggests strong fundamentals and attractive valuations)