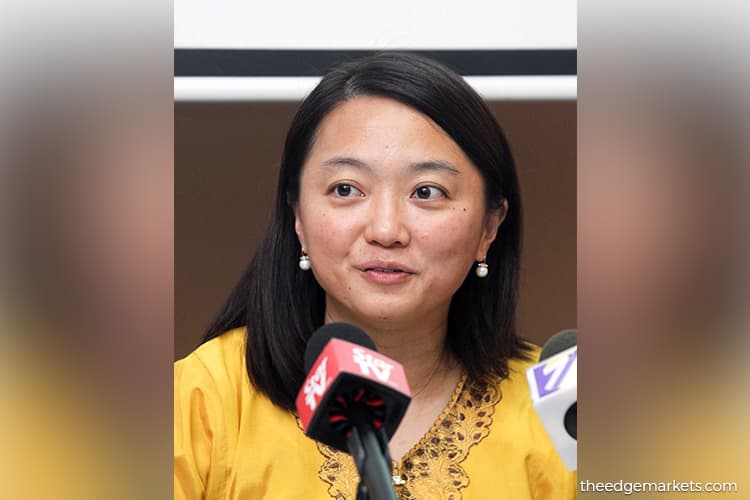 KUALA LUMPUR (May 15): Segambut MP Hannah Yeoh (pictured) has come up with a counter proposal to the "scaled down" plan for the controversial Taman Rimba Kiara condominium project proposed by Federal Territories Minister Khalid Samad, to be presented to the cabinet for its decision.
Yeoh, who is also the Deputy Minister of Women, Family and Community Development, said if the project goes through with her proposal, it should not encroach into the Taman Rimba Kiara park.
"So, currently there are two proposals on the table, and the federal territories minister has said he will bring these to the cabinet for them to decide," she told a press conference here today.
Khalid had previously proposed to scale down the development plan, which initially comprised eight blocks of high-end condominiums occupying 4.9ha of land, to four blocks involving 3.2ha of land.
The revised plan would see 1.6ha of open space taken up for development, compared with 3.2ha in the original plan.
Khalid said the revised plan would include a 29-storey block with 350 units meant for Bukit Kiara longhouse residents.
However, the move did not get the support of Yeoh and the Taman Tun Dr Ismail (TTDI) residents association, who are among the most vocal opponents of the project.
"We are not against longhouse residents from having new housing, but it should not encroach into Taman Rimba Kiara. Do not use the longhouse residents to justify greed, do not use the longhouse residents to justify encroachment into a green lung. We will not sit down and accept this," Yeoh said.
Last month, he assured that views from all sides, including TTDI residents, in regard to the Taman Rimba Kiara development would be heard by the cabinet, together with his submission on the matter, which was being finalised and would be ready by end-May or early June.
He also said that he would accept whatever decision the cabinet makes on the matter and that he hoped that would the end of the matter.
"I welcome this decision to bring the proposals to the cabinet because I also agree that the federal territories minister is in a conflicted position. The strong conflict of interest is because he is also the chairman of Yayasan Wilayah Persekutuan (YWP), who now owns part of Taman Rimba Kiara," Yeoh added.
Yeoh will hold a townhall at the Taman Tun Community Center this Saturday to update the residents on the current status of the project and the two proposals on the table to resolve the issue. The townhall will be open for everyone, Yeoh said, adding she has also notified her fellow federal territories lawmakers.
For related story, see: Hannah Yeoh demands MACC's explanation over lack of progress in Taman Rimba Kiara graft probe