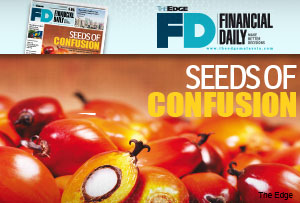 KUALA LUMPUR: There is no reprieve yet for Malaysian planters as much remains unclear despite news that Indonesia had on Monday passed a new plantation bill without the controversial retroactive clause to limit foreign ownership to a maximum 30% from 95% currently.
According to media reports, Indonesia's House of Representatives has passed the plantation bill, which aims to maximise land usage and open up the country's plantation sector to smallholders.
As expected, the stricter rule to limit foreign ownership in the plantation sector to 30% was dropped from the final version.
Instead, the law allows the central government to limit direct foreign investment, based on the type of crop, the size of the producing company and certain geographical conditions.
Reuters reported that while the limitation on foreign ownership has been removed, it would still be possible to make rules on the issue through government regulation.
The new bill also requires Indonesian plantation firms to allocate 20% of the concessions to local residents and to help them in developing the estates. Companies have been given five years to comply with the new law.
"We cannot oversimplify this issue. It's not over yet. We are still far away [from seeing the final outcome]. It is not even clear what would replace it (the 30% foreign ownership cap)," DBS Vickers Research (Singapore) Pte Ltd equity analyst Benedictus Benjamin Santoso told The Edge Financial Daily by phone yesterday.
He said the law itself "does not really say much" and there are still plenty of issues that the new Indonesian government needs to address before the implementation.
"There are no answers to many questions now. [Previously], we knew a 30% cap is bad for the plantation companies. But now, we don't even know what the percentage will be," he added.
UOB Kay Hian concurred that there is not much clarity on the foreign ownership issue at this point in time, and it will need more information to better assess its impact.
In a note to clients, it said it expects the regulation to lead to a slowdown in new capital expenditure by foreign players that are already in Indonesia.  
"At first glance, the Malaysian players are the ones most affected," it said.
Nevertheless, CIMB Investment Bank Reseach's analyst Ivy Ng said that at least for now, Malaysian plantation companies with exposure in Indonesia can heave a sigh of relief.
"This is short-term relief and a positive thing for the Malaysian companies because they don't have to worry for now," she said. "Basically, they won't have to do anything to their current shareholding in the Indonesian plantation firms as the structure of foreign ownership will not be affected at the moment," she said.
Ng, however, stressed that the latest announcement on the Indonesian government dropping the clause from the plantation bill does not guarantee that the 30% foreign ownership cap will not be implemented. "There are still potential risks in the future," she said.
Indonesia Investments, a website run by Van der Schaar Investments BV, a privately-held Dutch investment company said that president-elect Joko Widodo, who will assume office on Oct 20, is unlikely to limit foreign ownership in the country's plantation sector.
"Incumbent President Susilo Bambang Yudhoyono also stated previously that he was against limiting foreign ownership in plantations as it would hurt the country's investment climate further," it said.
Yesterday, shares of Kuala Lumpur Kepong Bhd (KLK) and Genting Plantations Bhd which has vast acreage in Indonesia closed lower. KLK declined 42 sen to close at RM21.08 while Genting Plantations fell 17 sen to RM9.93. They were among the top losers on Bursa Malaysia.
This article first appeared in The Edge Financial Daily, on October 1, 2014.