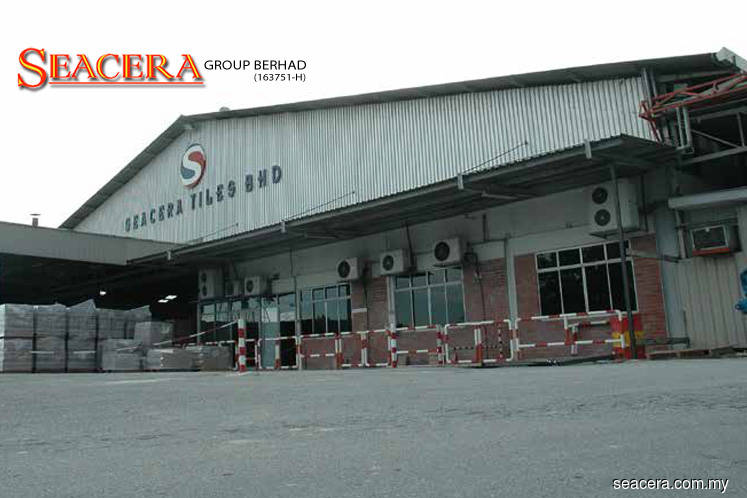 KUALA LUMPUR (May 21): Practice Note (PN17) company Seacera Group Bhd said it has been a served a letter of demand for payment of RM19.28 million by AmBank Islamic Bhd.
In a filing with the stock exchange today, Seacera said the payment was in respect of total amount outstanding and due payable under the Murabahah Tawarruq Term Financing-I and Cashline-i.
The tile manufacturer said it is required to make the full settlement within seven days from May 15, 2019, failing which AmBank Islamic shall proceed with necessary action as deemed fit, with all costs to be incurred by the company.
"The company is seeking legal advice on the matter," it said.
Seacera was classified as PN17 last month, after it defaulted on the payment of principal and profits to AmBank Islamic and not being able to provide a solvency declaration to Bursa Malaysia Securities.
In a separate filing this afternoon, the group said it has filed an originating summons against the seven shareholders, namely Datuk Tan Wei Lian and six others, to declare that a prior notice for an Extra ordinary General Meeting (EGM) was null and void, and to seek damages.
The announcement follows an earlier one on May 3, which said it had received a notice of the EGM, to be held on May 29, from the seven shareholders who claim to hold a combined stake of at least 10% in the company.
Tan and the other six shareholders had called for the EGM to remove eight existing directors and appoint new ones in their place. 
In today's filing, Seacera said it has also filed an application to restrain the group from, among others, taking any further steps in respect of the notice of intention and notice of EGM.
"The company will make further announcement, once the cause papers are extracted," it said.
Seacera is currently trading 0.5 sen or 2.27% lower at 21.5 sen, for a market value of RM101.98 million.