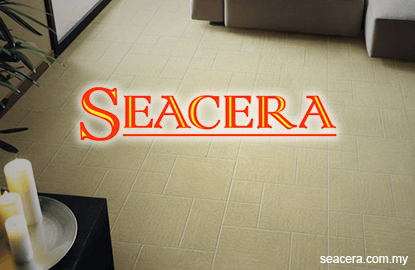 KUALA LUMPUR (Nov 16): Tiles maker and property developer Seacera Group Bhd is acquiring property investment firm Duta Nilai Holdings Sdn Bhd for RM165.1 million.
In a filing with Bursa Malaysia today, Seacera said its wholly-owned subsidiary Seacera Properties Sdn Bhd is acquiring the company from two individuals, Ismail Othman and Zainab Mansor.
The acquisition will be satisfied partly by the issuance of 90 million new shares in Seacera to raise RM90 million, with the balance to be settled through a deferred cash payment of RM75.1 million, with a repayment period of up to nine years.
"The management of Seacera expects the repayment of the deferred payment from the internally generated funds and from the proceeds of the development or sale of the land in the next 10 years. The balance purchase price will (also) be partially funded by the issuance of the shares," said Seacera.
Duta Nilai is the holding company of Duta Skyline Sdn Bhd, which owns a piece of freehold land measuring about 250.24 acres at Ulu Semenyih, Selangor. As at March 22, the market value of the land as appraised by JB Jurunilai Bersekutu Sdn Bhd stood at RM324 million.
Seacera said the adjusted net assets of Duta Nilai of RM158.95 million is based on its latest audited financial statements for the financial year ended Dec 31, 2015, after taking into account the market value of the Semenyih land.
"The purchase consideration represents a premium of 3.72% over the adjusted net assets of Duta Nilai," it said.
The Semenyih land, which is located about 2km off the Kajang SILK Highway and about 1.6km from the Sungai Long toll plaza, has been fully approved for a mixed development project with the conversion premium and development charges all fully paid.
Seacera shares dipped 0.5 sen or 0.68% to close at 72.5 sen for a market capitalisation of RM170.35 million.