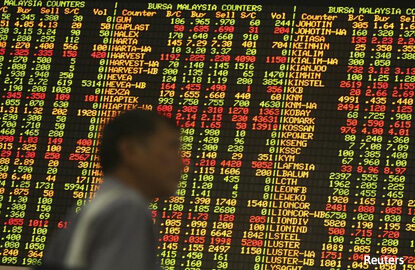 (Feb 3): Southeast Asian stock markets marked time on Friday ahead of the release of the US monthly jobs report that will set the tone for the Federal Reserve's rate hike outlook.
Nonfarm payrolls probably increased by 175,000 jobs in January, picking up from the 156,000 jobs added in December, according to a Reuters survey of economists. The unemployment rate is expected to be unchanged at 4.7% in January, near a nine-year low.
"A strong reading in the payrolls data above 200,000, coupled with a rise in wage growth, could put the March 15th (Fed) meeting in serious contention for a hike despite uncertainty around the potential flow on effects from (President Donald) Trump's stated economic policies," said James Woods, global investment analyst with Rivkin Securities in Sydney.
A quicker pace of rate hikes on the back of strong economic indicators in the United States is likely to trigger fund outflows from emerging markets.
Philippine shares declined as much as 0.5% to a two-week low and were headed for a fourth straight session of falls, weighed down by financial and real estate stocks.
"After rallying since the start of the year, people are just marking in gains given the still cautious outlook for the Philippine market," said April Lee-Tan, head of research at Manila-based COL Financial.
"People are a little concerned about the BPO (business process outsourcing) sector as to whether (Trump's) protectionist policies would have some repercussions on demand for offices."
Conglomerate Ayala Corp, which has interests in the banking and BPO sectors, and property developer SM Prime Holdings Inc were among the top drags.
Vietnam shares were flat after rising as much as 0.7% to a nine-year high earlier in the day, with consumer staples and materials leading the gains.
Vietnam Dairy Products JSC jumped 2.9% to its highest in over two months, while Masan Group Corp, a conglomerate with interests in food processing and banking, rose as much as 2.4% to its highest in nearly four weeks.
SOUTHEAST ASIAN STOCK MARKETS
Change at 0431 GMT
| | | | |
| --- | --- | --- | --- |
| Market            | Current    | Prev close  | % move |
| Singapore         | 3036.83    | 3044.08     | -0.24 |
| Bangkok           | 1577.1     | 1572.67     | 0.28 |
| Manila            | 7200.82    | 7225.91     | -0.35 |
| Jakarta           | 5362.386   | 5353.713    | 0.16 |
| Kuala Lumpur      | 1679.65    | 1673.48     | 0.37 |
| Ho Chi Minh        | 703.17     | 703.18      | 0.00 |
Change this year
| | | | |
| --- | --- | --- | --- |
| Market            | Current    | End 2016    | % move |
| Singapore         | 3036.83    | 2880.76     | 5.42 |
| Bangkok           | 1577.1     | 1542.94     | 2.21 |
| Manila            | 7200.82    | 6840.64     | 5.27 |
| Jakarta           | 5362.386   | 5296.711    | 1.24 |
| Kuala Lumpur      | 1679.65    | 1641.73     | 2.31 |
| Ho Chi Minh        | 703.17     | 664.87      | 5.76 |