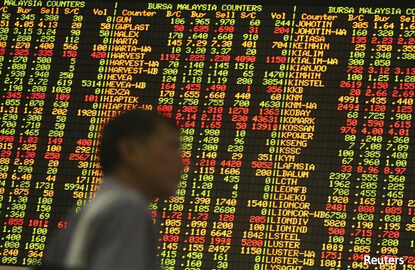 (Feb 22): Southeast Asian stock markets were largely flat on Wednesday, except Singapore which gained tracking US stocks that rose to record highs on Tuesday driven by strong earnings.
Stellar results by consumer stocks took Wall Street higher while the US dollar strengthened on hawkish comments by the US Federal Reserve on Tuesday strengthening the case for rate hikes to remain on track.  
Singapore stocks snapped two days of losses, rising 0.5%, led by the oil and gas and financial sectors.
"Singapore generally tracks the US markets. The US markets gained half a percent yesterday (Tuesday), so it's just tracking that higher," said an analyst from Singapore.
Energy companies Keppel Corp and Sembcorp Industries rose 1.5% and 0.6% respectively.   
Oil prices held near multi-week highs on Wednesday after OPEC signalled optimism over its deal with other producers to curb output to clear a glut that has weighed on markets since 2014.
Financial sector shares gained with DBS Group Holdings and United Overseas Bank up nearly 1% each, with the latter rising to its highest since August 2015.
Vietnam stocks rose as much as 0.35% to their highest in nine years led by energy and consumer stocks.
Petrovietnam Gas Joint Stock Corp gained 1.7% while Vietnam Dairy Products JSC added as much as 0.7%.
Malaysian shares were marginally higher, after data showed consumer prices rose 3.2% from a year earlier.
A Reuters poll had seen inflation at 2.8%, rising sharply from the previous month.
Rising inflation could pose an impediment to the central bank to ease monetary policy further, DBS Group Research said in a note.
The central bank missed the window to cut the policy rate in November last year due to the tremendous pressure on the ringgit which plunged by about 5% in the month after the US election result, the note said.
SOUTHEAST ASIAN STCOK MARKETS
CHANGE AT 0436 GMT
| | | | |
| --- | --- | --- | --- |
| Market            | Current       | Previous close   | % move |
| Singapore         | 3107.8        | 3094.19          | 0.44 |
| Bangkok           | 1566.07       | 1564.42          | 0.11 |
| Manila            | 7271.88       | 7282.68          | -0.15 |
| Jakarta           | 5337.831      | 5340.99          | -0.06 |
| Kuala Lumpur      | 1707.31       | 1706.55          | 0.04 |
| Ho Chi Minh        | 718.19        | 716.55           | 0.23 |
Change on year
| | | | |
| --- | --- | --- | --- |
| Market            | Current       | End 2016         | % move |
| Singapore         | 3107.8        | 2880.76          | 7.88 |
| Bangkok           | 1566.07       | 1542.94          | 1.50 |
| Manila            | 7271.88       | 6840.64          | 4.60 |
| Jakarta           | 5337.831      | 5296.711         | 0.78 |
| Kuala Lumpur      | 1707.31       | 1641.73          | 3.99 |
| Ho Chi Minh        | 718.19        | 644.87           | 6.87 |