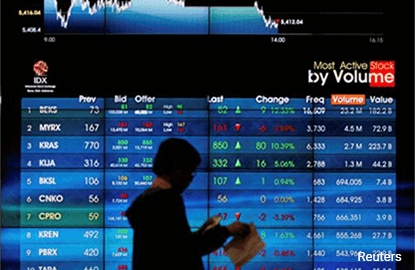 (Feb 13): Southeast Asian stock markets rose on Monday, tracking Asian peers, as investor concerns eased after US President Donald Trump set aside tough campaign rhetoric over security and jobs in a smooth meeting with Japanese Prime Minister Shinzo Abe.
Also boosting sentiment were Trump's change of tack to agree to honour the "one China" policy, and his tax reform plans.
"The easing of global uncertainties is a common denominator for regional markets," said Taye Shim, head of research at Mirae Asset Sekuritas.
MSCI's broadest index of Asia-Pacific shares outside Japan gained as much as 0.5% to its highest since July 2015.
Indonesian shares rose as much as 0.9% to a three-month high, outperforming other regional markets.
"Indonesia's price performance is largely related to the upcoming Jakarta mayor election," said Shim.
"There's a little more clarity after the second debate held over the weekend... Investors are getting more confidence that the incumbent might be able to win the race."
Incumbent Basuki Tjahaja Purnama has been popular among the middle classes for cutting red tape in the traffic-clogged city and pushing through infrastructure projects. Wednesday's vote is widely being seen as a proxy ahead of the 2019 presidential election.
Financials and materials led the gains with Bank Central Asia recovering from the previous session's fall to gain as much as 4.3%. Indocement Tunggal Prakarsa rose as much as 5.3% in its biggest gain in 11 weeks.
Singapore shares extended gains to hit a 17-month high, led by telecom and financial stocks.
Singapore Telecommunications Ltd was headed for a third straight session of gains after last week's upbeat quarterly results. The city-state's biggest telecom firm by market value rose as much as 1.5% to a more than four-month high.
Malaysian shares climbed as much as 0.7% to their highest since April 2016, led by financial and telecom stocks.
Banker CIMB Group Holdings rose as much as 2.2% to an 18-month high, while telecom conglomerate Axiata Group gained up to 1.6%.
Thailand was closed for a holiday.      
SOUTHEAST ASIAN STOCK MARKETS
Change at 0443 GMT
| | | | |
| --- | --- | --- | --- |
| Market             | Current        | Prev close    | % move |
| Singapore          | 3108.88        | 3100.39       | 0.27 |
| Manila             | 7275.86        | 7235.21       | 0.56 |
| Jakarta            | 5403.443       | 5371.669      | 0.59 |
| Kuala Lumpur       | 1706.87        | 1698.94       | 0.47 |
| Ho Chi Minh        | 704.95         | 703.78        | 0.17 |
Change this year
| | | | |
| --- | --- | --- | --- |
| Market             | Current        | End 2016      | % move |
| Singapore          | 3108.88        | 2880.76       | 7.92 |
| Manila             | 7275.86        | 6840.64       | 6.36 |
| Jakarta            | 5403.443       | 5296.711      | 2.02 |
| Kuala Lumpur       | 1706.87        | 1641.73       | 3.97 |
| Ho Chi Minh        | 704.95         | 664.87        | 6.03 |