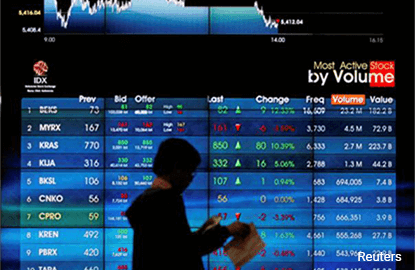 (Feb 2): Most Southeast Asian stock markets were higher on Thursday in line with Asian peers, after the US Federal Reserve stuck to its mildly upbeat economic view but gave no hints of rate hikes.
MSCI's broadest index of Asia-Pacific shares outside Japan rose as much as 0.6% at one point to hit its highest since mid-October.
"It was already priced in... Everybody was expecting that there would be no rate hikes," said Mikey Macanaig, an analyst with Sunsecurities Inc.
"Markets are unsure yet what he (US President Donald Trump) is really going to do about the US economy."  
Vietnam shares extended gains into a fifth session and hit their highest in nine years on the back of data showing a rise in industrial production in January.
Gains were led by consumer staples and real estate stocks. Vietnam Dairy Products JSC rose 1.3% to a more than six-week high, while real estate firm Vingroup JSC jumped 2% in its biggest intraday percentage gain in almost a month.
Singapore shares fell as much as 0.8% after closing at their highest in 15 months in the previous session, weighed down by financials and telecoms.
Financials were mainly down because of profit-taking, said Macanaig, adding: "It is still driven by Trumponomics."
Also weighing on sentiment was lack of details from the Fed about the next rate hike.
Banks are expected to gain from interest rate hikes as well as Trump's promises of deregulation, and had risen significantly since his victory.  
United Overseas Bank Ltd and Singapore Telecommunications Ltd were the biggest contributors to the fall, declining over 1% each.
SOUTHEAST ASIAN STOCK MARKETS
Change at 0451 GMT
| | | | |
| --- | --- | --- | --- |
| Market            | Current    | Prev close  | % Move |
| Singapore         | 3044.46    | 3067.49     | -0.75 |
| Bangkok           | 1577.23    | 1576.32     | 0.06 |
| Manila            | 7215.55    | 7227.45     | -0.16 |
| Jakarta           | 5344.145   | 5327.161    | 0.32 |
| Kuala Lumpur      | 1676.22    | 1671.54     | 0.28 |
| Ho Chi Minh       | 700.55     | 697.28      | 0.47 |
Change this year
| | | | |
| --- | --- | --- | --- |
| Market            | Current    | End 2016    | % Move |
| Singapore         | 3044.46    | 2880.76     | 5.68 |
| Bangkok           | 1577.23    | 1542.94     | 2.22 |
| Manila            | 7215.55    | 6840.64     | 5.48 |
| Jakarta           | 5344.145   | 5296.711    | 0.90 |
| Kuala Lumpur      | 1676.22    | 1641.73     | 2.10 |
| Ho Chi Minh       | 700.55     | 664.87      | 5.37 |