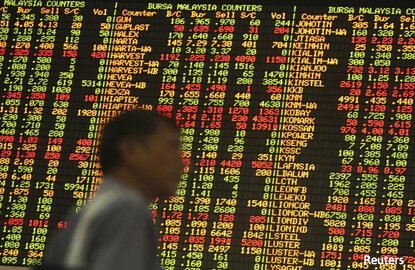 (Jan 24): Most Southeast Asian stock markets ended firmer on Tuesday, holding on to gains earlier in the day, as investors weighed the possible effects of the United States withdrawing from the Trans-Pacific Partnership (TPP) trade deal.
Fulfilling a campaign pledge, US President Donald Trump signed an executive order pulling the United States out of the 12-nation TPP, distancing it from Asian allies, even as China's influence in the region rises.
"Everybody is still trying to digest the actual effects of the withdrawal," said Theodore Tan, an analyst with AP Securities.
Trump, who wants to boost US manufacturing, said he would like to cut corporate taxes, but warned American manufacturers of penalties if they moved production outside the country.
"Of course, Trump wants to sound good to the American people on his first day and it has always been his stance to 'put America first', but it won't be that easy to penalise companies for building outside America," Tan added.
Singapore rose 0.5%, closing at a 14-month high, with financials accounting for more than half of the gains.
The financial sector was boosted by the city state's biggest lender by market-cap, DBS Group Holdings, which climbed 1.7% to end at a 17-month high.
Singapore's industrial production in December is expected to have risen on an annual basis, a Reuters poll showed.
In other markets, Vietnam rose 0.6% to hit a near nine-year closing high, driven by gains in financials and utilities.
Oil and gas refiner PetroVietnam Gas jumped as much as 3.3%, its biggest intra-day percentage gain in more than a month.
Indonesia closed 0.8% higher, with financials and telecom stocks leading.
The country's largest telecommunications firm, PT Telekomunikasi Indonesia, led the gains on the benchmark, advancing 1.8%.
Philippines ended slightly lower after closing at a near three-month high on Monday. Conglomerate Ayala Land was the biggest drag on the benchmark, sliding as much as 3.3%.
SOUTHEAST ASIAN STOCK MARKETS
Change on day
| | | | |
| --- | --- | --- | --- |
| Market           | Current       | Previous close     | % move |
| Singapore        | 3041.95       | 3025.48      | 0.54 |
| Bangkok          | 1578.82       | 1570.79      | 0.51 |
| Manila           | 7370.65       | 7374.35      | -0.05 |
| Jakarta          | 5292.088      | 5250.968     | 0.78 |
| Kuala Lumpur     | 1680.69       | 1671.31      | 0.56 |
| Ho Chi Minh       | 691.36        | 687.15       | 0.61 |
Change this year
| | | | |
| --- | --- | --- | --- |
| Market           | Current       | End 2016     | % move |
| Singapore        | 3041.95       | 2880.76      | 5.60 |
| Bangkok          | 1578.82       | 1542.94      | 2.33 |
| Manila           | 7370.65       | 6840.64      | 7.75 |
| Jakarta          | 5292.088      | 5296.711     | -0.09 |
| Kuala Lumpur     | 1680.69       | 1641.73      | 2.37 |
| Ho Chi Minh       | 691.36        | 664.87       | 3.98 |