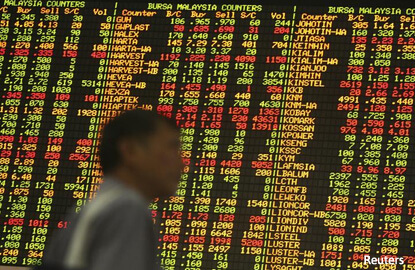 (March 23): Most Southeast Asian stock markets rose on Thursday, in line with Asia and Wall Street, with investors closely watching the progress of a US healthcare bill that could affect President Donald Trump's ability to deliver on other campaign promises.
Repealing and replacing Democratic former President Barack Obama's 2010 Affordable Care Act is a first major test of Trump's legislative ability and whether he can go ahead with his agenda, including cutting taxes and regulation to boosting infrastructure.
Asian shares rose, with the MSCI's broadest index of Asia-Pacific shares outside Japan up as much as 0.4%, while US equities rebounded on Wednesday after all three key indexes touched their lowest in about five weeks earlier in the session.  
"Since there is not much actionable news coming from Asia, I think the markets are just taking cues from US equities...," said Victor Felix, an equity analyst with Manila-based AB Capital Securities.
In Southeast Asia, Indonesian shares closed at a record high, helped by gains in financial stocks.
Indonesia's central bank senior deputy governor said the rate of inflation in March was seen at below 0.2% month on month.
Vietnam shares rose 0.9%, supported by consumer staples and financials.
Hoang Anh Gia Lai Agricultural Joint Stock Co ended 6.8% higher, while Sai Gon Thuong Tin Commercial Joint Stock Bank (Sacombank) was up 6.1%.
Philippines closed 0.6% firmer, with industrials accounting for more than half the gains.
The Philippine central bank left its key overnight borrowing rate steady at 3.0% as expected, saying inflation should settle within its target for this year and next.
Singapore finished the session marginally higher.
Earlier in the day, data showed the city state's headline consumer price index in February rose the most in more than two years on the back of increased private road transport cost.
SOUTHEAST ASIAN STOCK MARKETS
Change on day
| | | | |
| --- | --- | --- | --- |
| Market           | Current      | Previous close    | % move |
| Singapore        | 3126.93      | 3118.19     | 0.28 |
| Bangkok          | 1568.72      | 1566.66     | 0.13 |
| Manila           | 7301.03      | 7254.93     | 0.64 |
| Jakarta          | 5563.759     | 5534.093    | 0.54 |
| Kuala Lumpur     | 1747         | 1748.3      | -0.07 |
| Ho Chi Minh      | 719.56       | 712.94      | 0.93 |
Change on year
| | | | |
| --- | --- | --- | --- |
| Market           | Current      | End 2016    | % move |
| Singapore        | 3126.93      | 2880.76     | 8.55 |
| Bangkok          | 1568.72      | 1542.94     | 1.67 |
| Manila           | 7301.03      | 6840.64     | 6.7 |
| Jakarta          | 5563.759     | 5296.711    | 5.04 |
| Kuala Lumpur     | 1747         | 1641.73     | 6.41 |
| Ho Chi Minh      | 719.56       | 664.87      | 8.2 |