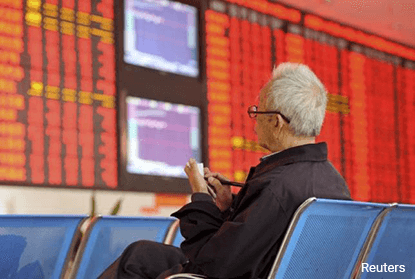 (Dec 19): Southeast Asian stock markets closed lower on Monday, as talk of a more hawkish pace of rate increases by the US Federal Reserve in 2017 spurred a sell-off in risk assets.
Federal Reserve Bank of Richmond President Jeffrey Lacker said on Friday that interest rates will likely need to be raised more than three times next year.
Lacker, who did not have a vote but participated in the Fed's policy meetings this year, said the Fed would still be able to raise rates gradually, but perhaps not as slowly as is expected by the majority of policymakers. The Fed raised rates only once in 2016, which followed a single rate hike last year.
"Investors are rationalising their exposure on equities... a more hawkish path of interest rate hikes is negative on equities," said Ralph Bodollo, an equity research analyst with Manila-based RCBC Securities.
Philippine shares slumped 2% to a more than nine-month low, battered by financials and real estate stocks.
Property developer SM Prime Holdings Inc shed 5.6%, while Bank of the Philippine Islands hit a nine-month closing low.
The slowing down of remittances by overseas Filipino workers, which is a key driver of the Philippine economy, is also a concern for the Philippine stock market, Bodollo said.   
Indonesia snapped early gains to close 0.8% lower, led by consumer staples and materials sectors.
Cigarette maker Gudang Garam Tbk PT fell 2.5%, while Indocement Tunggal Prakarsa Tbk PT lost 4.4%.
Singapore stocks fell 0.8% to their lowest since Dec 1, dragged down by financials and telecom stocks.
Top lender DBS Group Holdings Ltd and Singapore Telecommunications Ltd were among the worst performers.
Vietnam slipped into negative territory after rising in early trade, while Thailand was flat at the close of trade.
In Asia, MSCI's broadest index of Asia-Pacific shares outside Japan was down 0.5% as of 1002 GMT.
SOUTHEAST ASIAN STOCK MARKETS
Change on day
| | | | |
| --- | --- | --- | --- |
| Market            | Current        | Prev close    | % move |
| Singapore         | 2913.08        | 2937.86       | -0.84 |
| Bangkok           | 1522.4         | 1522.51       | -0.01 |
| Manila            | 6714.13        | 6850.71       | -1.99 |
| Jakarta           | 5191.912       | 5231.652      | -0.76 |
| Kuala Lumpur      | 1634.3         | 1637.79       | -0.21 |
| Ho Chi Minh       | 674.33         | 675.16        | -0.12 |
Change this year
| | | | |
| --- | --- | --- | --- |
| Market            | Current        | End 2015      | % move |
| Singapore         | 2913.08        | 2882.73       | 1.05 |
| Bangkok           | 1522.4         | 1288.02       | 18.20 |
| Manila            | 6714.13        | 6952.08       | -3.42 |
| Jakarta           | 5191.912       | 4593.008      | 13.04 |
| Kuala Lumpur      | 1634.3         | 1692.51       | -3.44 |
| Ho Chi Minh       | 674.33         | 579.03        | 16.46 |