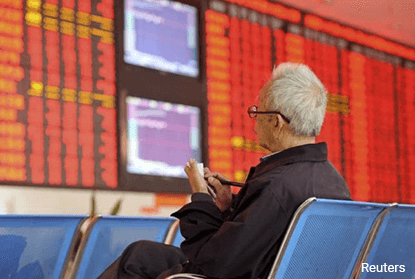 (Jan 31): Philippine shares led Southeast Asian stock markets lower on Tuesday as the market sentiment was hurt by US President Donald Trump's immigration and trade policies.
Trump signed an executive order on Friday to bar Syrian refugees indefinitely and suspend travel to the United States from seven Muslim-majority countries, raising concerns about a more restrictive immigration policy.
"Trump's policy changes are causing some uncertainties, as to what direction it could be going forward. Most investors don't really know the impact of his policies yet," said Charles Ang, analyst with COL Financial.
Philippine shares ended 1.5% lower amid worries over Trump's impact on the country's growing outsourcing industry, which provides back-office services for US companies.
"The BPO sector, which is one of the primary component of the Philippine economy, is expected to be hurt by Trump's policies," said Manny Cruz, chief strategist at brokerage house AsiaSec Equities.
Philippine financial and real estate stocks were among the biggest drag on the index, with GT Capital Holdings losing 3.4%.       
Singapore cut early losses to finish the session 0.6% lower.
Financials accounted for nearly half the loss on the index, shrugging off the central bank data, which showed that Singapore's total bank lending in December rose 1.1% from November.
The index had risen 8.1% as of Friday's close since Donald Trump was elected US president in early November.      
Thailand closed 0.8% lower, posting a third session of loss, with energy stocks leading the way.
However, the market ignored central bank data showing that Thailand's private consumption and investment increased in December from the previous month, suggesting a fragile economic recovery is gaining some momentum.
Malaysia closed 0.9% lower. Industrials were the biggest drag on the index with Sime Darby Bhd falling 3.5%.
Indonesia declined marginally posting a third session of loss in the last four sessions of trading.
Vietnam was closed on a public holiday.
SOUTHEAST ASIAN STOCK MARKETS
Change on the day
| | | | |
| --- | --- | --- | --- |
| Market           | Current       | Previous close    | % move |
| Singapore        | 3046.8        | 3064.85      | -0.59 |
| Bangkok          | 1577.31       | 1590.56      | -0.83 |
| Manila           | 7229.66       | 7336.71      | -1.46 |
| Jakarta          | 5294.103      | 5302.662     | -0.16 |
| Kuala Lumpur     | 1671.54       | 1686.36      | -0.88 |
Change so far this year
| | | | |
| --- | --- | --- | --- |
| Market           | Current       | End 2016     | % move |
| Singapore        | 3046.8        | 2880.76      | 5.76 |
| Bangkok          | 1577.31       | 1542.94      | 2.23 |
| Manila           | 7229.66       | 6840.64      | 5.7 |
| Jakarta          | 5294.103      | 5296.711     | -0.05 |
| Kuala Lumpur     | 1671.54       | 1641.73      | 1.82 |