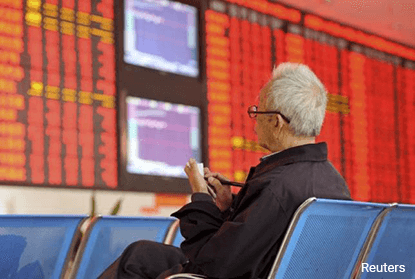 (Feb 14): Southeast Asian shares fell on Tuesday, as investors turned cautious ahead of US Federal Reserve Chair Janet Yellen's congressional testimony that could give clues on the pace of interest rate hikes.
Regional markets, which spiralled down in early trade on a strong US dollar, drew no respite though the greenback eased after US President Donald Trump's national security adviser Michael Flynn resigned over Russian contacts.
The dollar index, which measures the greenback against six other currencies, fell 0.1%, pulling away from a three-week high hit on Monday.
Yellen on Tuesday will present the US central bank's semi-annual report on monetary policy and economy in testimony to the Senate Banking Committee, followed by the semi-annual monetary testimony before the House Financial Committee on Wednesday.
Singapore closed 1.3% lower, battered primarily by financial stocks. The index had been rising this year and had hit an 18-month high in the previous session.
Oversea-Chinese Banking Corporation Ltd lost 3.3% after the city-state's second biggest lender reported an 18% dip in fourth-quarter profit on bad debt charges.
Top lender DBS Group Holdings Ltd, which is expected to report earnings later this week, fell 3.4% to close at its lowest since Jan 19. United Overseas Bank Ltd shed 1.6%.
Singapore banks are taking a hit as companies in the oilfield services industry restructure their bonds and loans in a weak operating environment. They are also being impacted by low interest rates and a sluggish overall economy.
Philippines fell 1.2%, dragged down by industrial and real estate stocks.
The index is undergoing a correction after testing a resistance at 7,300 level in the previous session, according to Mikey Macainag, an analyst with Manila-based Sunsecurities Inc.
Conglomerate SM Investments Corp declined 2.5% to close at its lowest in more than a month, while Property developer SM Prime Holdings Inc shed 2.6%.
International Container Terminal Services Inc closed 2.6% down, at its lowest in almost four weeks, after the company said an agreement to operate a port in Brunei would not be renewed.
Thai shares fell 0.8%, with losses in energy and industrial stocks weighing heavily on the index.
Energy conglomerate PTT PCL, down 2.5%, weighed most on the index while Airports of Thailand PCL shed 2.5%.
SOUTHEAST ASIAN STOCK MARKETS
Change on the day
| | | | |
| --- | --- | --- | --- |
| Market             | Current        | Prev close    | % move |
| Singapore          | 3072.47        | 3111.63       | -1.26 |
| Bangkok            | 1572.24        | 1585.24       | -0.82 |
| Manila             | 7206.84        | 7294.67       | -1.20 |
| Jakarta            | 5380.67        | 5409.556      | -0.53 |
| Kuala Lumpur       | 1708.9         | 1710.24       | -0.08 |
| Ho Chi Minh        | 706.26         | 705.9         | 0.05 |
Change this year
| | | | |
| --- | --- | --- | --- |
| Market             | Current        | End 2016      | % move |
| Singapore          | 3072.47        | 2880.76       | 6.65 |
| Bangkok            | 1572.24        | 1542.94       | 1.90 |
| Manila             | 7206.84        | 6840.64       | 5.35 |
| Jakarta            | 5380.67        | 5296.711      | 1.59 |
| Kuala Lumpur       | 1708.9         | 1641.73       | 4.09 |
| Ho Chi Minh        | 706.26         | 664.87        | 6.23 |