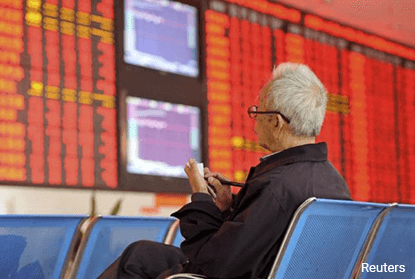 (Feb 8): Most Southeast Asian markets ended lower on Wednesday following an overnight plunge in oil prices, while Thai shares gained after the central bank kept interest rate unchanged, but said the economy would recover at a faster pace.
MSCI's broadest index of Asia-Pacific shares outside Japan was up 0.1% in late trade, after spending most of the session in the negative territory.
"The yen recovered and bounced back while crude oil continued to weaken and regional equities took their cue from those two," said Manny Cruz, chief strategist at Asiasec Equities Inc.
The Thai index gained 0.4% to close at its highest since Jan 30, after the Bank of Thailand left interest rate unchanged near record lows, saying the economy would recover at a faster pace despite facing uncertainties.
The bank's monetary policy committee said the current rate was accommodative for economic growth, but warned of a strong baht.
All sectors gained except energy.
Philippine shares declined for a second straight session, down 0.4%, hurt by real estate, telecom and consumer staple stocks.
Universal Robina and Ayala Land lost 2% and 1.7%.
Telecommunications service provider PLDT Inc was the worst performer on the index, slipping as much as 3.3%, its biggest percentage loss in nearly four weeks.
Indonesian shares fell 0.4% with financial and consumer discretionary leading the losses.
Bank Mandiri (Persero) shed as much as 2%, its biggest intraday loss in five weeks while media business Elang Mahkota Teknologi lost 6.6% to hit its lowest in three weeks.
Singapore shares pared earlier losses to end 0.2% down, dragged by telecom, real estate and industrial stocks.
Singapore Telecommunications and Keppel Corp, among the biggest losers on the index, declined 0.8% and 1.3%, respectively.
Vietnam remained flat through most of the day.
Malayasia was little changed after government data showed its exports beat forecast and grew for a second consecutive month in December on strong demand for electrical and electronic goods, and commodities.
SOUTHEAST ASIAN STOCK MARKETS
Change on day
| | | | |
| --- | --- | --- | --- |
| Market            | Current       | Previous close  | % move |
| Singapore         | 3066.53       | 3071.64         | -0.17 |
| Bangkok           | 1589.29       | 1582.52         | 0.43 |
| Manila            | 7234.82       | 7262.64         | -0.38 |
| Jakarta           | 5361.088      | 5381.475        | -0.38 |
| Kuala Lumpur      | 1688.5        | 1688.84         | -0.02 |
| Ho Chi Minh        | 702.04        | 701.91          | 0.02 |
Change this year
| | | | |
| --- | --- | --- | --- |
| Market            | Current       | End 2016        | % move |
| Singapore         | 3066.53       | 2880.76         | 6.45 |
| Bangkok           | 1589.29       | 1542.94         | 3.00 |
| Manila            | 7234.82       | 6840.64         | 5.76 |
| Jakarta           | 5361.088      | 5296.711        | 1.22 |
| Kuala Lumpur      | 1688.5        | 1641.73         | 2.85 |
| Ho Chi Minh       | 702.04        | 664.87          | 5.59 |